If you are the owner of an eCommerce store, you have to ensure top-notch customer service for your business. And if your eCommerce store is Shopify built, you can then easily get the best Shopify customer support apps securing excellent service to your random customers' queries online anytime. 
Wanna know where to get the best Shopify custom support apps list? Take a look below to know all the 11 best Shopify customer support apps in 2023 to satisfy your customers to the fullest with your amazing service.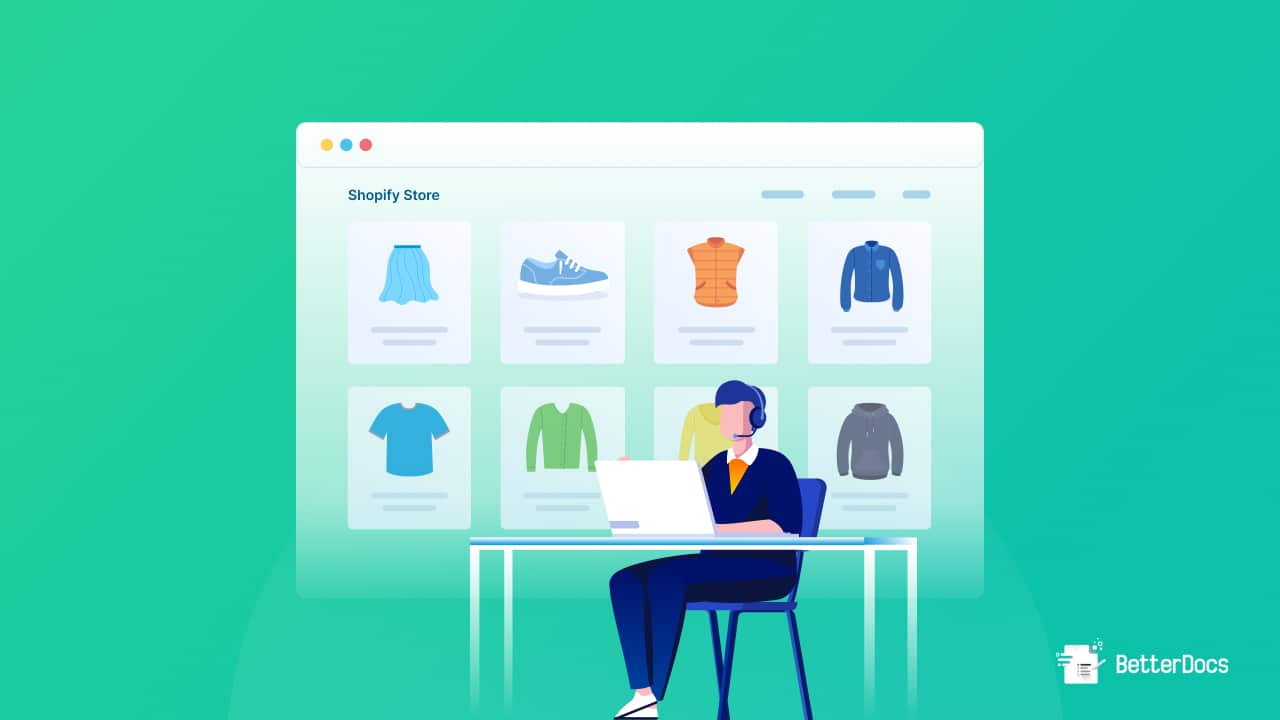 Some Effective Customer Support Tips To Look At:
Whatever business you may own you have to ensure your customer satisfaction first. Unless it will hamper your business growth for sure. Customers are the center of all attractions. They are going to decide whether your business will run well or not. 
So anything you do, your first and foremost duty is to ensure your customers' best support during and after purchasing or getting your product or service. And for owning an eCommerce store, you have to assure the best assistance to your customers' queries from the beginning to create a strong bond. Check out the effective customer support tips to make your buyers happy with the best online service: 
Make Sure The Clear Communication: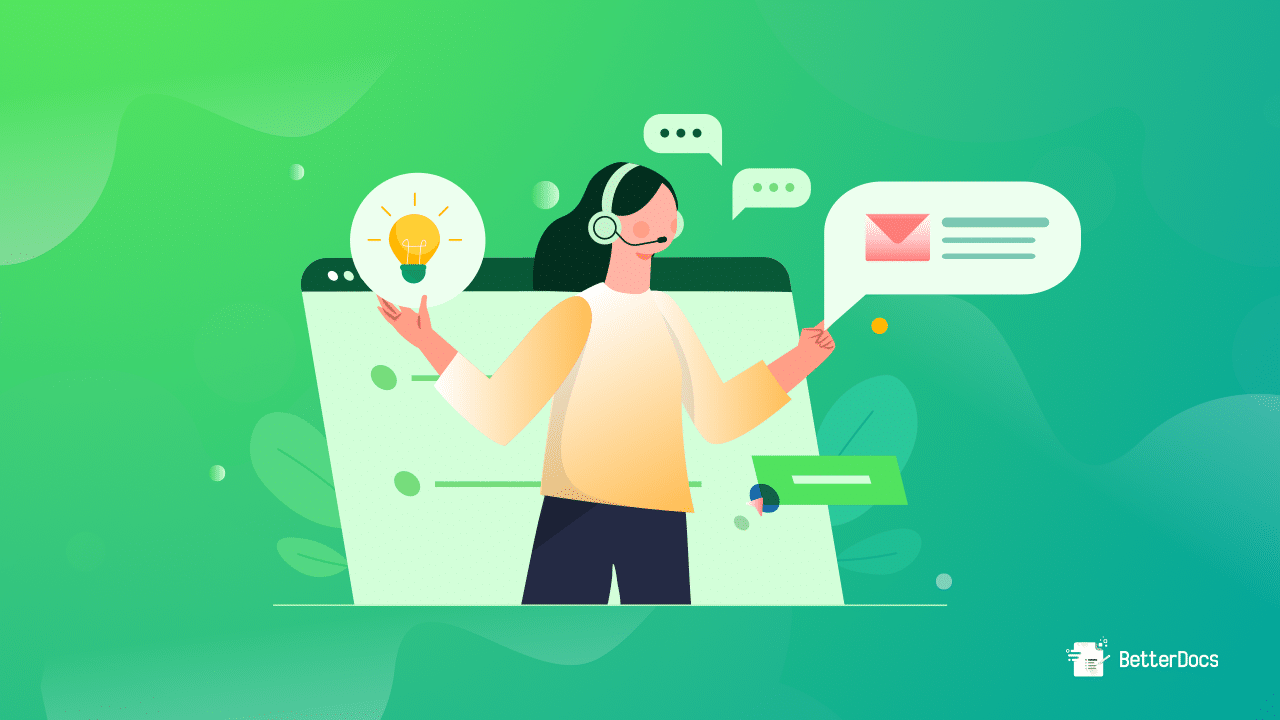 You have to be very clear and concise from the start of each customer interaction. Make them feel you understand their problems and accordingly try to solve them. Your tone in this case matters a lot whether you are doing verbal or written communication in both cases. 
Like if you start your answering with 'actually' or 'maybe' this can be portrayed as an aggressive tone. Unless, if you go with a sober tone like "you will get the reply within a short period of time" or "we are delivering this issue to our expert adviser. Thanks for having patience, your call is very important to us." 
Be clear & concise during your communication.

Use a positive & natural tone with each interaction.

Customers want explanations but not whole details, so be specific. 
89% of consumers are more likely to make another purchase after a positive customer service experience. (Salesforce Research)
Always Practice Active Listening:
Active listening is one of the essentials customer service people should learn. This is the phase where you are listening to your customer queries by ensuring them the right solution at the end. Here you will get or lose your customers. So your communication and listening skills are actually going to make your potential customers stay or leave. 
Set a goal and assure your customers you are listening to their problems. 

Ask questions in each step if you feel necessary. 

Always close the conversation with a quick summary. 
58% of American consumers will switch companies because of poor customer service. (Microsoft)
Empathize With Your Customers:
Empathy is the word that can define your customer service role very well. When you are dealing with diversified buyers or potential ones you have to comfort them with an empathizing tone. That you are going to provide them with the right solution and try to figure out the issue from their point of view. And customers will come back again to get your product & service. 
Get The Best Customer Support App:
Another important thing is that you have to choose the best customer support app to make your service smooth. That your customers can make any query or take help immediately with your customer support.    
68% of consumers say they are willing to pay more for products and services from a brand known to offer good customer service experiences. (HubSpot)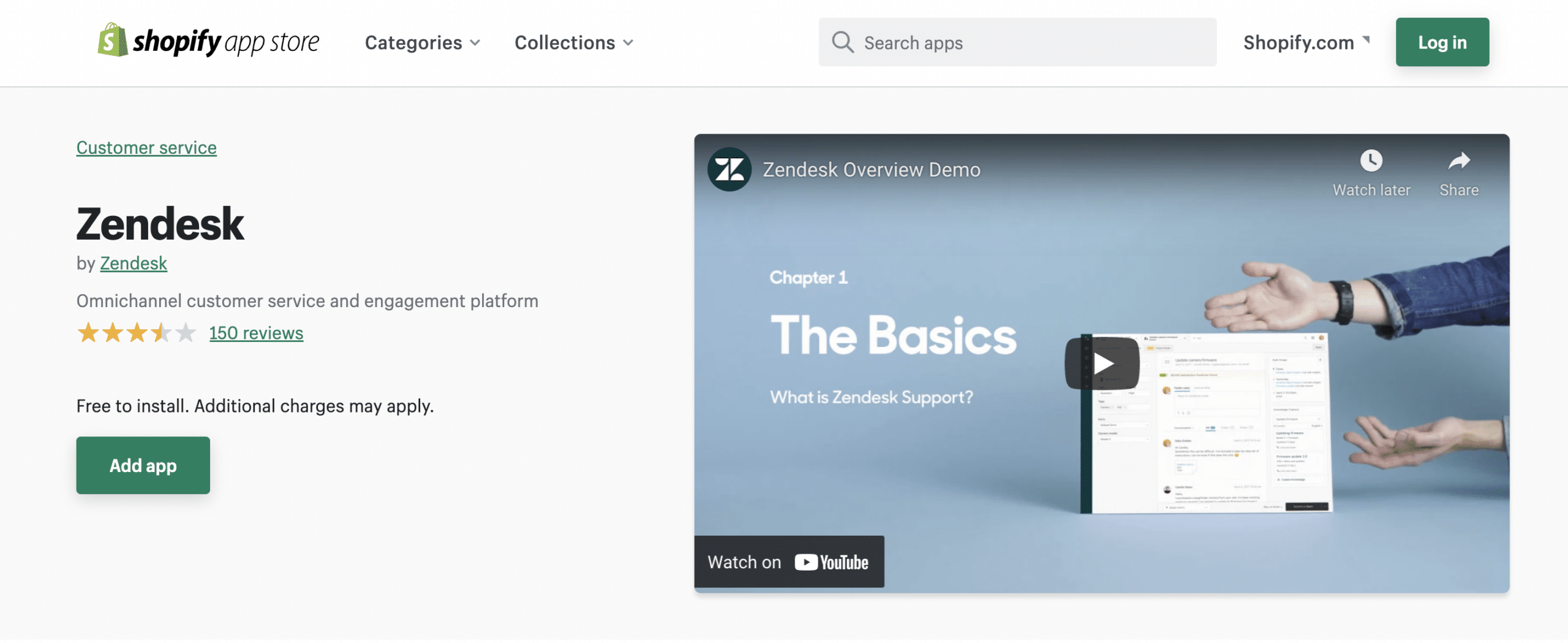 Zendesk is a powerful customer support app that is powerfully integrated with Shopify. Zendesk for Shopify Zendesk enables customer interactions through messaging, phone, chat, email, social media, and other channels. This is an all-in-one advance helpdesk app to smoothen your customer support service and help you boost sales. It offers Free Trial all available for PRO packages. 
Exclusive Features Of ZenDesk
Get access to relevant customer data, billing, shipping, order information, etc & solve customer queries instantly.  

Help process refunds and cancellations directly from the Zendesk Support sidebar app

Provides one click of a button, embed live chat to any Shopify-powered site 

Customize important order data for your agents with a lot more. 
Tidio

Tidio is an all-in-one Shopify customer support app that offers live chat, chatbots, email, Messenger, and Instagram support. You can reach out to your customer through this customer service app and solve their issues immediately. It comes with advanced both to recover abandoned carts to increase sales, and also react to your customers' behavior automatically. Tidio comes with both free & pro plans. 
Exclusive Features Of Tidio 
Use free Live Chat to reply to your customers anytime 

Help you to take care of your customers 24/7 through chatbots 

Self-servicing facility to check product availability, inform about deliveries, etc.

Combine all communication channels in one place 

See live visitors start a conversation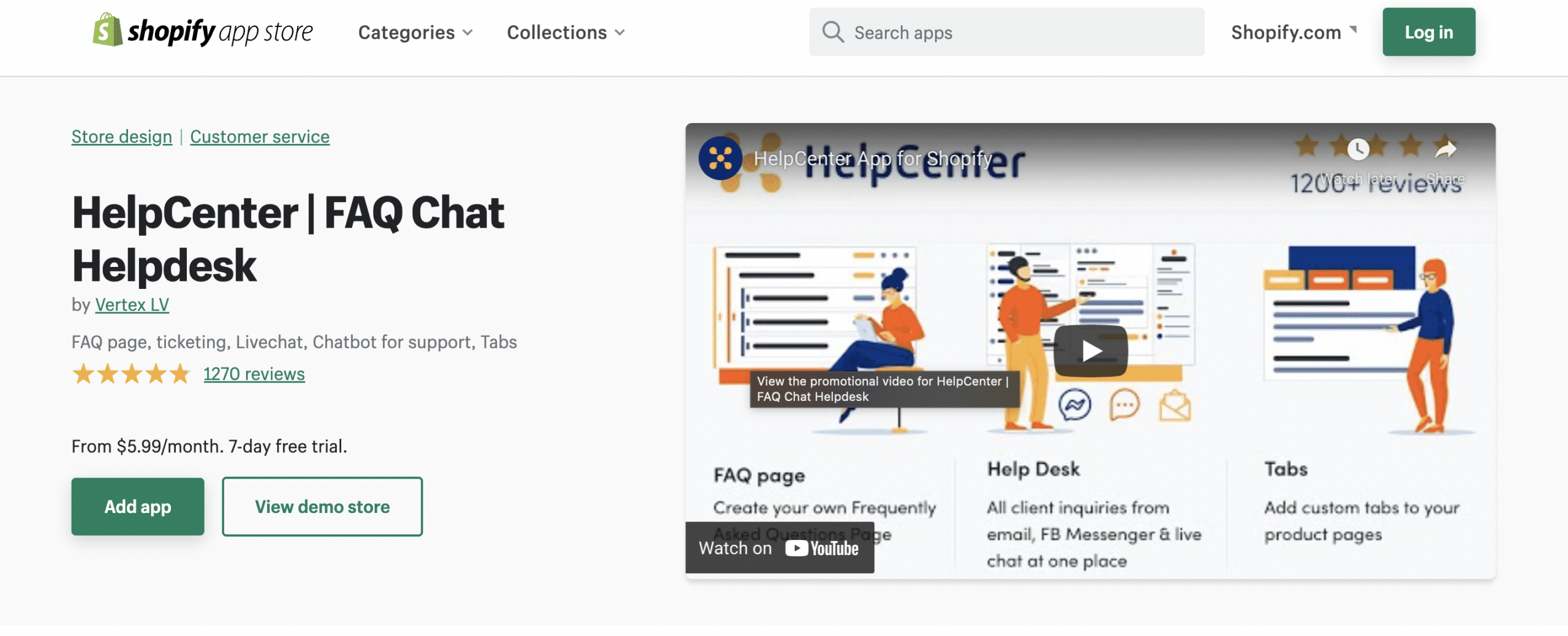 Another Shopify customer support app in 2023 is HelpCenter. That comes with an FAQ page, ticketing, Livechat, Chatbot for support & Tabs. It comes with a user-friendly customer service interface for your e-commerce store and ensures customer satisfaction. You can easily install and start using this solution to smoothen your customer service. HelpCenter offers both free & pro plans
Exclusive Features Of HelpCenter
Build an informative, easy to navigate FAQ page to answer your customers' queries

Manage multiple channels inquiries like email, chat, or FB Messenger in a single HelpDesk

Organize your product descriptions, shipping & other info with custom tabs

Account for several e-shops or communication channels & more

Gorgias is a complete customer support app for eCommerce stores and Shopify to manage multiple channels and customer queries from one platform. You can connect to the most popular apps to cancel recurring subscriptions, modify loyalty points, and more functionality automatically. It helps to cut support time and make your team more customer service productive using this advanced app. Gorgias's price plan starts at $60. 
Exclusive Features Of Gorgias
Provide customer support to every CRM channel like email, live chat, phone, and social. 

Help to cut customer support time in half & respond instantly to customer chat. 

Set up automated responses & bot to eliminate Ticket backlog.

Check out which page customers are visiting & do instant chat. 

Reamaze is a centralized Shopify customer support app that is compatible with Live Chat, Chatbot, FAQ Platform for SMB & Enterprise eCommerce brands, and more. Using this app you can manage all your customer support requests from one place. It helps to provide automated replies, send push notifications, and more. Reamaze price plan starts at $29.
Exclusive Features Of Reamaze
Consider itself more powerful and advanced than other helpdesks like Zendesk

Manage multiple stores easily including chat email, social, push, SMS, VOIP, WhatsApp, etc.

Help to boost sales, conversion, and retention

Provide highly rated merchant support & more. 

eDesk: Live Chat & AI Helpdesk offers instant customer support, review automation, centralized AI inbox with lots of other advanced features. It is considered one of the leading eCommerce help desks for multichannel merchants, integrating with leading marketplaces, and social channels and exclusively with Shopify. eDesk also comes with an auto-response feature to manage your customer queries smoothly on busy weekends and holidays. eDesk comes with both free and pro plans. 
Exclusive Features Of eDesk 
Respond faster & perfect for teams working from different locations

Help to improve team performance with better reporting

Comes with real-time dynamic dashboards & centralized inbox for all integrations

Provides a one-click invoice generator, auto-translator, AI responses & more.
Now It's Your Turn To Explore
Hope you find this blog helpful to choose the best customer support apps in 2023 and enhance your customer experience to boost sales. Also, let us know your experience by commenting below. 
Bonus Tip: Create A Powerful eCommerce Knowledge Base With BetterDocs For Shopify
: 
Create & manage detailed documents

Manage single docs and archive pages

Separate documents using categories & tags

Add a sticky Table Of Contents to your docs

Customize the design of all your documents

Enable an advanced Search Bar to help with navigation
To find out more about this exciting feature, make sure to check out our detailed guide here, and don't forget to join the amazing Facebook community.  
More Trending Blogs On Customer Support: