Though very similar at first glance, but do you know the skills and strategies required for customer support vs customer service are quite different? While both aim to enhance user satisfaction through dedicated assistance, customer support and service have their own separate perspectives and approaches to do so.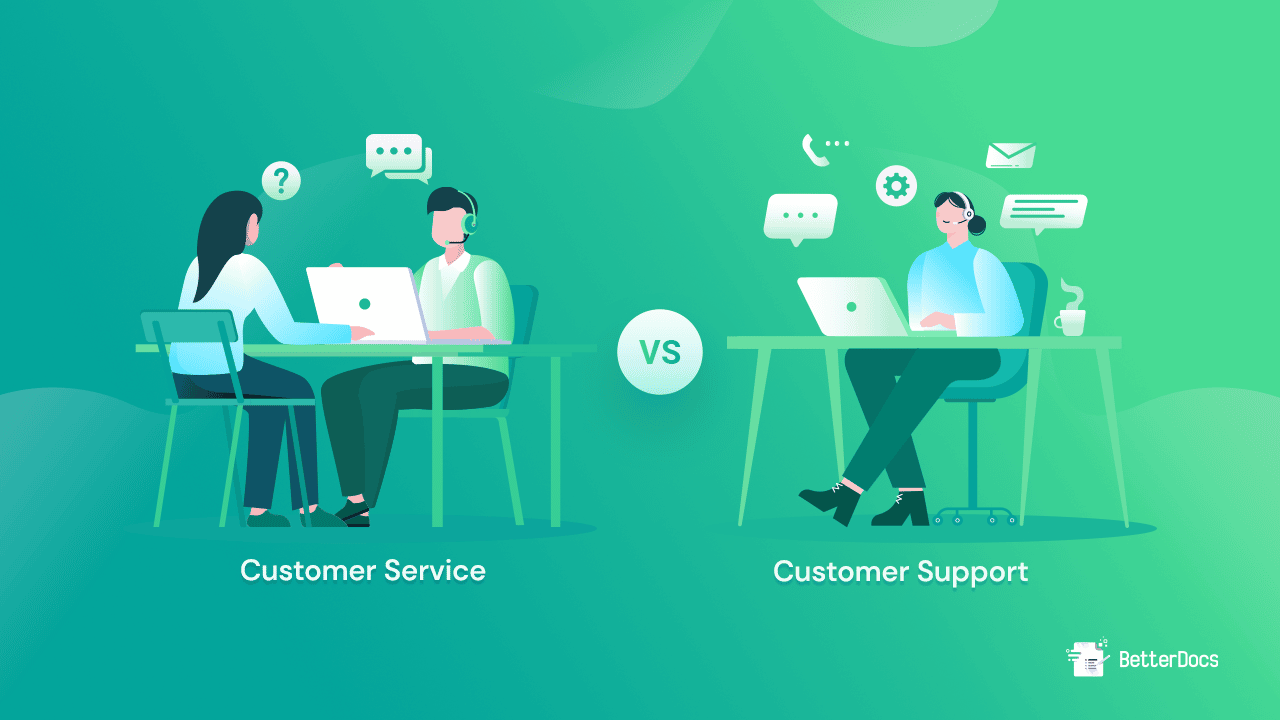 Customer service and customer support both play key roles in delivering a good customer experience.  They encourage client loyalty, word-of-mouth referrals, and more recurring revenue when carried out correctly.
Regardless of whether you are the owner of a recent startup or have been in business for some time, it is crucial that you understand the two terms and their differences to grow your company. Moreover, once you understand the key differences between customer support and customer service, you'll be able to describe job responsibilities to your employees more accurately, make smarter hiring decisions, reduce customer dissatisfaction, and much more.
Therefore, in this blog, we will provide you with a detailed breakdown of the differences between customer support vs customer service and give you some great tips on improving both. 
Defining Customer Service And Customer Support
In simplest words, customer service teams provide services to a customer. It is an umbrella term that covers all interactions related to improving customer experience and relationships.
Customer service includes guiding users through their entire purchasing journey and then assisting them to get a better value for their purchase. Customer service representatives are available to guide and satisfy consumers at every stage of the customer lifecycle. It implies all customer-centric interactions that target to build a long-time partnership with the clients.
To optimize the value of a customer's investment in the firm, customer service teams educate, recommend, and provide strategic advice. It could include onboarding new customers, responding to customer queries across all service channels, following up with customers, collecting feedback, and upselling products when appropriate.
While nearly all businesses in every industry and all departments offer customer service, most do not need to offer customer support. Keep reading to find out why. 
Customer Support: Key To Driving Customer Satisfaction
Customer support, on the other hand, is a specific type of customer service that is generally more involved with end-to-end customer experiences. Customer service teams are more involved in technical troubleshooting related to particular products and services. It implies a more short-term interaction with consumers.  
Customer support teams must have deep knowledge of their company's products and services. Customer support responsibilities may involve knowing troubleshooting guides, being well prepared to answer any FAQs, and handling product feedbacks easily. Support teams also frequently interact with product development teams to ensure the customer experience is optimized. 
Now that you have an idea of what the terms mean, let's dive in and find out more about their key differences.
5 Key Differences: Customer Support VS Customer Service
The terms customer support and customer service are frequently used interchangeably to describe a wide range of operations in business. However, as we can see from above, there two terms have completely different functions. In reality, they both have the same value which is offering help to ensure customer satisfaction but differ in approach and function. Both terms refer to the efforts made to satisfy a customer and keep them engaged in your brand and products.
To understand the two terms better, let us look at 5 key factors and understand the differences between customer support vs customer service. 
1. Customer Support VS Customer Service: Different Approaches & Strategies
Retaining customers is usually less expensive and quicker than acquiring new ones. Customer service strategies, therefore, consist of a thorough plan to provide consistent and satisfactory customer experiences throughout a customer's lifetime by handling all types of interaction. It can include giving recommendations before a purchase, assistance at the time of check out, and much more. Customer service teams aim to train and be prepared to meet any customer's needs with personalized services at any point in time. 
On the other hand customer support focuses more on providing technical help for specific products and services to consumers after purchasing a product, and they are more likely to work by guides and handbooks. Their strategies involve direct assistance with technical problem solving and troubleshooting, such as assisting the consumers on how to operate a product. 
So we can state that there are some major differences between the strategies and approaches used for customer support vs customer service. While one is more technical help-based, the other aims to help in all aspects. 
2. Individual Roles In Business Function: 
The roles assigned for customer service vs customer support are quite apparent. Let's take a closer look. 
Customer service is defined by meeting a customer's demands and assisting them before, during, and after the purchase of a product. Customer service, unlike customer support, is concerned with supporting customers' non-technical concerns. As mentioned earlier, this can include consultations before the purchase or assistance during a checkout process. It involves all interactions between a business and its customer that are aimed at enhancing user experiences and improving a customer's relationship with the business. Customer support is just one part of these interactions and therefore can be referred to as a part of customer service.
Customer support services may range from assisting customers in the installation, troubleshooting, maintenance, upgrading to the disposal of the product if necessary. Customer support teams are usually the people at the other end of the call center service or live chat services provided by companies.
Like we have mentioned before, the support team also works closely with the planning/development teams of a firm as they can provide a better insight into what customers need and want. They often collaborate with product development teams to ensure improvement and optimization of the end-to-end customer experience.
3. Distinct Set Of Employee Skills: General Or Technical?
Customer support vs customer service teams needs quite different sets of skills and experiences. Many customer service skills and jobs are focused on relationship building, fielding customer questions, and directing activities that can help improve the overall experience for the customer.  Some typical job requirements are excellent soft customer service skills, interpersonal skills, and a strong desire to help others.
Customer support jobs, on the other hand, typically require technical customer support skills and expertise related to the product or service that the company is selling. Customer support representatives who have a deep understanding of the technical aspects of the software are better equipped to handle technical customer issues.
4. Separate Natures Of Interaction: Customer Support VS Customer Service
Customer service mostly deals with one-time interactions with customers, because it usually deals with simple issues that can be resolved quite quickly. Even so, the quality of your company's customer service is crucial to building long and trusted relations with your clients because even one negative experience can make a client leave and spread bad reviews.
Customer support, for its part, involves continuous help to a customer. Taking care of some of the issues that customer service handles, such as training users to install or navigate the software, takes time and requires more involvement with clients.
5. Different Ways To Measure Success of Customer Support VS Customer Service
It is always important to analyze the effectiveness of the customer service a firm is providing. And to do so, many businesses tend to look into transactional metrics such as: 
First contact resolution (

FCR

)

Average handle time (

AHT

)

Customer satisfaction score (

CSAT

)

First response time (

FRT

)
But the ways in which you can analyze customer support vs customer service are a little different. While there are some metrics that match like CSAT, others do not. 
Similarly, companies should also consider analyzing and evaluating their customer support effectiveness or performance using some important business KPIs.
Customer satisfaction score (

CSAT

)

Net promoter score (

NPS

)

Customer effort score (

CES

)

Customer churn rate
Customer Support VS Customer Services: Tips To Improve Satisfaction
Good customer service and customer support mean meeting customer expectations regularly. According to recent research, 75% of users are more likely to invest in businesses or stores that ensure a worthwhile customer experience. 
Both your customer support and services teams must be well prepared and trained with the proper skills to interact with customers. You should also provide your teams with the necessary tools and guidebooks to enable them to serve and support your consumers to the best of their capabilities. 
Their interactions with the consumers will ensure your company's growth and success; therefore, it is important that employees build empathy and care into every interaction.
Finally, you should try to help your own customer support and service teams with a detailed and extensive knowledge base system or documentation page of clear instructions (for the employees) and prepared responses. And while it might have seemed difficult to arrange and organize large sets of documents in an efficient way till recently, now you can effortlessly create knowledge bases using BetterDocs. 
Scale Up Your Customer Service & Customer Support With BetterDocs
BetterDocs is the ultimate solution to your customer support and customer service documentation system. It is powering up remarkable knowledge bases for top WordPress websites all around the world.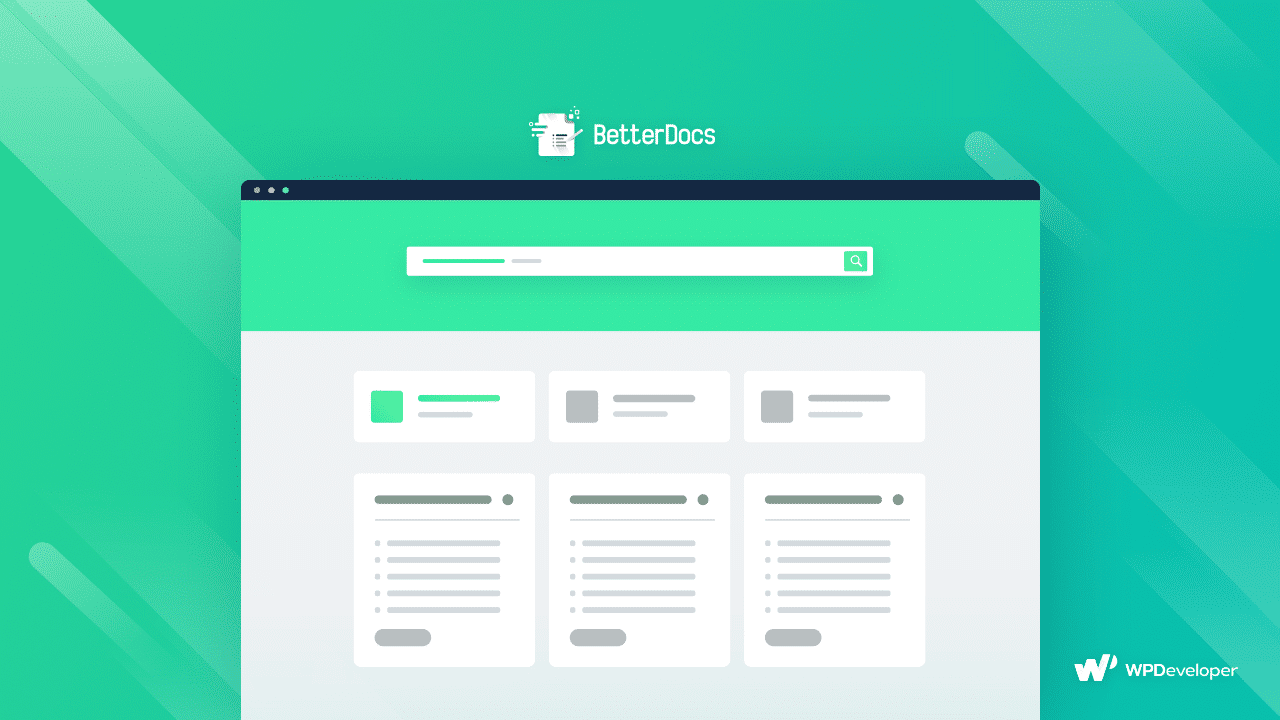 With the help of BetterDocs, you can create, organize and manage resourceful, up-to-date documentation pages and knowledge bases. This will instantly help your customer service teams by providing any knowledge they require and reducing the load on your support team. All it takes is a few minutes, and you do not even need any prior knowledge of coding. 
If you found this blog helpful or if you want to learn more about creating knowledge bases for your company, take a minute to subscribe to our blog posts. Join our growing community on Facebook and scale up your company's customer support and customer service today.