In the digital world, frequently asked questions or FAQ pages of any website is the most effective place for visitors to get their solution about the products they are using. Potential customers to active ones are visiting those pages frequently to know detail about your product usages, features, functions, or more.
Besides, a well-organized FAQ page can help you out to rank your site higher in search engines like Google, Bing, or others to maintain your product credibility and reduce support pressure. So this blog's purpose is to lead you towards five effective tips to build a killer FAQ page.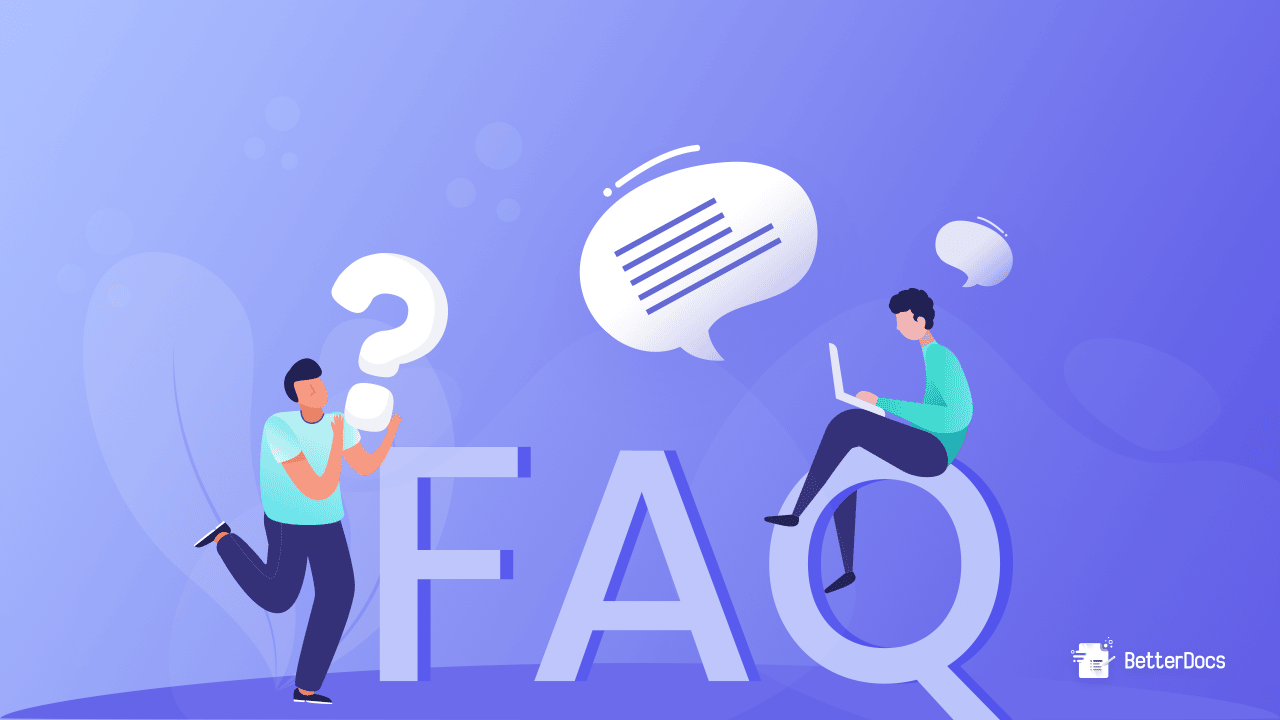 Perfect Landing Page For FAQ
A perfect landing page layout will attract your visitors to go further. You need to be very specific about the content and overall look of this page. Because on this page, your potential buyers or existing customers will visit to find out their queries. So, you have to come up with the following things to provide a better user experience:
An advanced search panel
Table of content
High-quality images
GIFs or videos for better explanations
Customer ratings about specific docs
Feedback form and more
Keep Each Page Well-Organized
Your content category should be well-organized. You have to maintain the chronicle with related questions answer, so that, after reading one they can understand where they have to move. In this way, they can make their concept clear and take help where they need it.
Customer Focus Content
You have to be very specific about your content. That your visitors don't have to get puzzled about what they have to click on or analyze it by wasting their time. They have to feel that they get exactly what they want. Customer-centric writing is one of the most effective approaches to drag your potential customer's attention. The FAQ page should maintain high quality, otherwise, visitors might give negative feedback.
Faster Decision Making
FAQ page content helps customers to make their decision on the spot to get immediate help. It also helps those potential buyers who want to purchase the product but need proper specifications about product features and functions. This helps to reduce the support pressure and save time for both customers and sellers.
Keep Forms Simple
Feedback form for customers after reading your content is the most essential part. If they want to tell something or create direct communication, you have to direct them with a well-organized form. That will encourage them to let you know about your content. This will help in both ways to improve your work and you will get to what customers actually feel about your product.
Get To Know The Best WordPress Documentation Plugin BetterDocs
You get to know exactly what your audience wants when they make a search on the documentation page. Right now, you will also feel the necessity to get a proper documentation plugin that will organize your site effectively and in advance. Your end is definitely over with BetterDocs- the latest best Knowledge Base plugin. This will give your FAQ page a killer look and a well-organized view instantly with its exclusive features and functions.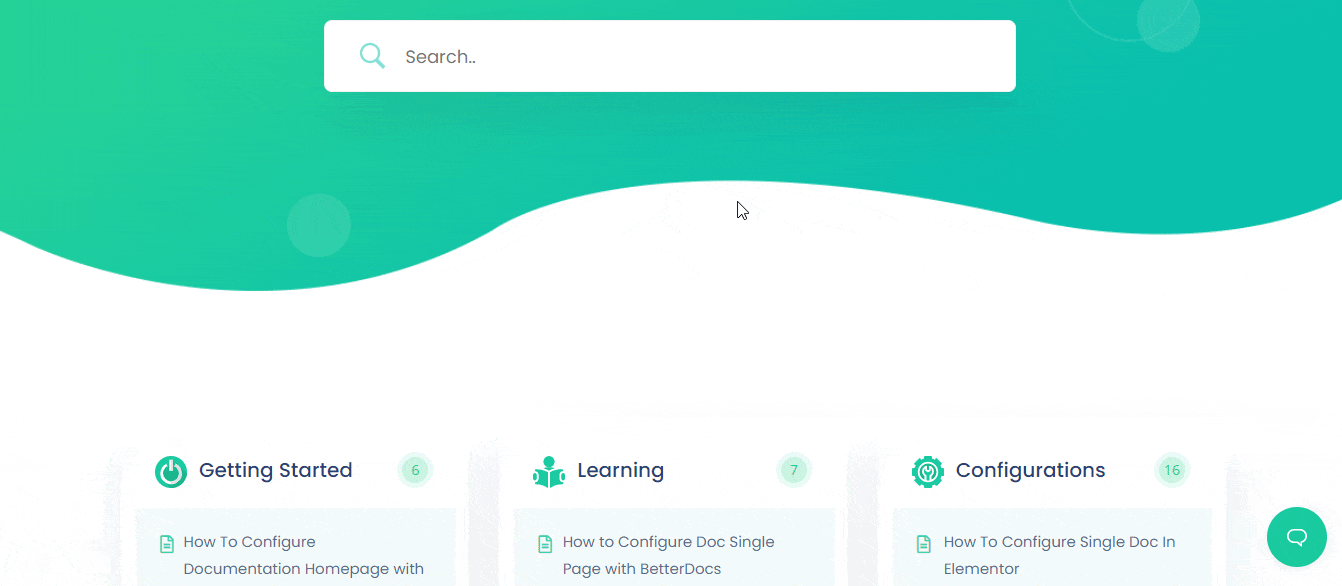 It comes up with in-built template design, customization, and an advanced search panel. It will add your content headers automatically in the Table of Content to make it look sort in one place. You can also enable the Sticky TOC feature to make it available by scrolling the entire page.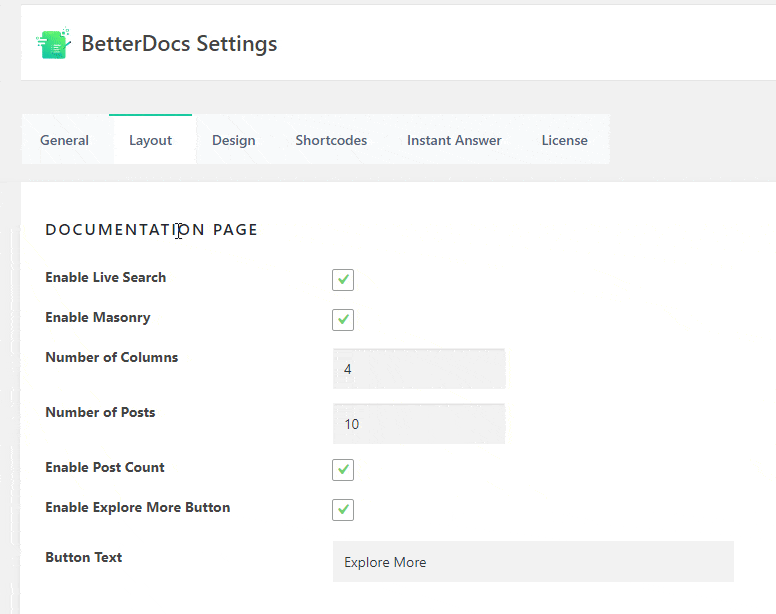 With premium version, you will get an exclusive drag & drop page builder to manage your FAQ page documents with ease. You can easily sort your all documents from one place to another very quickly.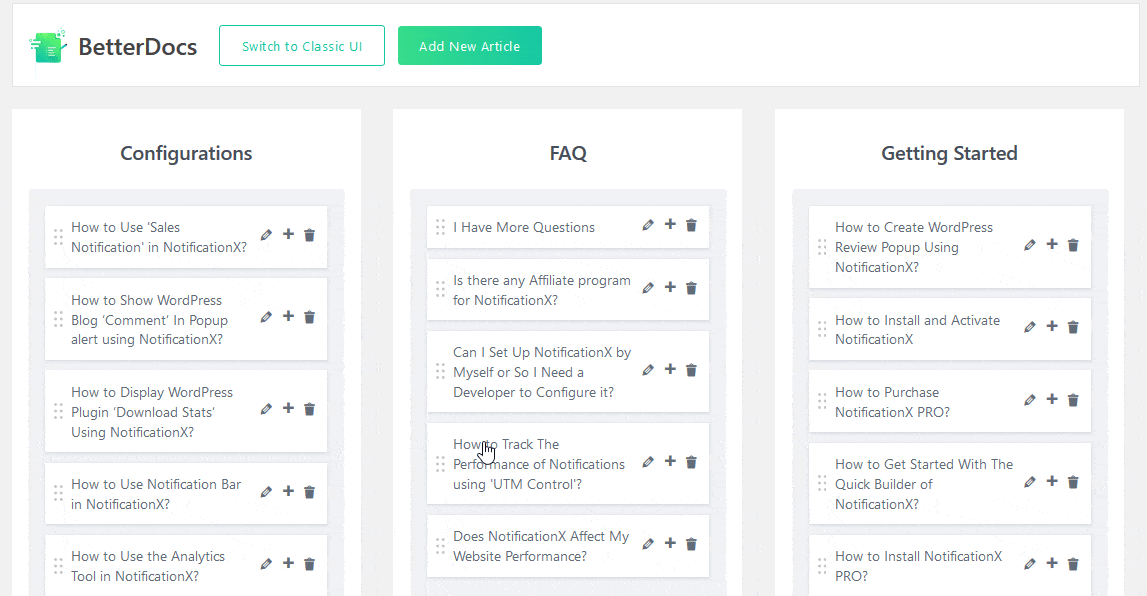 You can customize your entire documentation, single page, or others using BetterDocs advanced 'Design' section that presents its settings. You have to click on the 'Customize Documentation' button and start your modification as per your preferences.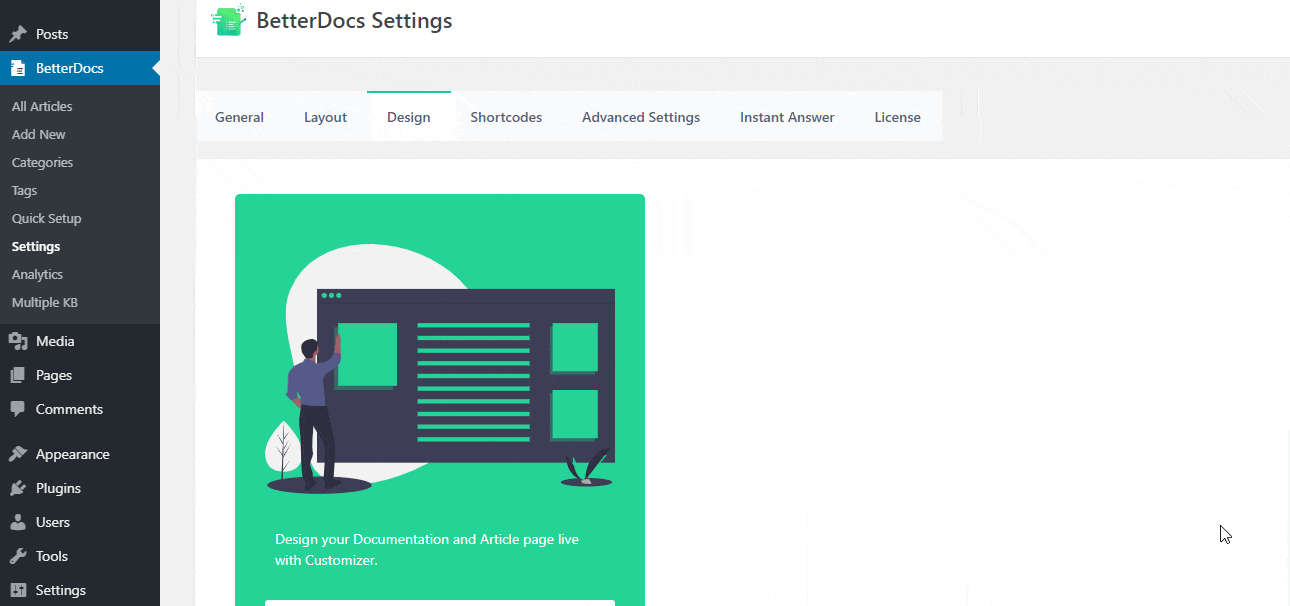 It also comes with Instant Answer support where your customers can get instant documentation help just within a search. It also comes with the Feedback Form feature to collect customer feedback and encourage visitors to create direct communication.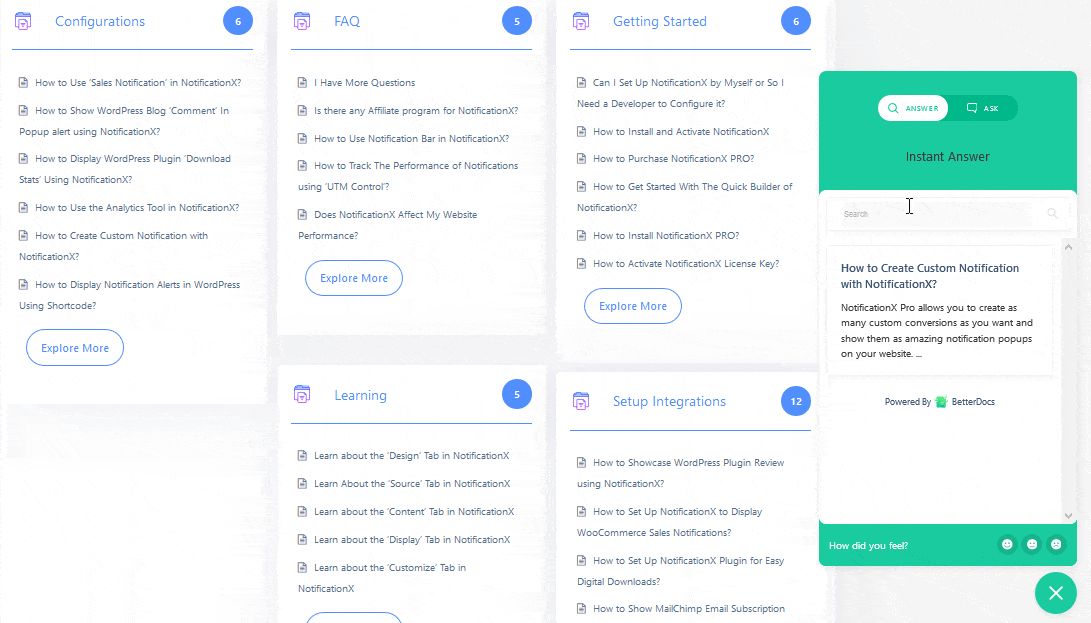 Besides, you can also use this Instant Answer Tool for other websites rather than WordPress. You have to use the cross-domain feature and add the shortcode on your desire site to make it enable.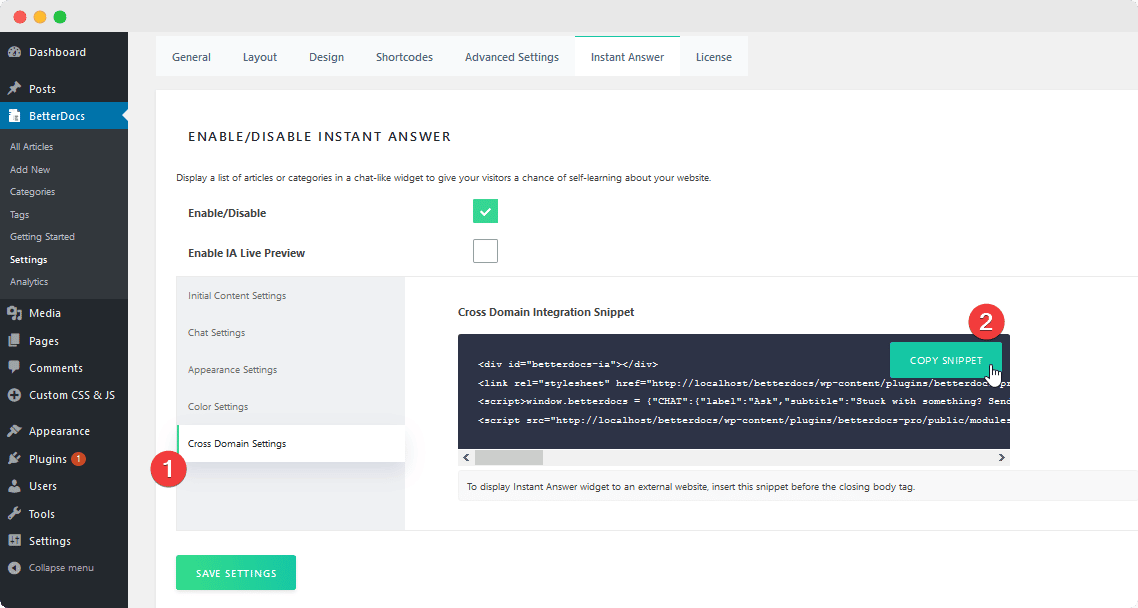 Not only that, you can track and analyze your user performance by its in-built facility of Analytics tool. It will help you to know where your visitors mostly visit and you can do further improvement quickly.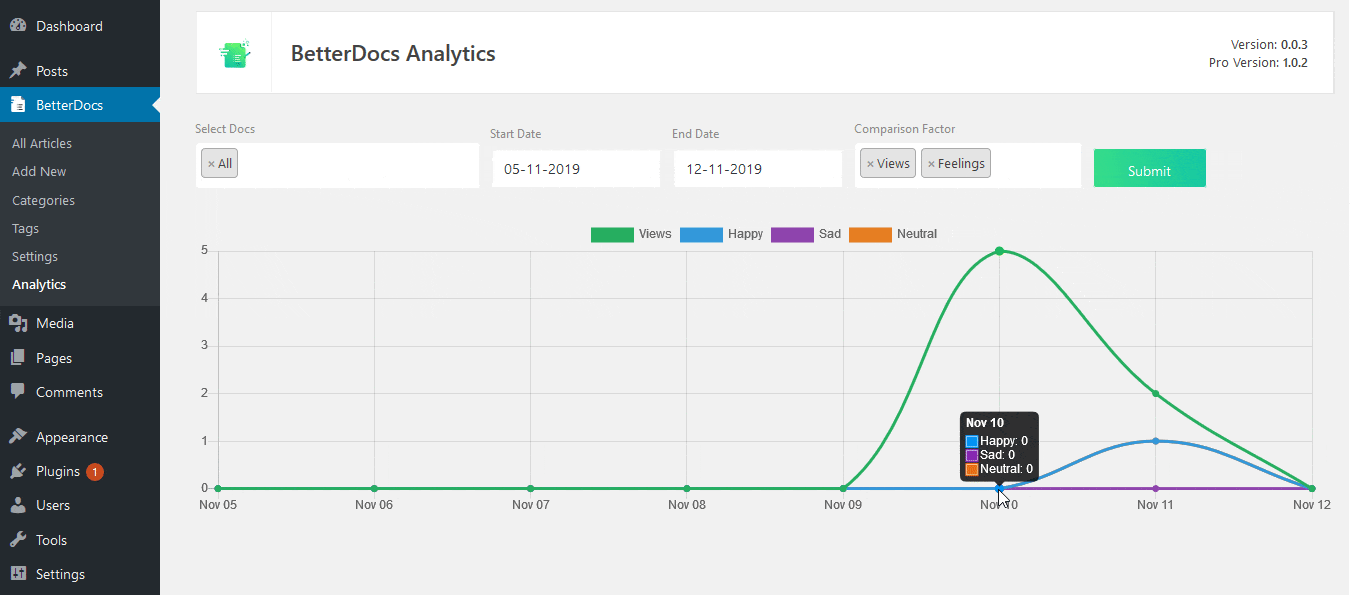 Even if you want, you can create and maintain multiple knowledgebases using BetterDocs advanced 'Multiple KB' features. Suppose you are running an eCommerce website with your SaaS products, you can build documentation or FAQ page for both and manage it directly from the WordPress dashboard with ease. So, you can maintain each from one plugin and one place you can organize, sort, and publish your preferred documentation just with a few clicks.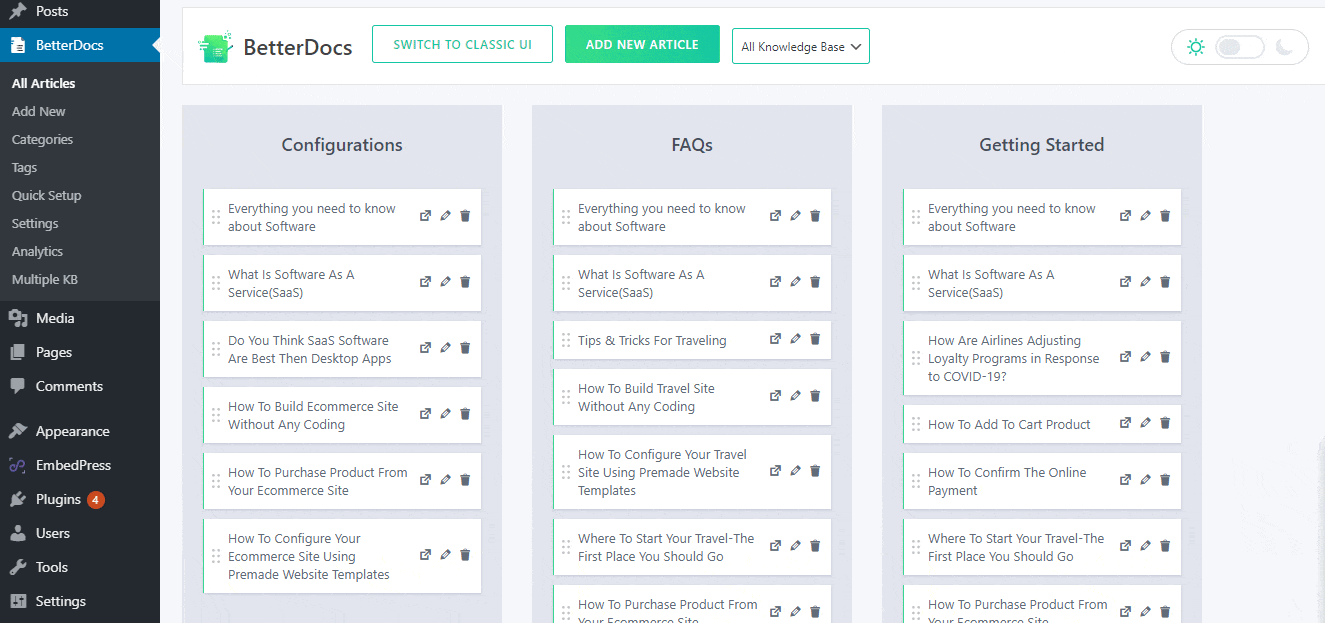 You can turn your customer disappointments into satisfaction with a well-organized FAQ page. By this, they will be able to get their solution briefly and instantly just within a click. BetterDocs documentation plugin comes to serve your huge audience base with its exclusive features and functions to make your site look standout and organizing.
If you want to know more about this Knowledge Base plugin, you can visit our documentation page. Or if you don't even try out BetterDocs yet, then you have to give it a try to see its effectiveness!