BetterDocs lets you now easily manage all your knowledge base documentation with an advanced list view including the grid view. It helps you to sort documents by title, view, date, and many others in advance.
Follow this step by step guideline to find out how to manage documentation with BetterDocs Advanced List View below:
Step 1: Configure BetterDocs Dashboard Interface #
Open your WordPress dashboard and navigate to BetterDocs→ All Docs. From there, you can see by default the list view format for all of your knowledgeable bases or multiple knowledge bases.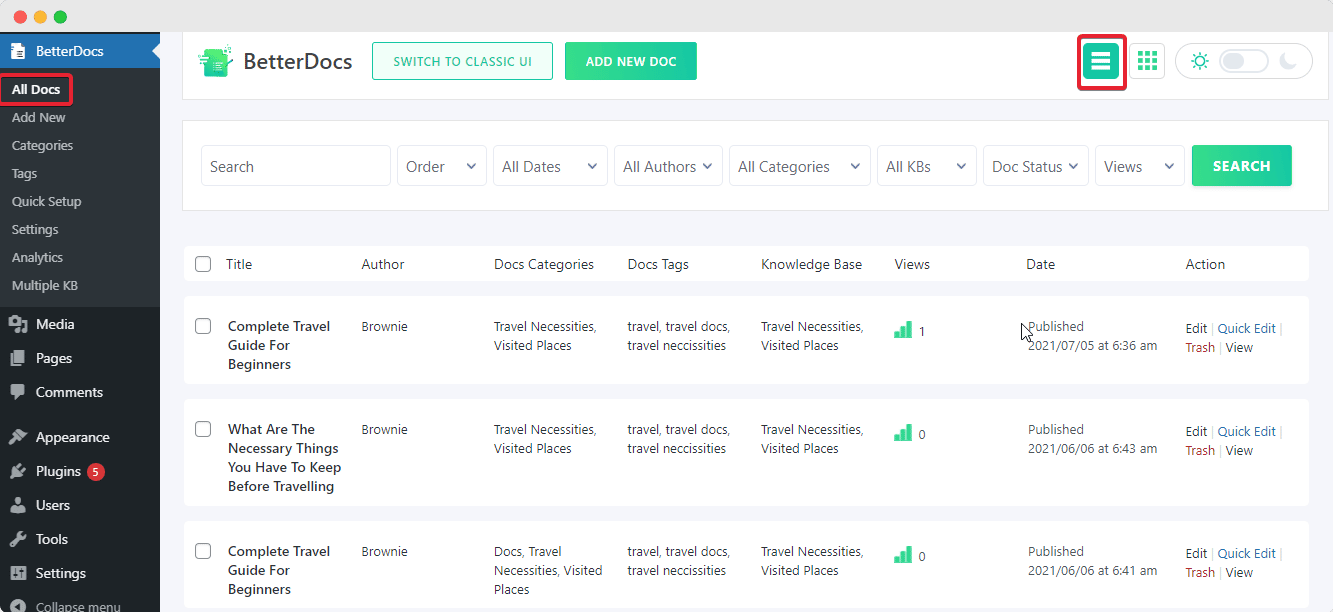 Step 2: Sort Documentation With Advanced List View #
From BetterDocs Dashboard Interface, you can now sort all your knowledge base documentation with an advanced list view en grid view.
Notitie: Grid View List is a feature that is available with BetterDocs Pro. So, to get the Grid View option on BetterDocs interface, make sure BetterDocs Pro is activated and installed on your WordPress dashboard.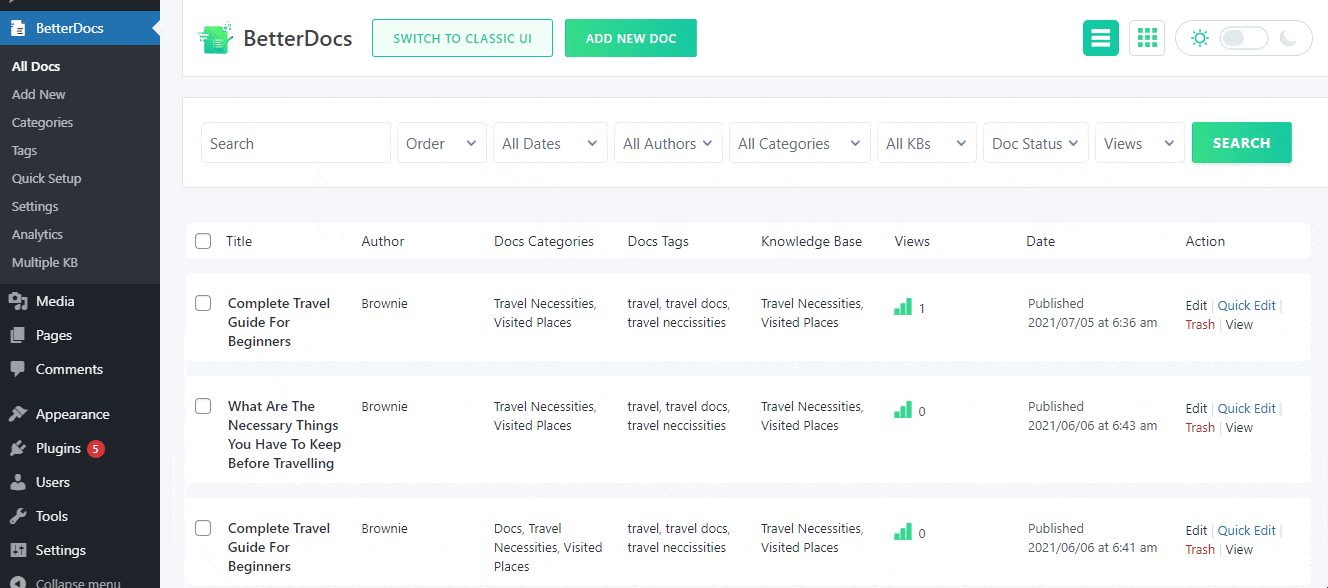 By using BetterDocs 'Advanced List View', you can see a lot of options showcasing on the top panel to sort your documentations. From there, you can sort all knowledgebase documentation with title, ascending, or descending order. Also, with most recent, least, or custom dates, and by author names.
Even if you can sort documents with your added categories, or by showcasing all knowledgebases. This 'All KB' list is handy for those who are using BetterDocs Pro multiple knowledgebases feature. Besides, you can choose documentation with status like publishing, pending, draft, private, inherit, etc., and from the most or least viewed options.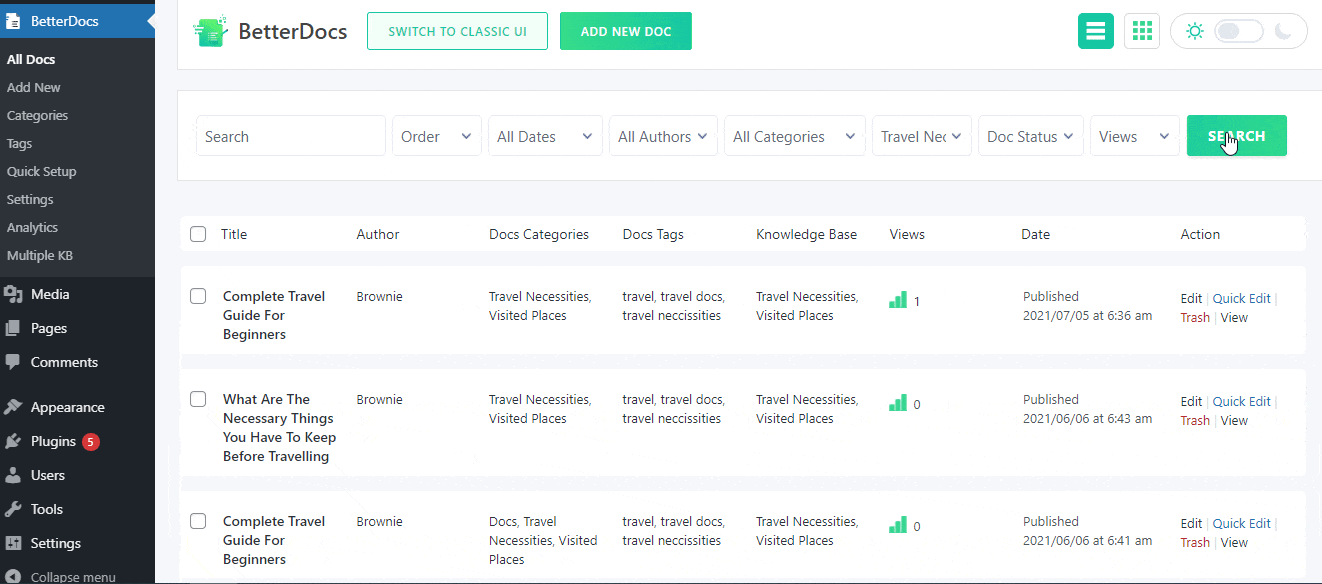 After configuring your preferred BetterDocs advanced list view options, just hit the 'Search' button to get the perfect results.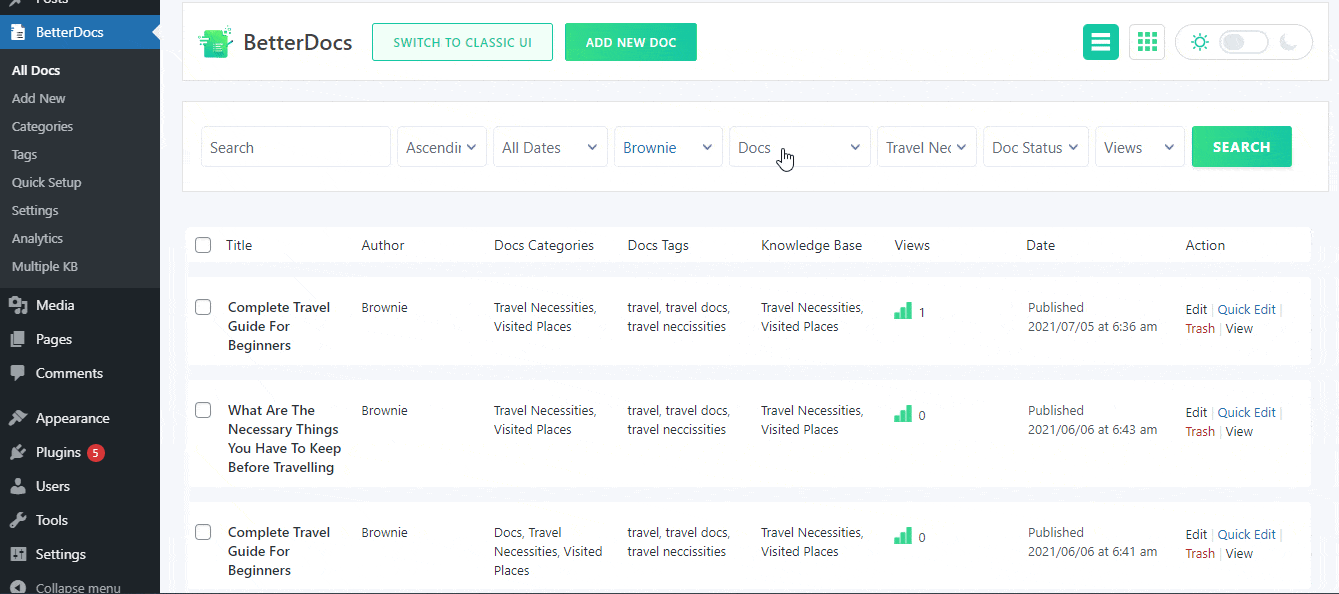 This is how easily you can manage all documentation with BetterDocs advance list view option and beautifully organize your knowledge base.
If you face any difficulties, feel free to contact our support team.