If you are trying to add 'Table of Contents' on your documentation page, you are in the right place. Using the BetterDocs Knowledge Base solution, you can easily show TOC in your WordPress site and improve the user experience for your users.

Documentations are informative pieces of content that usually have a step-by-step order and are meant to educate your users about a certain area of your product/service. By reading your Knowledge Base, your users will get the direction to use your product/service as well as their features. But in order to make sure your users find their required docs easily, you need to make sure you are adding proper tags, categories and of course Table of Contents.
Many WordPress Site owners find it difficult to create (TOC) Table of Contents for their WordPress Documentation Pages. Only if you knew about BetterDocs – it comes with many Advanced Features i.e. Instant Answer, Analytics and of course TOC (Table of Contents). Using BetterDocs, you can create a beautiful TOC in minutes.
Why is TOC (Table of Contents) Important for Knowledge Base?
While writing Documentation for your website, it is important to break down the entire article into distinct pieces with proper headings. If your Doc Page has proper headings, your users will immediately know about important stages of the tutorial. That way can properly achieve your goal of creating a Documentation Page in the first place, which is to make sure your users can digest your articles easily.
Moreover, if you are writing a long article, it is always a good idea to place a TOC at the beginning. That way your users can easily jump back and forth between the distinct parts of the write-up. Your users can easily navigate long articles using the TOC. That way your users can quickly learn about your product and make a buying decision.
Step By Step Guide: Organize Content Using BetterDocs Table of Contents
BetterDocs will not only give you the tools to create a TOC, but it will also assist you while creating one. While writing any article inside your WordPress Website we start off by typing in the Title followed by Headings and Sub-Headings. This is also how we write Documentation on WordPress Websites.
If you use BetterDocs to write your Documentation Pages on your WordPress Website, BetterDocs will automatically pick up your title, headings and sub-headings and place them in the right order in a TOC.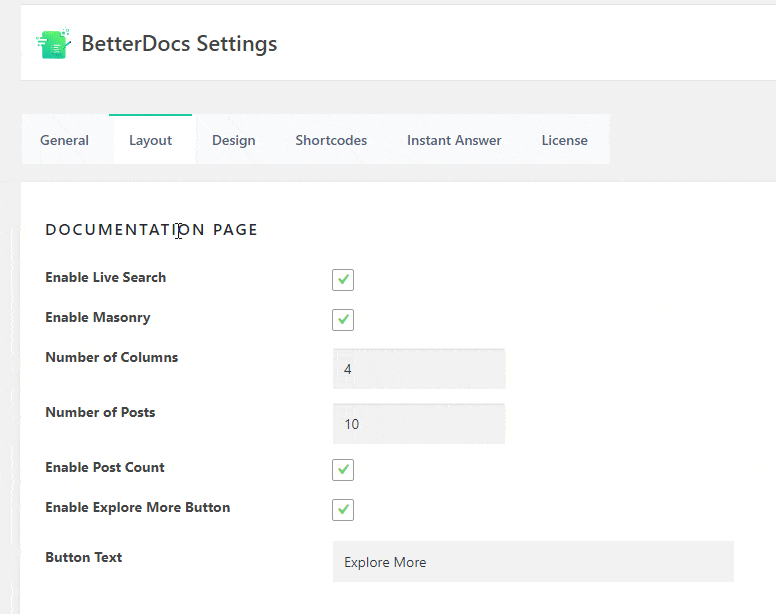 The advantage of having a Sticky TOC is that your users will know at what part of the article they are currently on. Then from there, they can easily navigate back and forth the entire article all by themselves. You can try out BetterDocs Documentation Page to see how our team is using this awesome plugin.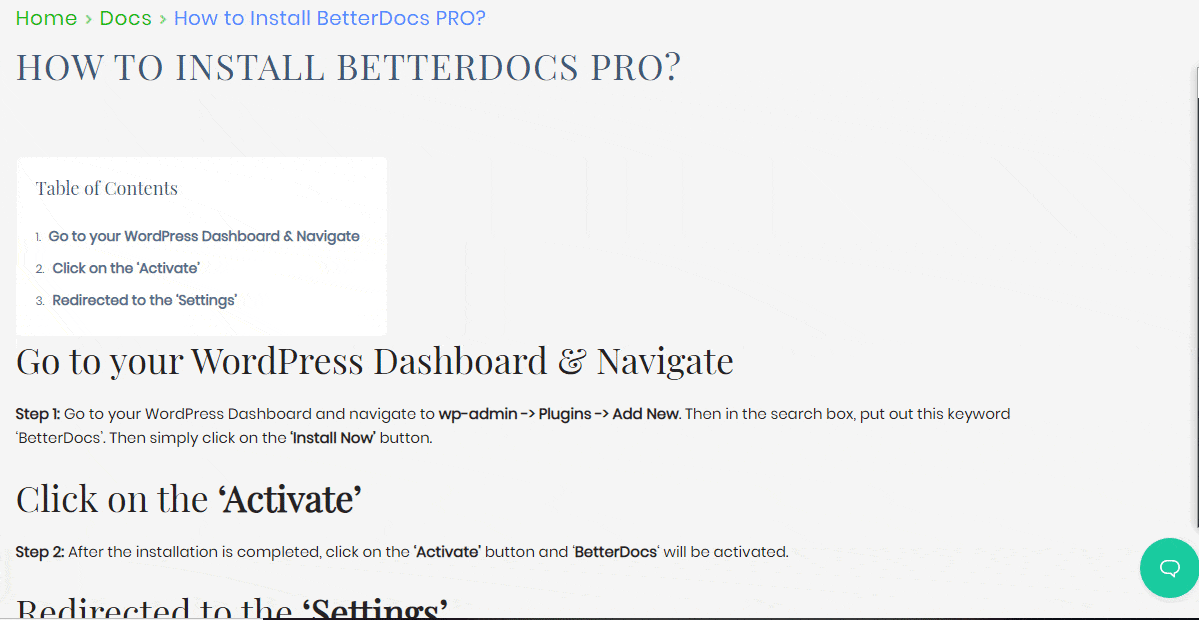 If you want a jump-start to creating your Documentation Page, you can use the pre-made templates that come with BetterDocs. This plugin also comes with an advanced search feature.
However, it's important to measure the effectiveness of your documentations, That is why BetterDocs comes with Analytics feature. It will help you check what Doc Page is visited most by your users. And last but not the least, BetterDocs also comes with an Instant Answer Feature, this works as an automated Chatbot for your Documentation Pages.
Wrapping Up
The utmost priority while creating a Knowledge Base is to improve the user experience for your users. And what better way to do that than encouraging Self-Servicing. While creating your Documentation Pages make sure to add proper tags and categories, that way your users can find what they are looking for in the least time possible.