As an eCommerce store owner, providing excellent customer support is paramount to success. One of the most effective ways to streamline customer inquiries and enhance user experience is through a well-structured Frequently Asked Questions (FAQ) page. Here, in this blog, you can learn about FAQ App in Shopify for your website.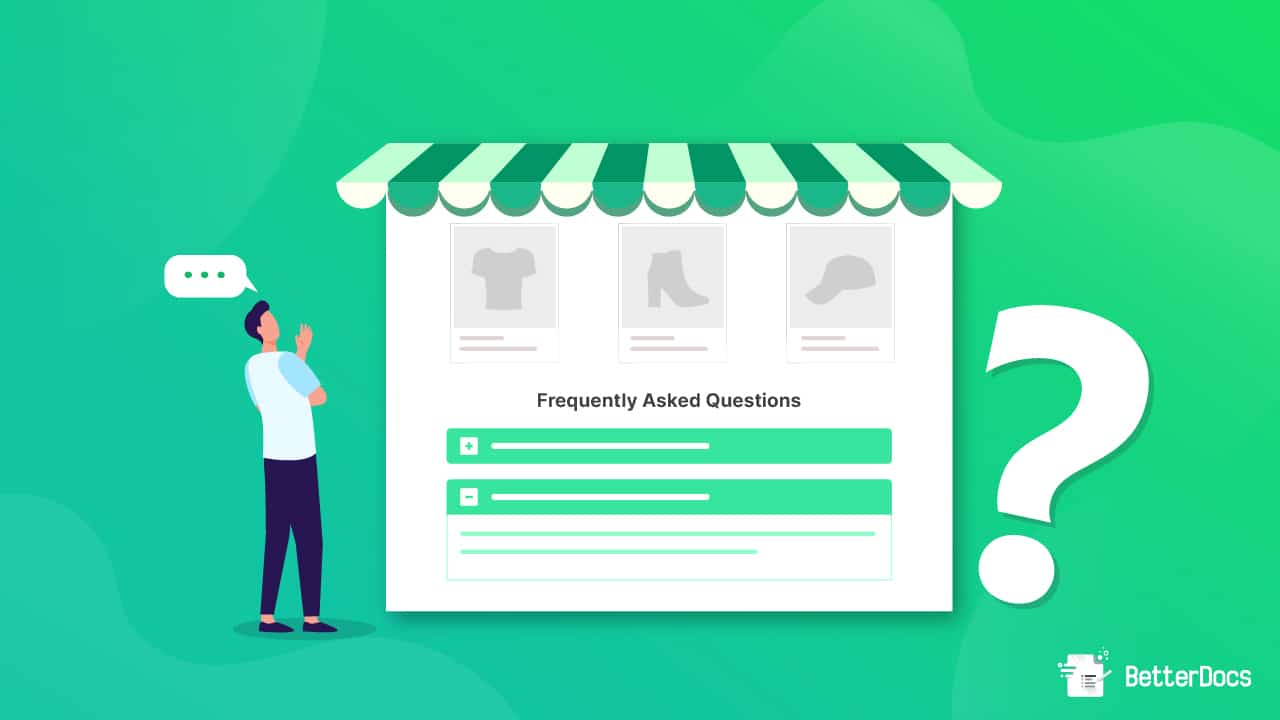 As an eCommerce store owner, you must understand the importance of empowering your customers with readily available information. An informative and attractive FAQ section on your website can help you below ways to make your Shopify store more stunning.
⭐ Enhance Information Access with Intuitive FAQ Section
⭐ Simplify Customer Support with Powerful FAQ Management
⭐ Empower Customers with a Comprehensive FAQ Experience
Best 5 FAQ App In Shopify App Store
If you're tired of customers asking the same questions repeatedly, then here is your solution. You can easily save time and provide your visitors with quick answers. Look no further! Here are the 5 best FAQ apps for your Shopify website. Check them out.
BetterDocs Knowledge Base

BetterDocs Knowledge Base is a stunning FAQ app in Shopify stores that prioritize customer support and want to create a seamless FAQ experience. With its exclusive features, BetterDocs can empower your customers with easy access to information. Let's have a look at the key features of BetterDocs for creating a FAQ section.
Interactive and User-Friendly Design: BetterDocs Knowledge Base allows you to create a visually appealing and interactive FAQ section on your website. With its user-friendly design, customers can easily browse through questions and find the information they need without any hassle.
FAQ App Block: With BetterDoc's FAQ App Block, you can embed the FAQ section on any of your Shopify store's pages. As a result, customers can get answers to the most frequent questions without switching pages.
Instant Answers With Live Search: The app's live search functionality enables customers to get instant answers to their queries as they type. This real-time search feature saves time and effort for your customers, providing a seamless user experience.
Customizable Templates: BetterDocs offers a range of pre-designed templates that you can customize to match your brand's style and website aesthetics. You can choose from various layouts, colors, and fonts to create an FAQ page that perfectly aligns with your store's identity.
Multiple Layouts For FAQ: BetterDocs helps you design a trendy FAQ section for your Shopify store. You can easily create an eye-catchy and informative FAQ section with multiple layouts, colors, and icon choices.
Category & Tagging System: Organizing your FAQs becomes a breeze with BetterDocs' category and tagging system. You can categorize questions into relevant topics and add tags for easy navigation, making it simpler for customers to find the answers they seek.
Insightful Analytics: Understanding customer behavior and the performance of your FAQ section is essential for continuous improvement. BetterDocs provides insightful analytics that offers valuable data on user engagement and popular search queries, enabling you to optimize your FAQ page accordingly.
Import & Export FAQ: With BetterDocs for Shopify, you can easily import and export FAQs for your store. You can import FAQ using a CSV file to create your complete knowledge base and export as you need. This can help you to save time and create a FAQ section for your website in a few clicks.
With this app you can continually enhance your FAQ section, ensuring your customers always find the answers they need, leading to greater customer satisfaction and loyalty. If you want to get started with BetterDocs for Shopify, then check out the blog on How To Set Up A Knowledge Base For Shopify Store.
HelpCenter | FAQ Chat Helpdesk

HelpCenter is a leading FAQ app in Shopify that offers a robust and user-friendly FAQ feature that can significantly improve how you manage customer support. With HelpCenter's powerful FAQ feature, managing customer support becomes a breeze. By offering a customized and intelligently organized FAQ page, you can provide your customers with quick answers to their questions, reducing the load on your support team and enhancing overall customer satisfaction. With its user-friendly interface and essential features, HelpCenter proves to be a valuable tool for any Shopify store looking to simplify their customer support process. Have a look at the key features of HelpCenter's FAQ.
Customizable Layout: HelpCenter allows you to create an FAQ page that seamlessly integrates with your store's branding. You can customize the layout, colors, and font styles to match your website's design, ensuring a consistent and professional appearance.
Intelligent Search Bar: Searching for answers within a lengthy FAQ list can be time-consuming. HelpCenter's intelligent search bar simplifies the process, enabling customers to find relevant information quickly and easily. This feature enhances user satisfaction by providing swift solutions to their queries.
Expandable & Collapsible Sections: HelpCenter's FAQ feature offers expandable and collapsible sections, presenting questions and answers in an accordion-style format. This design choice helps conserve screen space and ensures a clean, clutter-free layout, making navigation smooth and intuitive.
Multilingual Support: If your store caters to an international audience, HelpCenter's multilingual support can be a game-changer. You can create FAQs in multiple languages, accommodating customers from various regions and establishing a global presence.
Analytics & Insights: Understanding customer behavior and identifying popular inquiries can aid in refining your FAQ page further. HelpCenter provides analytics and insights, allowing you to track user engagement and discover trends in customer queries, empowering you to make data-driven improvements.
Avada WhatsApp Chat, FAQ Page

Avada WhatsApp Chat is a versatile app designed to revolutionize customer support for Shopify store owners. Among its impressive features, the app boasts a powerful FAQ component that enables businesses to provide instant answers to customer queries, fostering a more satisfying shopping experience. Its advanced FAQ feature is a game-changer for Shopify store owners aiming to enhance customer support and provide instant answers to customer queries. Take a look below at the key features of this FAQ app in Shopify.
Interactive FAQ Section: Avada WhatsApp Chat offers an interactive and user-friendly FAQ section that allows store owners to organize frequently asked questions efficiently. Customers can find answers to common queries promptly, reducing the need for direct support and enhancing overall customer satisfaction.
WhatsApp Integration: The app seamlessly integrates with WhatsApp, one of the most popular messaging platforms worldwide. Customers can access the FAQ section through WhatsApp, making it convenient for them to get answers to their questions without leaving the chat interface.
Real-Time Updates: Keeping the FAQ section up-to-date is crucial for accurate information. Avada WhatsApp Chat ensures real-time updates, allowing store owners to modify and add new questions as needed, providing customers with the latest and most relevant information.
Multilingual Support: With a global customer base in mind, Avada WhatsApp Chat supports multiple languages, enabling you to create FAQ content in different languages for a diverse audience. This feature ensures that customers from various regions can easily find answers in their preferred language.
Customization Options: The app offers a wide range of customization options for the FAQ section, allowing you to tailor the design to match your store's branding and aesthetics. From color schemes to font styles, you can create an FAQ page that seamlessly integrates with your website's look and feel. By customizing the FAQ section to match your brand's identity, you can foster a more engaging shopping experience for your customers and build lasting relationships that drive business growth.
EasySlide Accordion tabs & FAQ

EasySlide Accordion tabs & FAQ is a highly versatile Shopify app designed to optimize customer experience and streamline support for Shopify stores. An impressive FAQ feature lies at the heart of this app, which presents information in an organized and easy-to-navigate accordion-style format, simplifying how customers access crucial details. It is a powerful app that empowers Shopify store owners to optimize their FAQ section for improved customer satisfaction and support. Below are some key features of this app.
Accordion-style Layout: The app's FAQ feature utilizes an accordion-style layout, allowing you to group questions and answers in collapsible sections. This design choice saves valuable screen space and creates a clutter-free appearance, making it effortless for customers to find the information they seek.
User-friendly Navigation: With the accordion tabs, customers can effortlessly expand or collapse the sections they are interested in, reducing scrolling and eliminating the need to load new pages for every question. This intuitive navigation fosters a seamless and satisfying user experience. By simplifying navigation and providing a clutter-free FAQ experience, this app helps build trust with customers, fostering a positive shopping journey that can lead to increased conversions and loyalty.
Mobile Responsive: EasySlide Accordion tabs & FAQ ensures that the accordion-style layout is fully responsive, adapting to various screen sizes and devices. Whether customers access your store from a desktop, tablet, or smartphone, they'll enjoy a consistent and user-friendly FAQ experience.
Customizable Styling: The app offers a wide range of customization options, allowing you to match the accordion tabs' appearance with your store's branding. You can adjust colors, fonts, and styles to create a visually appealing FAQ section that aligns with your website's design.
Easy Management: Managing and updating your FAQs is hassle-free with EasySlide Accordion tabs & FAQ. You can quickly add, edit, or reorder questions and answers directly from the app's user-friendly interface, ensuring your FAQ section stays up-to-date with the latest information.
Corner FAQ Page & Help Center

Corner FAQ Page & Help Center is a robust app designed to revolutionize customer support and enhance user experience for Shopify stores. At the core of its exceptional features lies the powerful FAQ component, which enables businesses to create and manage a comprehensive FAQ page that efficiently addresses customer queries and promotes self-service support. It is an indispensable app for Shopify stores that seek to optimize customer support and provide a seamless self-service experience. Have a look at the key features of the Corner FAQ Page & Help Center's FAQ.
Flexible FAQ Creation: With Corner FAQ Page & Help Center, creating an informative FAQ page is effortless. The app offers an intuitive interface that allows store owners to add, edit, and organize frequently asked questions with ease. You can categorize and tag questions, ensuring a user-friendly layout that customers can navigate effortlessly.
Smart Search Functionality: The app's smart search feature empowers customers to find answers quickly. By simply entering keywords or phrases, users can access relevant information instantly, saving time and ensuring a seamless browsing experience.
Rich Media Support: Corner FAQ Page & Help Center allows you to enhance your FAQ content with rich media elements, such as images and videos. This feature enables you to provide visual explanations and demonstrations, making it easier for customers to understand complex topics or product functionalities.
Customizable Design: Your FAQ page should seamlessly blend with your store's branding. The app offers a wide range of customization options, allowing you to match the FAQ page's design with your website's aesthetics. You can choose from various styles, colors, and layouts to create a visually appealing and cohesive user experience.
Insightful Analytics: Understanding customer behavior is crucial for continuous improvement. Corner FAQ Page & Help Center provides insightful analytics to track user engagement and search trends. By analyzing this data, you can identify popular inquiries and refine your FAQ page to cater to customer needs better.
Does Your Shopify Website Need An FAQ Section?
If you want to take your Shopify website to the next level and provide top-notch customer support, incorporating an FAQ section is a no-brainer. And with the fantastic Shopify FAQ apps available, you can easily find the perfect one to suit your specific needs. From seamless integration to beautiful customizations, any of these top five Shopify FAQ apps can surely enhance user experience, increase customer satisfaction, and boost your overall sales. So, don't wait any longer; take the leap and create your very own FAQ section now. Your customers will thank you for it!
Do you think this blog is helpful? Don't forget to subscribe to our blog to read more blogs. We would love to have you in our Facebook community where you can share your knowledge and views with others.