Do you want to get a detailed email report of your knowledge base site and all documentation performances? BetterDocs – the best knowledge base solution for WordPress – has introduced an advanced, new Email Reporting feature. It can help you get overview reports based on top-performing docs, the most searched keywords, and much more, in a certain day, week, or month. Excited?
With this email report from BetterDocs, you can easily understand and analyze how your knowledge base documentation is performing, with complete details. Also, you will be able to set up new strategies to collect more traffic on your knowledge base site and accelerate your documentation site engagement. 
For example, if you know about your top-ranked docs' performance or get the high-performing keywords, in both cases, you can easily focus on making your other docs follow a similar format to your best-performing docs and set up keywords accordingly. In this way, you can optimize your docs for search engines and boost traffic without any hassles.
This is why the BetterDocs email reporting feature has been introduced to help you measure and analyze your site performance to boost your site engagement and grow traffic. 
What BetterDocs Email Reporting Feature Is Offering? 
By now, you already know how the BetterDocs email reporting feature can facilitate you as a user. Now, you will get to know some exclusive functions of this BetterDocs email reporting feature that it has to offer. That way, you can easily get your knowledge base site updates and overall view through email. Here are some BetterDocs Email Reporting features exclusives being highlighted: 
👉 This email reporting feature can help you get an overview report that is tracked & analyzed by BettterDocs' in-built analytics. 
👉 There are options to choose your reporting frequency like daily, monthly, or weekly with desired days. So you can easily get all detail tracked data in particular and do your advanced analysis with ease. 
👉 Besides, you can choose top-ranked docs and measure their performance in complete detail.  
👉 You can also get the list and report of the most searched keywords for your documentation.
👉 So a detailed analysis of your knowledge base site documentation can easily be done. Also, a further marketing plan can be set up to enrich your site engagement and conversions. 
⭐Guide: How To Configure Email Reporting Feature From BetterDocs
BetterDocs offers you an exclusive Email Reporting feature where you can keep track of how your knowledge base documentation is performing through detailed email reports. As we have already mentioned, with this advanced feature, you will get an overview report based on top-performing docs, the most searched keywords in a certain day, week, or month and much more. So, how to configure the feature and use it for the best results?
Follow this step-by-step guide below to configure this Email Reporting feature with BetterDocs and get a detailed knowledge base report in email.  
Step 1: Navigate To BetterDocs Settings
First, you need to navigate to 'BetterDocs→Settings' from the WordPress dashboard. After clicking on the 'Settings' tab, you will get access to the Email Reporting feature. Just turn on the Enable Reporting feature to explore all the features.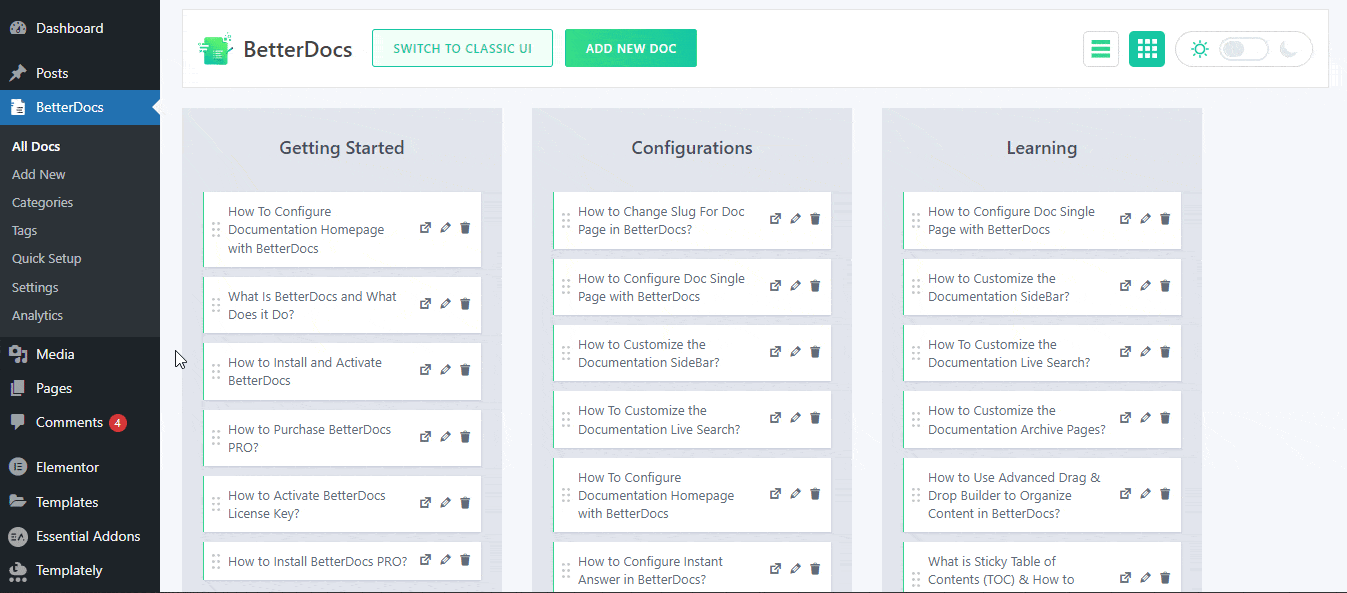 Step 2: Configure This Email Reporting Feature
Now you are on the Email Reporting tab, you can set your email parameters as per your preference. There you will get the options called Reporting Frequency, Select Reporting Day, and add Reporting Email with your preferred email subject line.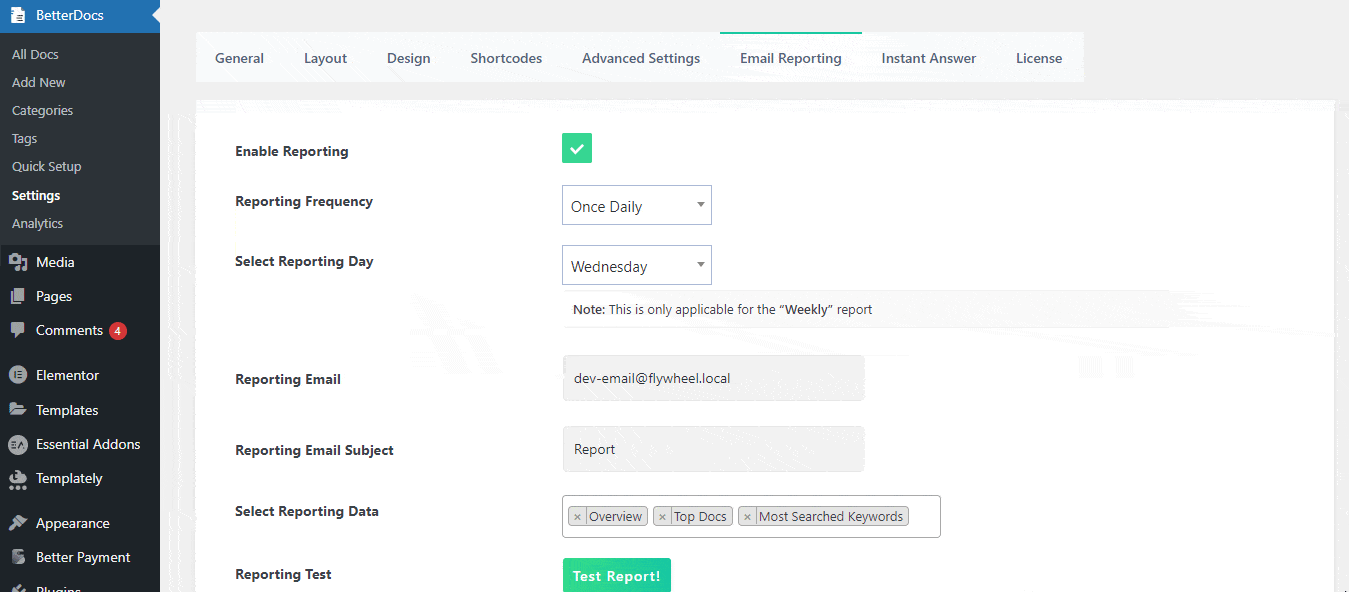 Afterwards, you can select your report data categories by configuring the Select Report Data option. Now that you have customized all the options, just click on the Reporting Test option, and then, this report will be sent to your desired email address.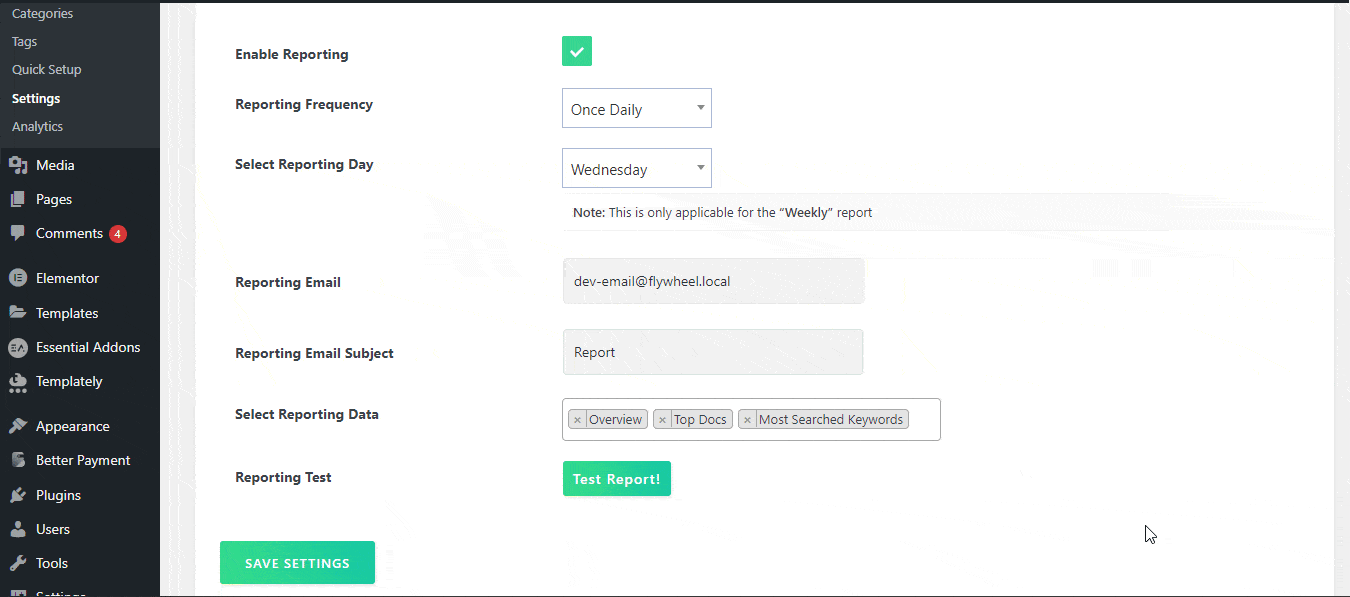 This is what your BetterDocs email report will look like. The report will give you a brief report on the performance of your knowledge base documentation. If you want, you can also go straight to the BetterDocs Analytics tab to get a graphical interpretation of your knowledge base performance and analyze it in advance.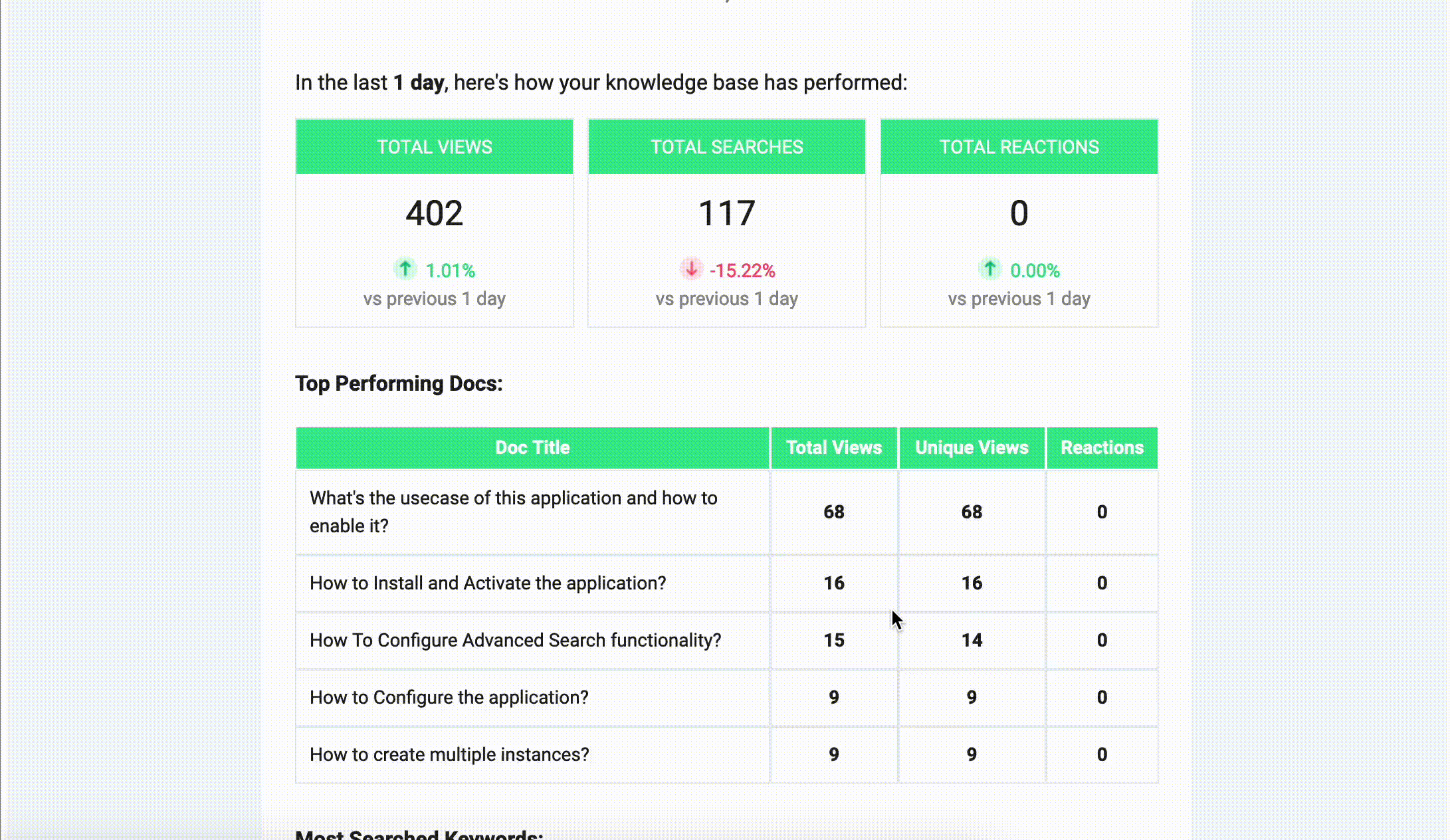 However, the Reporting Frequency, Reporting Email Subject, and Select Reporting Data are premium features of this BetterDocs knowledge base plugin. This is why to get the best out of this Email Reporting, make sure to install and activate BetterDocs PRO on your WordPress site. 
If you get the BetterDocs Pro, you can also get access to all of those exclusive features that you should give a try while managing your WordPress knowledge base site. In the next section, you are going to know about those powerful features and highlights and a bit more about Betterdocs.  
Get BetterDocs: Highlights Of The Best Knowledge Base Solution For WordPress
BetterDocs has 30K+ happy users with all advanced features that can easily make your online WordPress knowledge base site flexible, user-friendly, and search engine friendly. Besides this powerful email reporting feature, there are so many exclusives you should give while you are installing the outstanding documentation plugin. This is for those users who didn't yet explore all the advanced features of BetterDocs and are just beginners.  
BetterDocs comes with in-built ready designs to decorate your knowledge base site in a user-friendly way. You will get a table of contents (TOC), a sticky table of contents that will be floating around while your visitors are scrolling their preferred docs, an advanced live search bar, an instant answer chatbot with powerful analytics support, and a lot more. 
With the help of this best knowledge base solution, you can also create an internal knowledge base and multiple knowledge bases all inclusively. Let's take a look at the below to know all details: 
Key Takeaways Of BetterDocs: 
Now It's Your Turn To Explore!
Hope you find this blog helpful and feel free to share your feedback by commenting below. If you have faced any problems feel to Contact Our Support team, and for more content, check out our blog page. You can join our WordPress experts community on Facebook to get all the latest updates. 
⭐Want To Read More Exciting Blogs?