When running an eCommerce store on Shopify, facing countless customer queries about your products, services, shipping, and payment issues must be a regular scene. To handle support tickets better and provide an excellent customer experience, a complete documentation page on your store website can be just what you need. And so, to help you create the most advanced knowledge base for Shopify stores, we bring you a complete guide with this detailed blog. So without further ado, let's dive right in and find out more.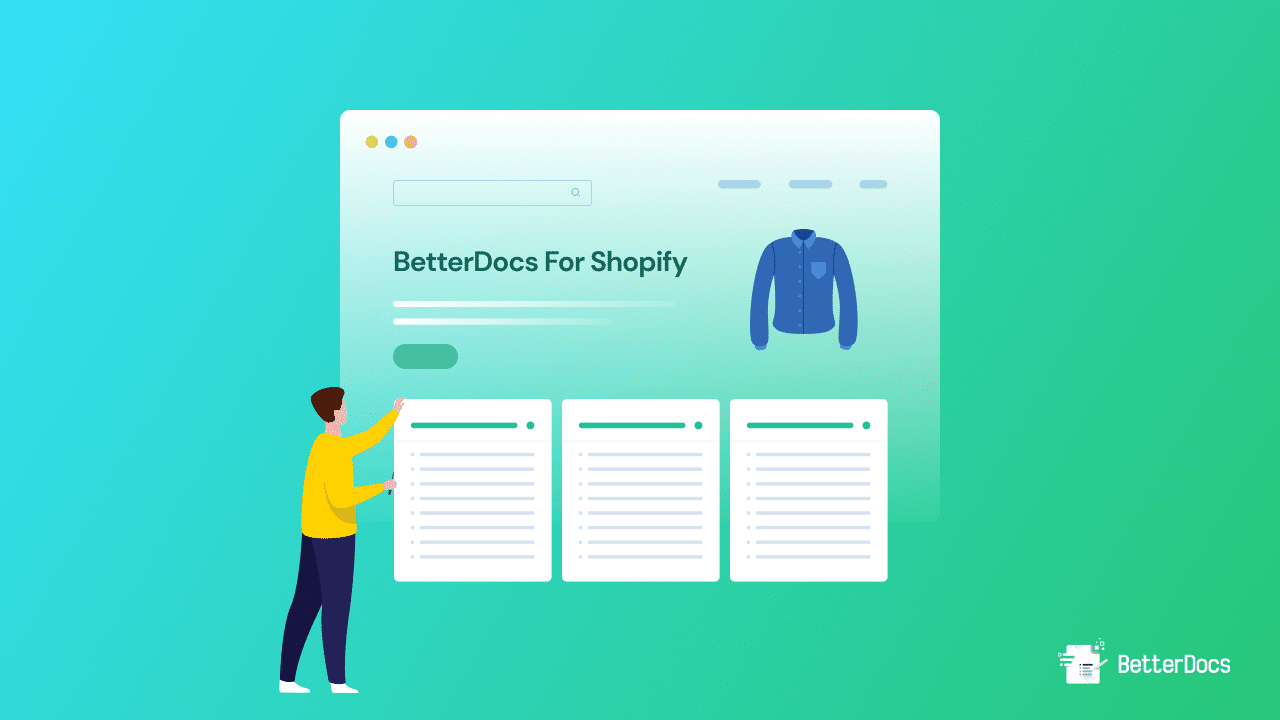 Why Shopify Stores Need Proper Knowledge Base Documentation?
All Shopify stores and their products are unique, which often might lead to customers facing issues trying to understand how to use your products and services. And oftentimes, when users are confused, they do not feel inclined to make purchases or share any positive reviews. But as mentioned previously, a complete knowledge base for Shopify stores is the perfect solution to smoothen not just user experiences but also the operations within your own company.
Detailed and properly informed knowledge bases can give interested store visitors and existing customers all the information they need, at any time of the day, to feel comfortable buying or using your products. At the same time, they can help make your customer service and support team work more efficiently and focus on more important tasks. Let's take a quick look at all the reasons why your Shopify store needs a knowledge base or complete documentation page.
📑 Customers Can Solve Queries Instantly With Self-Service
Rarely a user is comfortable with waiting long hours to get their queries or support tickets answered when needed. When a customer is evaluating whether or not to purchase your products, or how they can operate a particular feature of the product once purchased, the speed with which you respond to questions can have a major impact on their satisfaction levels. The quicker a customer's problems are being solved, the more inclined to have a positive experience and view of your company and services.
At times like this, customers can quickly find the answers they require and resolve their own problems within minutes if you have a pre-prepared knowledge base with documentation holding all the necessary answers to frequently asked questions on your Shopify store. 
📑 Empowered Users Lead To Boosts In Conversion & Credibility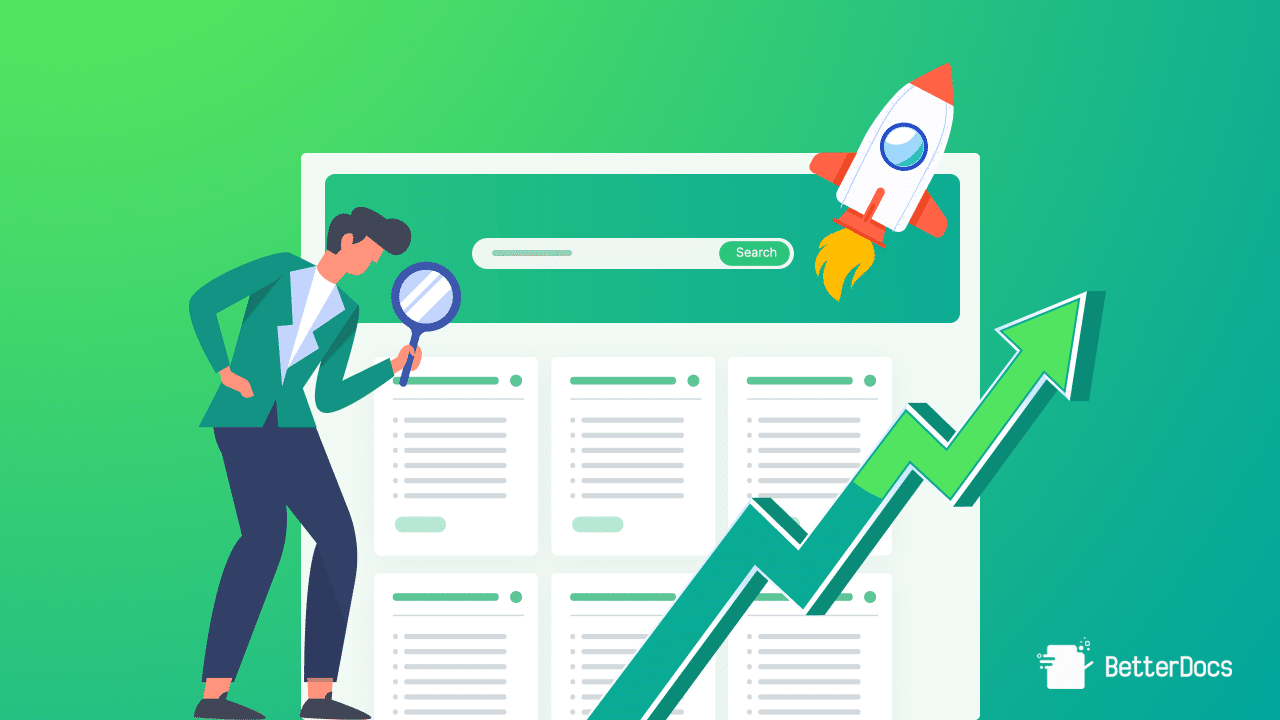 Continuing from the previous factor, when your customers are able to resolve their own problems using your FAQ page or documentation, they feel empowered and confident when using your products – instantly forming a positive view of your services. This helps to boost engagement rates, conversions, and credibility through word-of-mouth references.
📑 Knowledge Bases Helps To Reduce Pressure On Support Team
Every time a customer decides to use a product from your Shopify store, they tend to make general queries on support to know more details. And once the purchase is done, they need proper guidance with technical issues or general confusion they might face while using the products.
A well-managed, updated, and organized knowledge base documentation page helps reduce the constant pressure on your support team by providing answers to frequently asked, simple inquiries that help users take an instant action to resolve their issues. That way, your team can take their time to solve support tickets that can be very crucial and need more attention.
📑 It Improves The Overall SEO Ranking Of Your Shopify Store
Adding a detailed knowledge base to your eCommerce site for your Shopify store can help you enhance its SEO score and ranking significantly. This is due to the fact that high-quality, content-rich documentation ranks better in search results pages, such as Google, making it easier for potential customers to find and access your Shopify store easily. Also, when developing documentation for the store, you can make use of effective link building to various internal pages and other popular websites as necessary, leading to a boost in SEO.
⭐ BetterDocs: The Perfect Knowledge Base Solution For Shopify Stores
Introducing the latest and most advanced knowledge base solution for Shopify stores, BetterDocs. Providing you with the power to create a beautiful collection of fully customizable documents for each product on your store to set up instant self-servicing, and reduce support tickets – this is the Shopify app that can help you instantly boost store activity in 2023.
With more than 30,000 active installations and high praises from renowned publishers, BetterDocs has been winning the hearts of WordPress users since 2019. And so, this new year in 2023, the team behind BetterDocs has decided to extend their outstanding features and facilities among the Shopify users community to scale their support system and knowledge bases, too.
From an easy-to-use built-in customizer, an automatic, sticky Table Of Content that moves with a mouse scroll, and much more, the BetterDocs knowledge base app for Shopify gives you everything you could possibly need to create an attractive, organized documentation page for your eCommerce store. And if you want to want to get benefitted from using this advanced app in your stores too, follow the complete guideline below to effortlessly set a knowledge base for Shopify today. 
Set Up Knowledge Base For Shopify Stores With BetterDocs In A Click
In this section, we are going to walk you through all the necessary steps you need to know to instantly get started with BetterDocs and create a high-performing and content-rich knowledge base for Shopify stores. Enhance your customer's experience when they want to learn about your products and offerings with ease.
Step 1: Install The BetterDocs Knowledge Base App In Shopify
Needless to say, to install any app on Shopify you need to log in to your account; if you're just getting started with your store, do read this article to learn how to create a Shopify store account with complete ease. Once that is done, simply head over to your store account and click on the "Apps" option from your Shopify admin dashboard.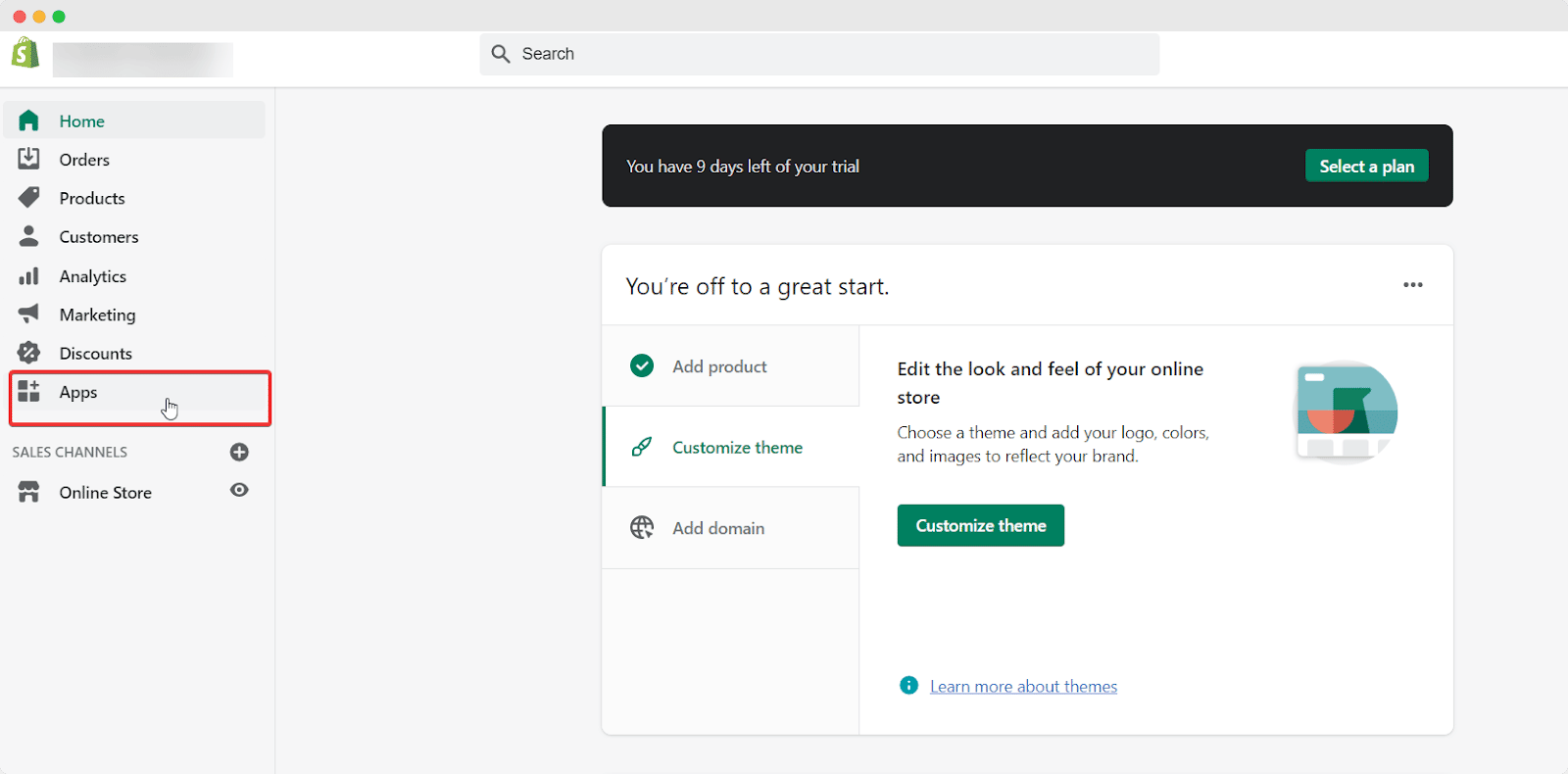 To explore the app store and find the "BetterDocs for Shopify" app, click on the "Customize Your Store" button from the top right corner. It will redirect and take you to the Shopify Apps Store page.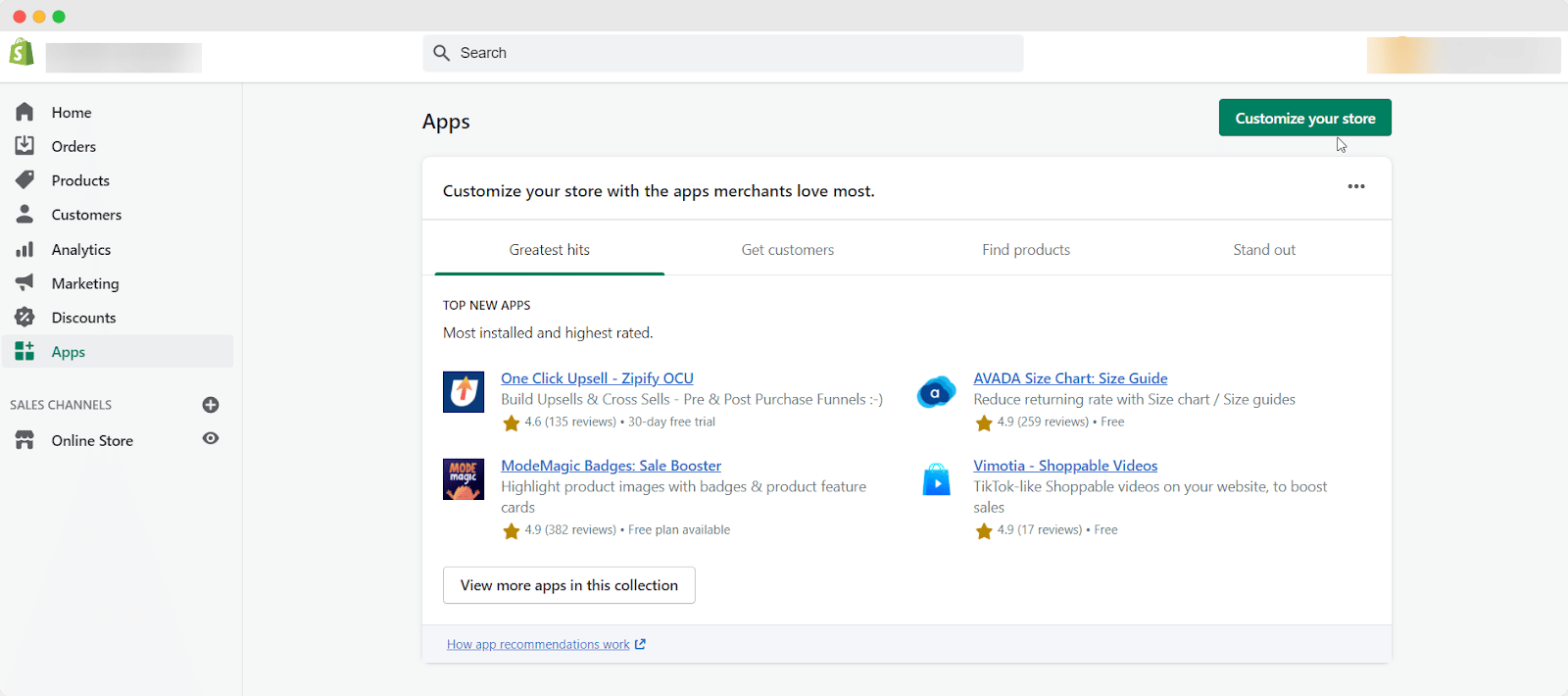 Here, all you need to do is search for "BetterDocs" and click on the "Add app" button. And that's it, that's how easy it is to install and activate the app on your Shopify store site.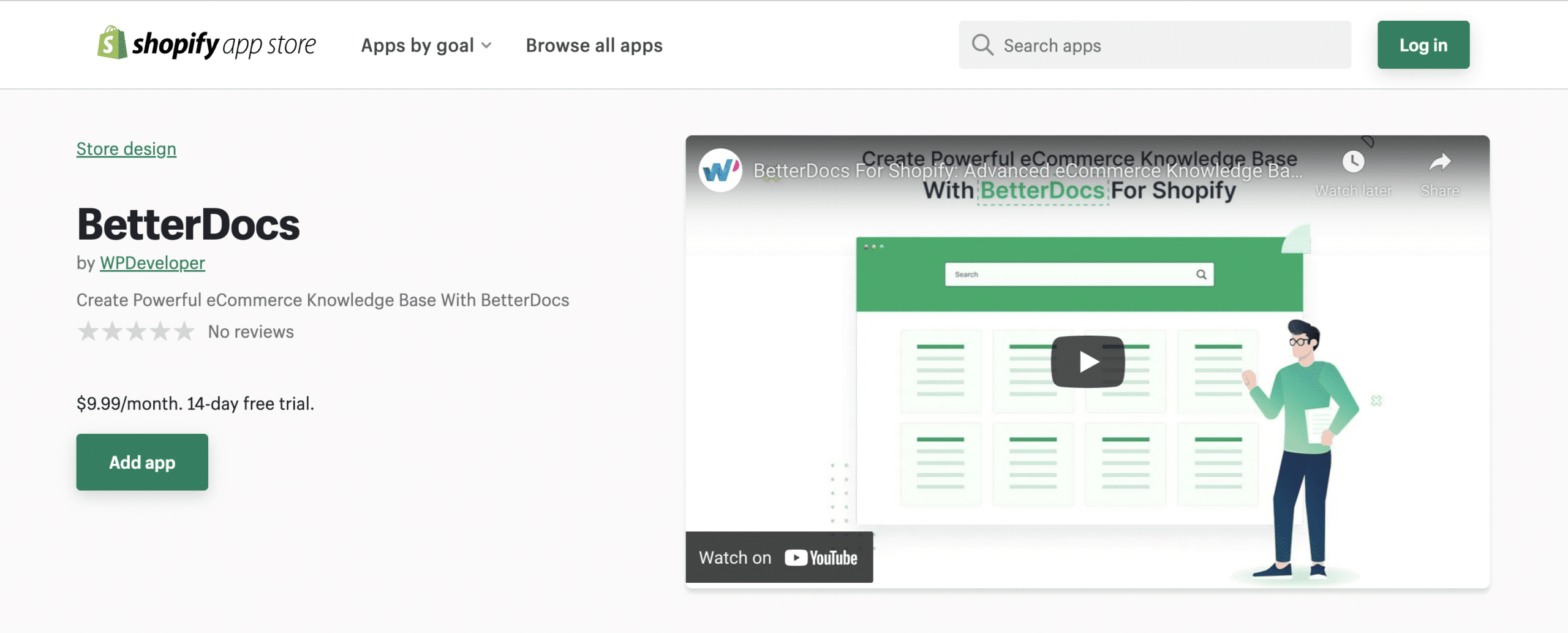 Step 2: Add Documentation Single Page For Any Product & Service
The next step is to create stunning new documentation pages for all the products, services, and FAQs that you provide in your store. And BetterDocs lets you create, draft, and publish new documentation in just a few easy steps which can instantly help all your users understand your products and services better, and find answers to all of their queries from one place.
To get started with creating the knowledge base for Shopify docs, you need to navigate to the app's 'Home' tab interface in your store. You will find yourself with a blank canvas to add documentation – here, click on the 'Add a New Doc' button denoted with a '+' icon, as shown below.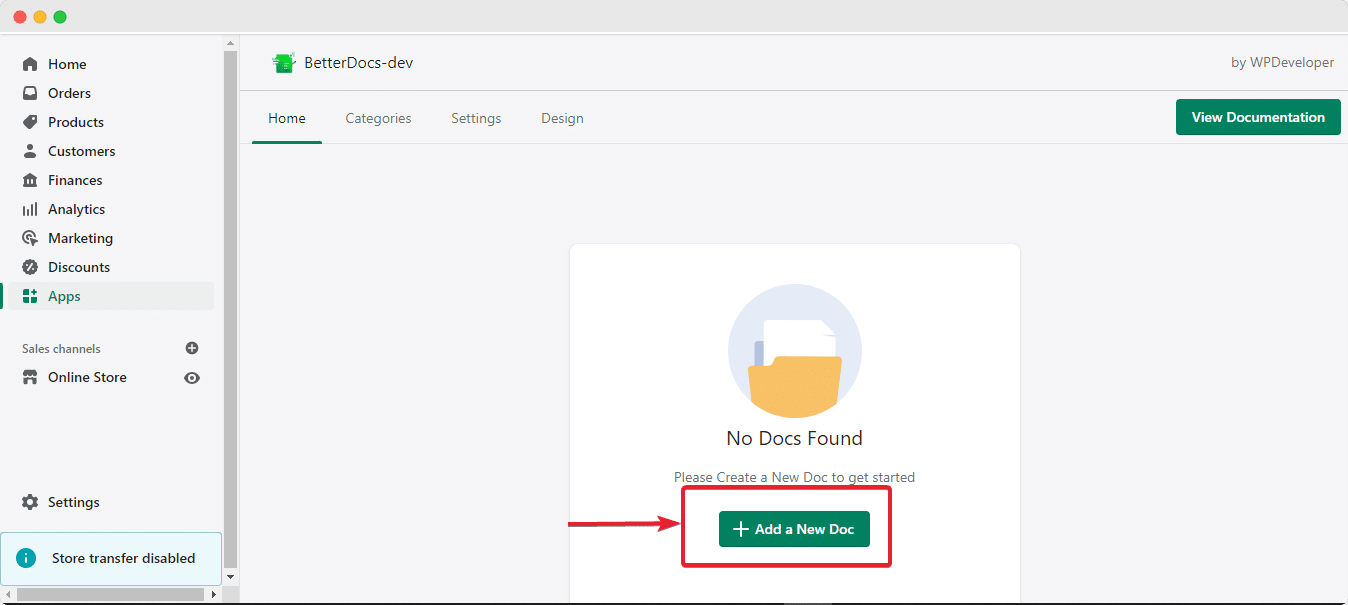 Clicking on this will open a completely new interface where you can add the data and content with ease. Start off by adding a suitable title to your documentation in the editable field under 'Title'.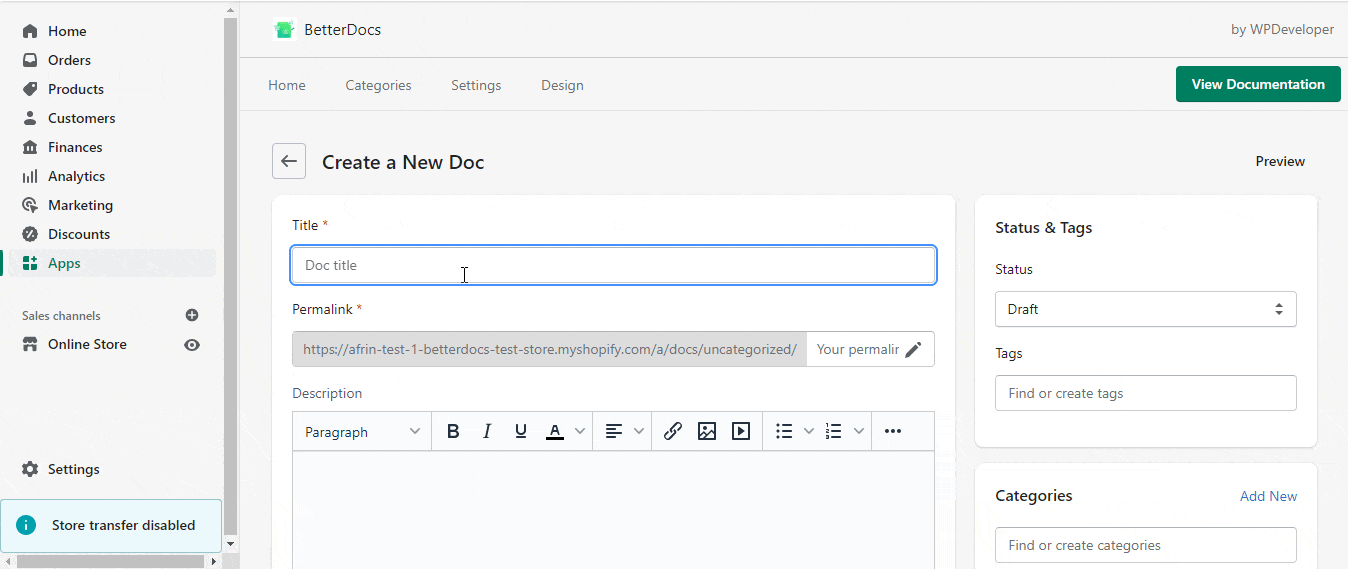 This will automatically add a slug for the permalink of your documentation. However, you can easily click on the 'edit' button next to the editable slug to make necessary changes and create custom unique URLs, as shown.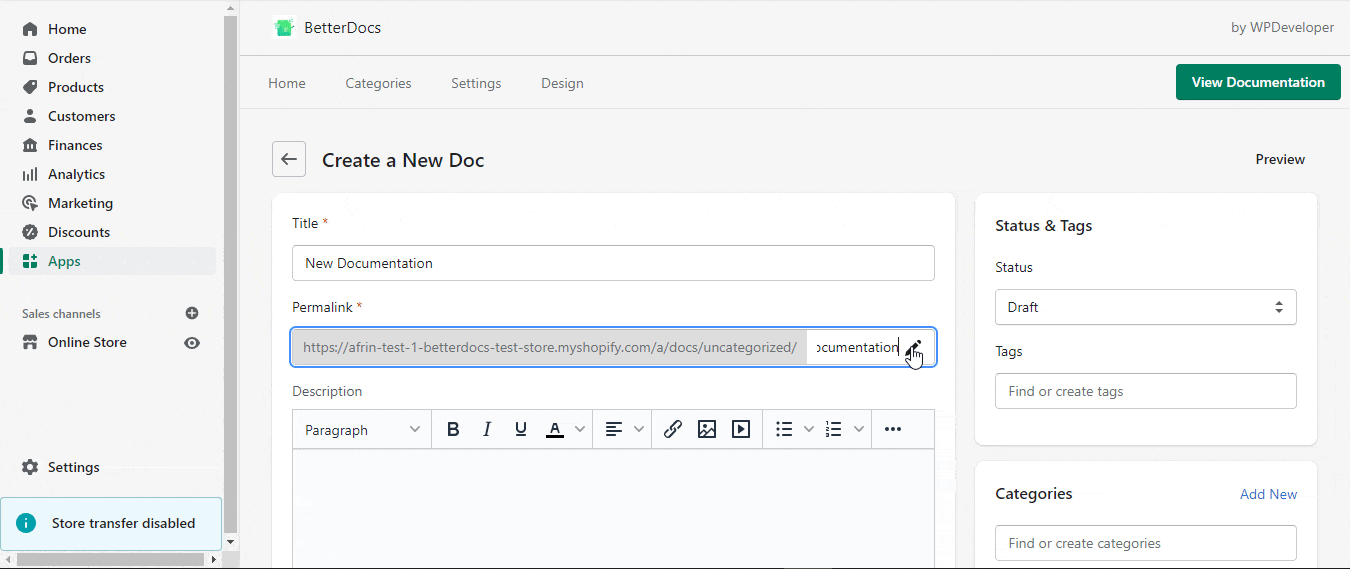 Then, simply add your documentation content, images, and videos directly to the input field named the 'Text Area', where multiple editing options are given to help you customize as necessary.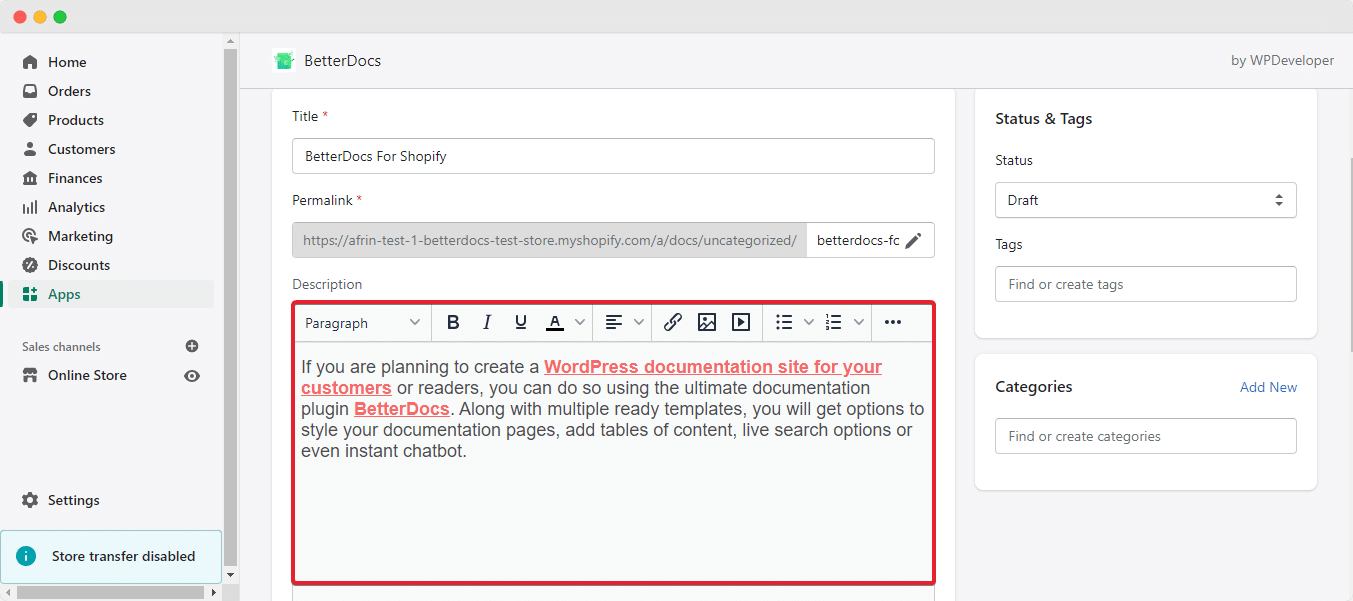 Afterward, add a featured image to your knowledge base documentation to help your customers understand what the document is about from their navigation panel or when they are looking for the article on your documentation home page. To do so, simply click on the 'Add File' button. BetterDocs gives you two options to make matters even easier – you can either directly add images from a source link or upload them from your device.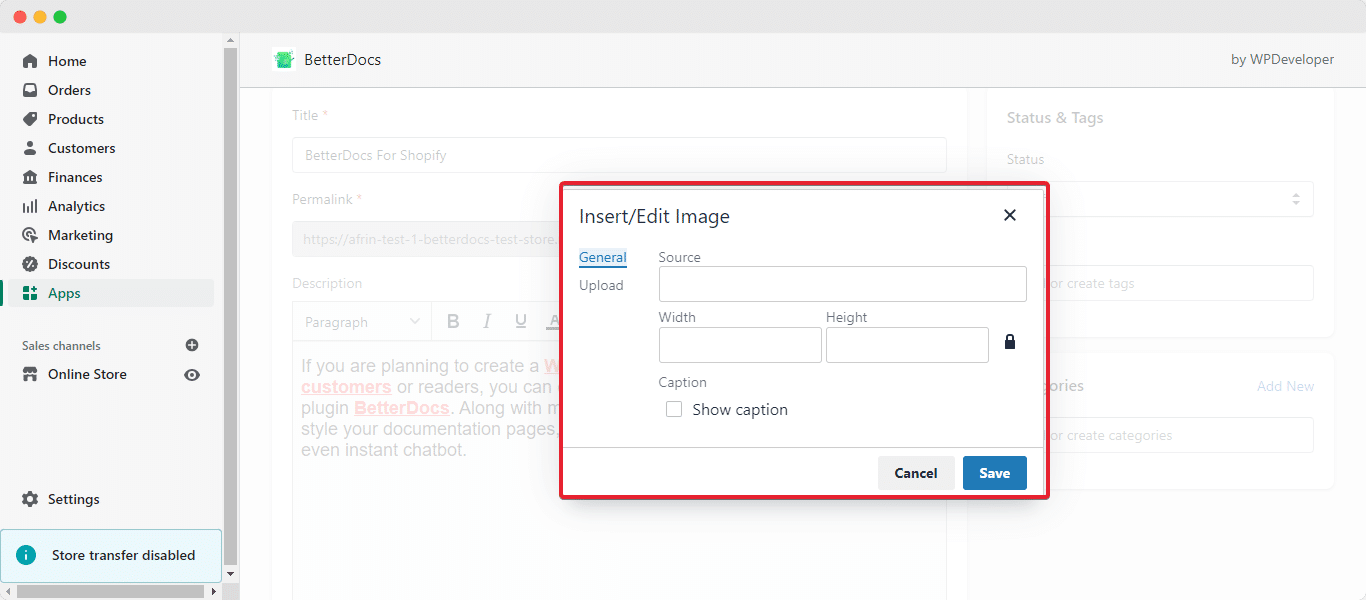 Finally, organize your product or service documentation on the knowledge base for Shopify page better, by adding or selecting tags and categories as necessary. We will share more about this in detail, in the next step.
To wrap things up, click on the 'Save' button to add the new document to your Shopify store's documentation page. Here also, you can choose between the 'Active' or 'Draft' option to immediately publish the documentation or keep it saved for later.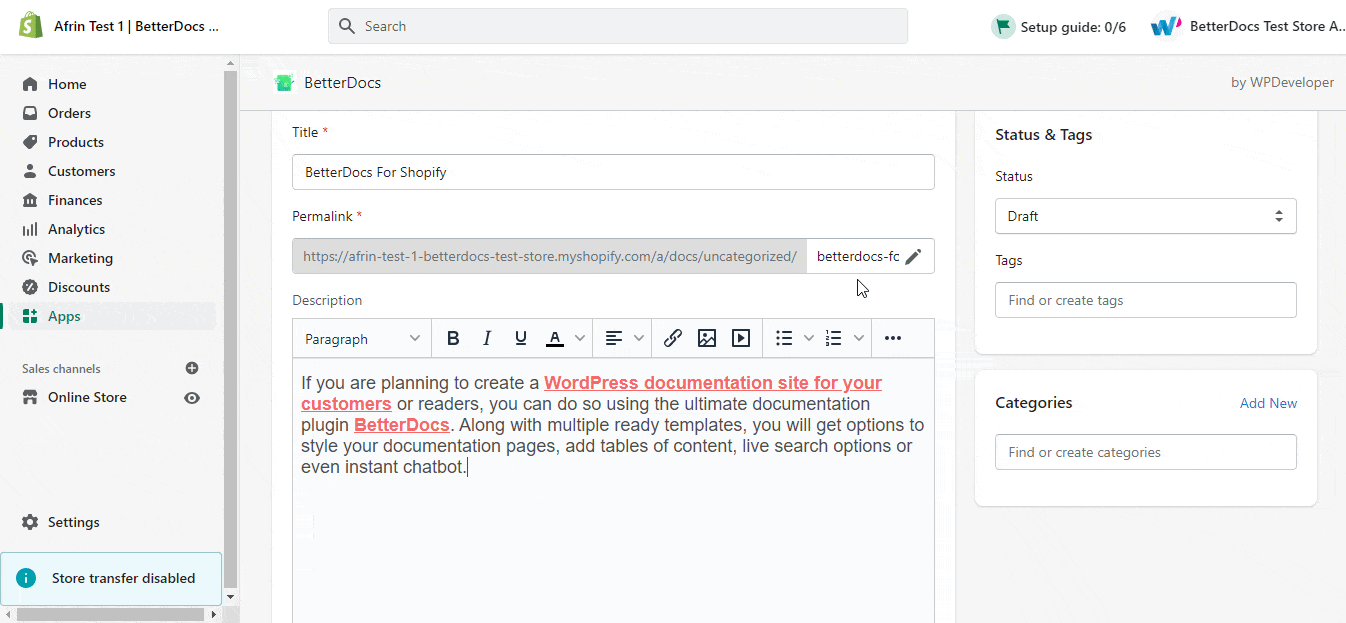 And that's it, you have managed to easily set up a knowledge base with a documentation single page on Shopify stores in a just few steps. 
Step 3: Organize All Documentation With Tags & Categories
To help sort all your documentation for your own convenience and make navigation easier for your customers, BetterDocs lets you add categories and tags to your knowledge base on Shopify. You can create broad groups of identical documentation using categories and add tags to each document to narrow down the focus on each category. 
To create a new category, click on the 'Categories' tab from the "BetterDocs for Shopify" app dashboard, and hit the 'Add A New Category' button to create a new category.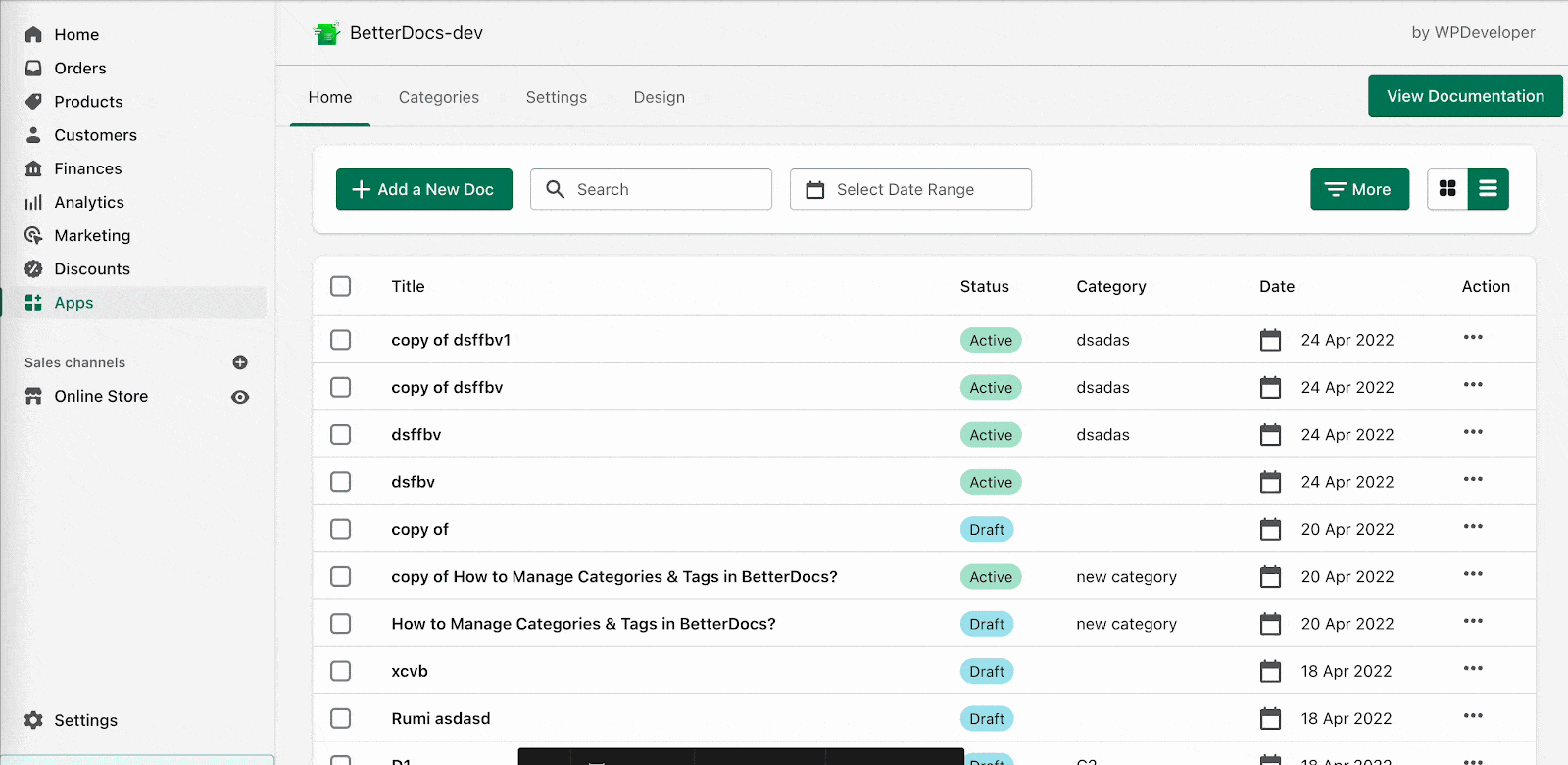 Provide a suitable title for the newly created category which can later help to sort the documentation easily. You can also add the 'Category slug' that also comes with the edit option just as that for the documentation single page. Provide a proper 'Category Description' in the description box and you're done – it really is that simple.
Now, to add individual tags to any of your documentation single pages, open a newly created doc from your dashboard and click on the edit icon of the document. A new window will open up where you can add multiple tags in a few clicks.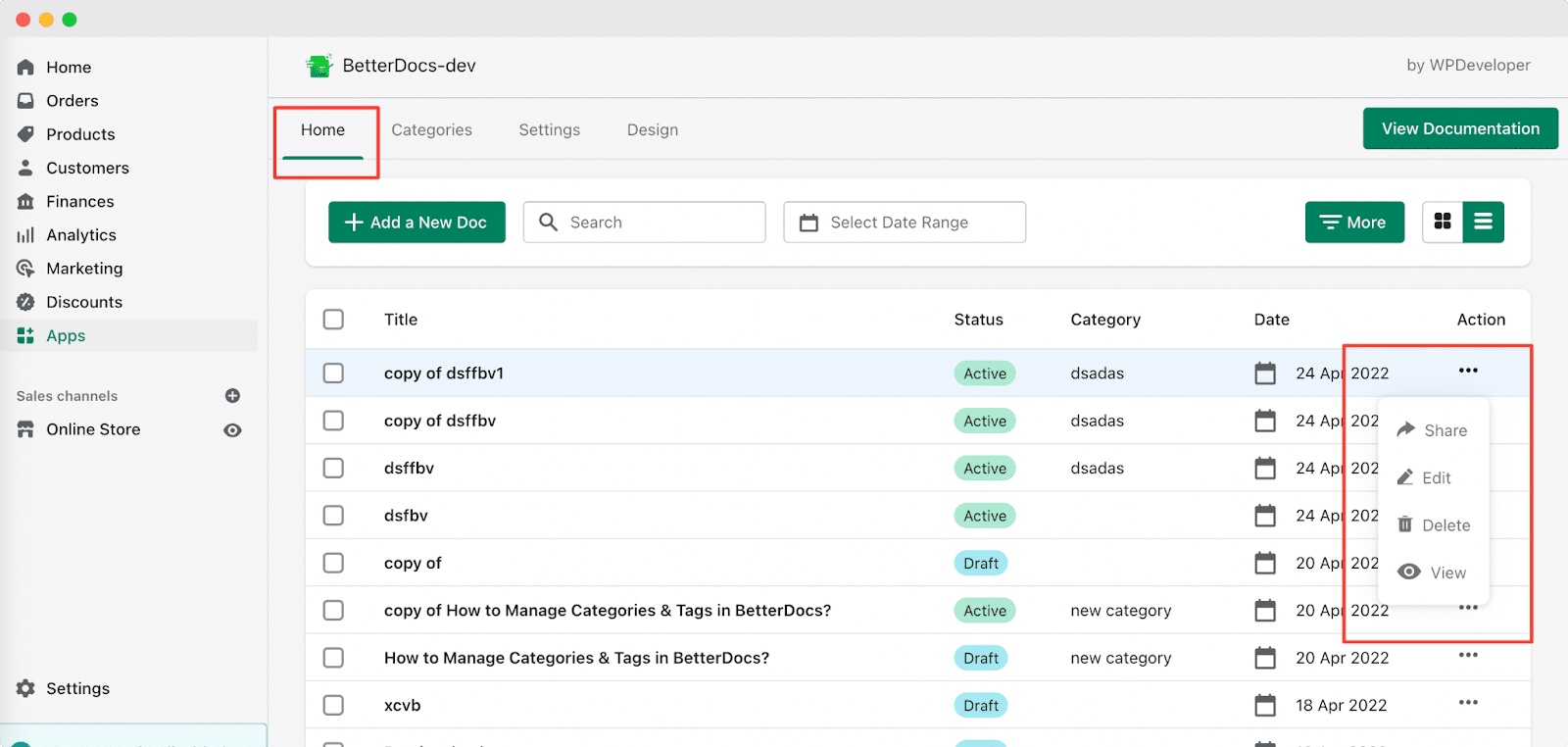 Step 4: Customize The Design & Outlook Of Your Knowledge Base
Now for the fun bit. BetterDocs lets you completely customize the design of the knowledge base for Shopify stores easily and create an attractive documentation page that users find visually pleasing to explore through.
This time, navigate to the 'Design' tab from where you can edit the 'Basic Options' and 'Category Column Settings'. Change the layout, modify content area width, background color, and so on, as per your requirements, and make your store brand pop through your customizations. Once you are done, do not forget to click on the 'Save Changes' button to save the progress immediately.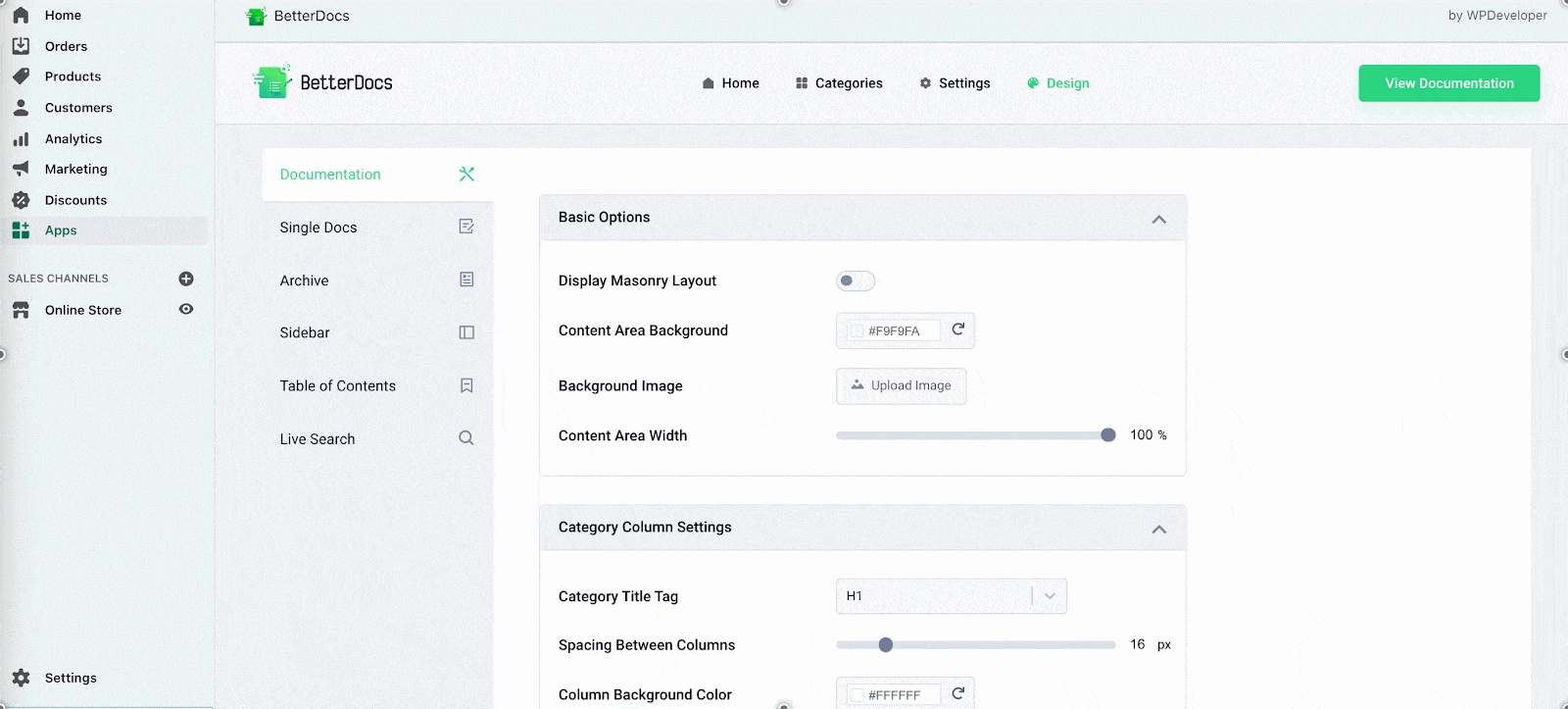 After the knowledge base home page, you can also design documentation single pages from the 'Single Docs' option – you will be given the facilities to alter every aspect of the 'Basic Options', 'Doc Title'. 'Breadcrumb', and 'Doc Content' as you need.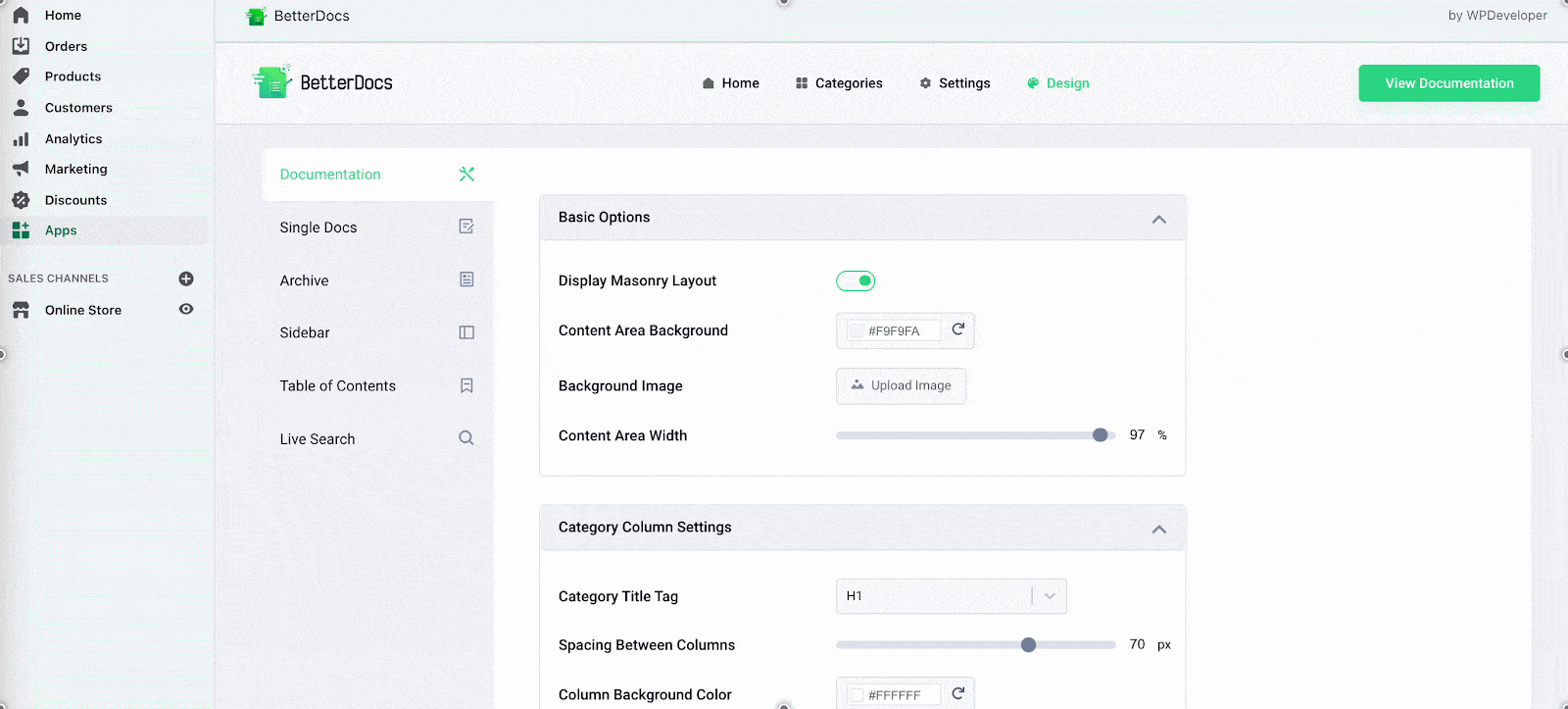 And that's not all, you can even change the default settings of 'Archive', 'Sidebar', 'Table Of Content', and 'Live Search' options if you want, using BetterDocs for Shopify.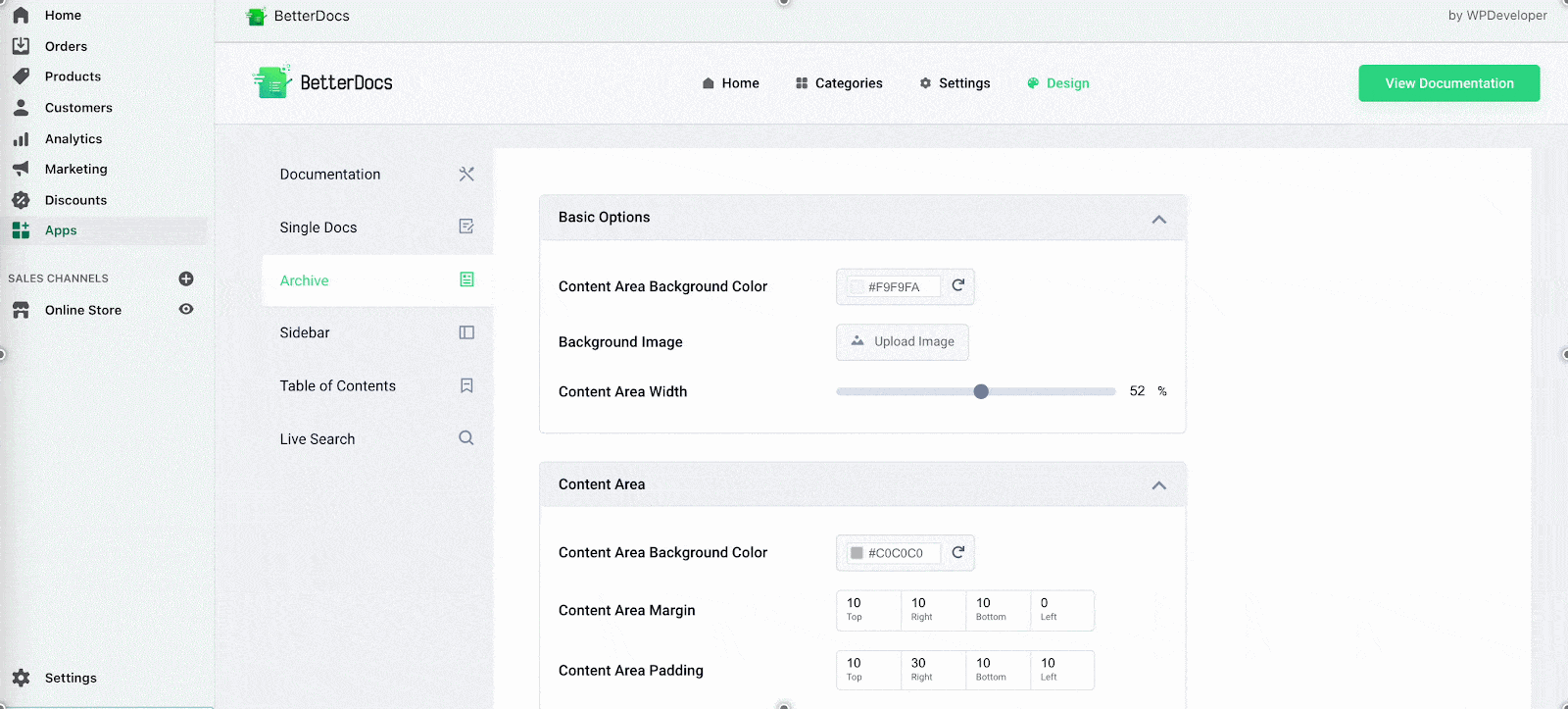 And that's it, you have successfully created and set up a modern, attractive, and completely responsive knowledge base for Shopify stores using the advanced app, BetterDocs.
More Advanced Features With BetterDocs For Shopify App
There are tons of more outstanding features that come with the BetterDocs knowledge base app for Shopify, and many more are being developed regularly so you can take your Shopify store knowledge base documentation a step further and truly helpful for potential and existing customers.
Make Navigation Effortless With An Advanced Live Search Bar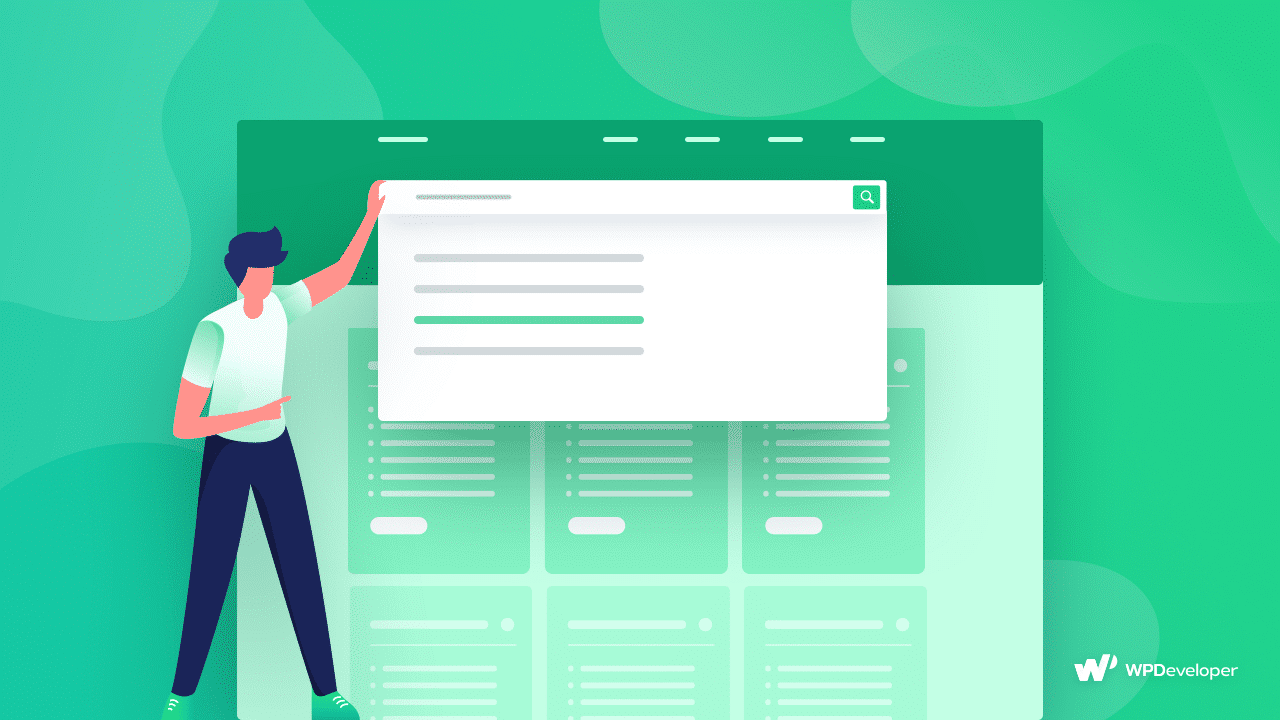 Once your knowledge base documentation page is published and live for your users to view, you can enable a Live Search Bar to help your customers navigate and explore through more easily. They will be able to check which documentation is available while searching in live view which will undoubtedly improve their customer satisfaction and help to bring your site more traffic.
Enable An Automatic, Sticky Table Of Content For Any Doc Page
With BetterDocs for Shopify, you can also add a sticky Table Of Contents (TOC) to your Single Doc pages as we have already mentioned earlier. If you use multiple headings (or heading tags) in your documentation, this advanced new knowledge base app helps to include the necessary headings inside the Table of Contents box that will stay afloat over the documentation page and can also be configured to stay sticky on the side panel as the users scroll through the page. The TOC allows your users to bounce back and forth between different sections in your document.
Easily Create Archive Pages For Any Of Your Needs In Shopify
And if you want to safely reserve inactive information or documentation for services that are no longer available, you can also create archive pages for any documentation page with this brilliant "knowledge base for Shopify" app.
Get Started With BetterDocs & Set Up An Advanced Knowledge Base In Shopify
Be sure that this is not where it ends. BetterDocs for Shopify is continuously being improved and stuffed with all the latest and best features that you can ever need to create and set up a complete knowledge base for your ever-growing eCommerce store. Try this amazing app today, and get your Shopify stores rising to the ultimate heights of success and customer satisfaction this 2023.

If you found this article helpful, do let us know by commenting below. Make sure to subscribe to our blog page for more information on this app or its counterpart plugin for WordPress; you will always be updated with the latest news, guides, and special announcements. Also join our growing Facebook community to be a part of a friendly group of eCommerce store owners, WordPress enthusiasts, and customer support specialists.