Blogging with WordPress is the easiest way to start your career as content writer. Why so? Well, starting your own blogging website can be terrifying, especially when you have no experience in creating website. For that, we are sharing an easy guide for beginners that will help new bloggers start blogging with WordPress without any coding.
In today's world, WordPress powers 40% of all the websites on the web, including landing pages, company websites, and blogs. The main reasons behind WordPress being widely used are its flexibility, accessibility, and codeless interface. Also, in the blogging community, bloggers are choosing WordPress to create blogging websites over other website-creating platforms.
Today we will guide you through creating your own WordPress blog without coding a line of code.
Get Ready To Create Blogging Websites With WordPress In 3 Steps
There are hundreds of ways to start blogging with WordPress. Here we have presented the simplest way so that as a beginner you can start right away. Let's follow this 3 step guideline to create an amazing blogging website for you and your readers. 
Step 1: Choose A Catchy Domain Name & Hosting
The first thing you have to do is get a domain name and hosting provider for your WordPress blogging website. Having a domain name is like setting a name for your online identity, by redirecting your domain name, people will land on your blogging website. Getting hosting is like taking a lease of online space for your website. 
Your website speed, search engine ranking, security, etc. mostly depends on the hosting provider you choose. So before starting creating a website make sure you have the best managed WordPress hosting for your website. 
Step 2: Install & Configure WordPress 
Now time to install and configure WordPress for creating your blogging website. Most of the time hosting providers provide auto-installation of WordPress. You have to log in to your hosting account. You can also get all essentials from the WordPress repository and start creating an environment on your PC.
You can also go for a free local development environment like Local By FlyWheel and start creating your website. Whatever way you choose, you will get full documentation of the WordPress setup with that.
Step 3: Activate A Versatile WordPress Theme
Let's clear out what is a theme in WordPress and why you will need one; from a beginner's perspective. WordPress themes are collections of files (full of codes) that work together to form a website with an underlying unifying design. 
Themes work like the powerhouse for your website. Without selecting a theme you can't do anything on your website. At present, there are 3900+ free themes available in the WordPress repository. 
If you are thinking of picking a versatile and multipurpose theme for your website, you can go for Flexia– the popular WordPress theme. From a personal portfolio, blogging website to a complete multi-vendor eCommerce website, you can create all. Moreover, it supports all page builders.
After all this setup, congratulations!  You are now ready to start blogging with a WordPress website. Plan nicely for your blogs and start writing. 
Here's Why You Should Choose WordPress.Org Over WordPress.Com
If you are all set to start blogging, you need to choose the right platform to build your website and start blogging with WordPress. Let's check out why WordPress.Org is the suitable blogging platform for beginners than WordPress.Com. 
Blogging With WordPress.Com
WordPress.com is a free, ready blogging platform. All you have to do is create your own account on the platform and start blogging. Let's check out the pros and cons you're going to face when using WordPress.com.
| Pros | Cons |
| --- | --- |
| You won't have to create a blogging site from scratch, only have to create an account and start blogging. | You can't have a blogging site of your own domain name. All websites will be under the wordpress.com domain. Your website URL will be like this: wordpress.com.yourdomain/blog-name |
| All SEO will be done by your platform, all you have to do is keep writing blogs. | There is a limitation of adding images, videos, call-to-action, etc. You have to follow a common pattern like everyone else. |
| It's totally free of cost if you start blogging with wordpress.com. | You can't own your blogs as you are blogs on other properties. The authority can delete blogs anytime from wordpress.com. |
| | You can't add a direct communication way on these platforms, like contact forms, newsletters, or CTAs. |
Blogging With WordPress.org
Among all the self-hosted platforms, WordPress is the most popular one due to its flexibility, accessibility, and customization. By the statistics of BuiltWith, 96% of blogging websites are using WordPress. 
Pros
Cons
Here you are the real owner of your blog, you can delete or create new content at any time.
You have to bear your hosting provider cost all by yourself.
There is utmost flexibility in setting your blogging site name, there are no restrictions.
How to rank your blog, make it SEO optimized, all have to be done by you.
You can add any type of content, and elements like images, call to action, slider, sticky elements, and so on. There is no limit to it.
There are unlimited resources for WordPress, and it can't be confusing for any beginner where to start blogging.
You can change the outlook of your website anytime you want and include the newest technologies.
You won't have to be tech-savvy to start blogging with WordPress. You can build an entire website without coding.
Who doesn't want ownership of their own blogging website? Self-hosted platforms like WordPress can give you full authority over your site. If that point is right for you too, then you can start blogging with WordPress right away. 
Design Guide For WordPress Blog: Start Designing With Elementor
The above-mentioned procedure is the simplest procedure to start blogging with WordPress. If you are thinking of giving your blogging website a more creative look and have no knowledge of coding, then the best plugin for you is Elementor. 
Wondering what is Elementor? It is a website builder that comes in the form of a plugin that will help you to design blogs and other pages, add functionalities, and so on.  
Elementor gives you the full freedom to create an entire website without coding. Only by drag and drop you can complete creating a full functioning blogging website quickly and easily.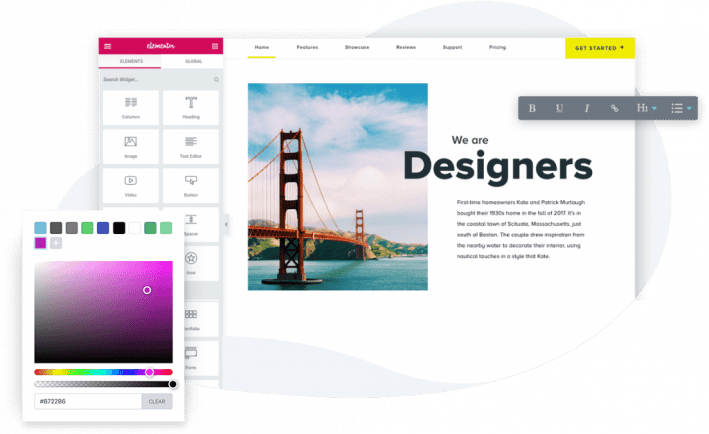 Moreover, you can preview the live changes of your website staying on the same page. To get Elementor for designing your blogging website, you have to install and activate it from your dashboard's Plugin tab. 
Go For Ready Elementor Templates To Give A Stunning Look 
You can design every page of your WordPress blogging website as you want with Elementor. But same as creating websites, you need to have design knowledge for designing the outlook. A stunning designed blogging website will help you to get more visitors to your site as well as keep your readers engaged till the last line of your blog. Getting a design expert for your website will cost you a fortune if you have no design knowledge.
To save you from this dilemma here comes Templately– The ultimate Elementor template library. Here you will find all pixel-perfect templates for all category WordPress websites. Only you have to sign up in Templately, activate the plugin, and start designing your blogging website instantly. These templates will give your website a standard outlook with the utmost user experience. You can also save all your customizations in MyCloud and reuse them in the future. 
If you use Elementor templates from Templately, you can easily modify and customize the templates with your site-related content easily. When you have a plan to expand your blogging site into a fully functional dynamic website, then it's wiser to select a multi-purpose theme and use Templately blog templates for making it a blogging site.
There are now almost 1500+ templates available in Templately. To make your choice easier, here we have listed down the exclusive and interactive ready Elementor templates. You can use them to design your blogging website instantly. 
BlogDrip Colorful Blog Template
This is a creative multi-purpose blog template pack. You can display your lifestyle, fashion, travel, food, tech product, or any type of blog content on the website in an interactive way. There are two fully designed pages to create your own stunning blog website.
Blog Metro – Blogger Website Template for WordPress
It is a bright, colorful, and beautifully designed WordPress Blog website template made specifically for bloggers, writers, freelancers, artists, photographers, or any creative content creators. It is also perfect for designing your own portfolio website, business portfolio website, creative studio website, and much more.
Mellafex – Makeup Artist Template Pack For Elementor
If you are planning to own a makeup blog, then you can pick this template. With this template, you can beautifully represent all your makeup expertise, client stories, sell your own products, and so on. It is a fully responsive template pack that can be customized just the way you want without any coding.
EleMag Magazine Template
This WordPress Blog website template is made especially for bloggers, writers, freelancers, artists, photographers, or any creative content creators. It is also perfect for designing your own portfolio website, business portfolio website, creative studio website, and much more.
How To Design WordPress Blogging Website Instantly With Templately Elementor Templates
Let's give you a quick tour of how easily you can revamp your blogging website outlooks with stunning Templately blogging templates. Follow this step-by-step guideline to design your blogging website.
Here is the list of essential plugins that you will need to fully funcionate your Templately templates:
Step 1: Insert A Ready Template From Templately
First, create a new page from your WordPress dashboard. Now, navigate to the  'Edit with Elementor' button from the top of the page. After clicking, it will take you to the Elementor editing panel. 
On your Elementor Editorial, you will find the 'Templately Blue' icon. Click the icon and will see Templately's unlimited template collections there.  Search for blog templates there. It will show you all the amazing templates for blogs. 
For the tutorial purpose, we have chosen the BlogDrip Elementor free template. Click on the template to insert it into your web page. After inserting this magnificent template on your Elementor Editor, it will look like this on your web page.
Step 2: Customize Your Blog Template
Templately templates are built in such a way that you can use their content for your live website. If you want to give a personalized look you can easily image, logo, color, titles, and many more. Click on the content you want to change and the editing panel will be open beside your page. Tweak and turn all the options and give your site a stunning look.
Step 3: Save And Publish Your Template
If you are satisfied with the blogging site outlook then click on the 'Preview' button. You can also save your designs in Templately 'MyCloud' cloud storage. Later you can also share your customized designs with team members vis Templately 'WorkSpace'.
If you have completed all the above steps, hit the 'Publish' button from the WordPress dashboard and make your site live. Congratulations! Your site has been created. Now you can start blogging with WordPress and reach out to all readers out there. 
📋 Blog Writing Checklist For Beginners
When you are starting a blog from scratch, it feels like drowning in the middle of the sea as a beginner. If you can simply follow some cool tactics so that you can easily overcome the situations, create a blogging site and start blogging. Here we are going to mention the simplest steps on how you can start blogging with WordPress. 
1️⃣ Choose A Topic For Your Blog
Taking the decision of starting a WordPress blog or a WordPress website means you want to share your experience and wisdom with others. It is not possible to be an expert in all sectors and not all types of readers will enjoy your content. For this, you have to set on what topic you are going to write about and your niche audience. It will help you to plan ahead. 
2️⃣ Collect Insights From Other Bloggers
What pattern you are writing, matters a lot in blogging. The best way to get an idea is to study other bloggers of your niche category.
That's how you will get a clear idea about how to write and what to represent in your blogs. You may also learn some interesting marketing tactics from them.
3️⃣ Join Communities & Start Networking
Setting your niche audience, studying your competitors, wondering what has remained to do? Well, it's the most crucial part. You have been part of virtual and offline blogging communities. It will help you get a chunk of the audience to your site and keep your blogging site in continuous improvement. Networking with others will help you to reach your niche audience easily.
How Can Your Blogging Site Help In Improving Customer Service?
You can use your blog to promote your own product or service by writing posts about features and benefits. Blogs will ultimately assist our customers in self-learning, which will definitely ease the burden on our customer support team.
✨ Bonus: Popular WordPress Tools To Handle Blogging In WordPress Swiftly
The traffic and engagement on your WordPress blog not only depend on your content quality. There are also some other factors like blog publishing times, promoting blogs, using keywords properly, and so on. 
The best thing about blogging with WordPress is you will find an infinite number of WordPress plugins to execute these tactics. Let's introduce some of the popular plugins that will help you to boost traffic and improve efficiency. 
SchedulePress : The Best Solution For Scheduling Blogs
When you are managing your blogging site, it is important to keep publishing content continuously. It helps to keep your present readers engaged regularly on your site and also attract new readers. Scheduling all blogs manually is a big hassle. 
To ease your problem ShcedulePress– the best-scheduled management & social share plugin has come up with so many cool and interesting features. You will get a Schedule Calendar, where you can schedule all your blogs, create new blogs directly for schedule, and check out all unscheduled posts.
If your and scheduled posts are missed to get published, it will send a reminder email and auto-publish that. Also at the same time, you can publish your blogs on different social platforms like Facebook, LinkedIn, etc. 
Add Internal Documentations With BetterDocs For Descriptive Guideline
Wouldn't it be great if you could add blog writing guidelines to your WordPress blogging website for contributors and guest authors? That would make it easier for others to write blogs in your style. By using the BetterDocs plugin, you can easily implement internal documentation on your WordPress blog. BetterDocs is the most popular knowledge base plugin. Using the internal documentation feature is a great way to assist other writers on your site. 
There are also other plugins to assist you in maintaining content quality, making your content search engine optimized, getting more traffic, and so on. If you are interested in getting a detailed plugins list to improve your blogging efficiency and traffic, follow here. 
Now It's Your Turn
Blogging with WordPress really is as easy as the above process. So, start creating your blogging website and enrich it with resourceful content. Also, don't hesitate to tweak and turn all the possibilities to improve blog quality and boost traffic engagements. 
If you really enjoyed this blog then share it with others and subscribe to get updates on the latest content, tutorials, and insights. Don't forget to share your experience of starting blogging with WordPress in your Facebook community.