FAQs are an important part of any website; after all, your website visitors are likely looking for answers to their queries. To help you do just that, we are excited to introduce a new, advanced, WordPress FAQ Builder with BetterDocs to make your customer experience more effective than ever before. By enabling the BetterDocs FAQ Builder on your site, you can offer the information customers require, and thus cut down pressure on the support team while also enhancing your site visitor's experience.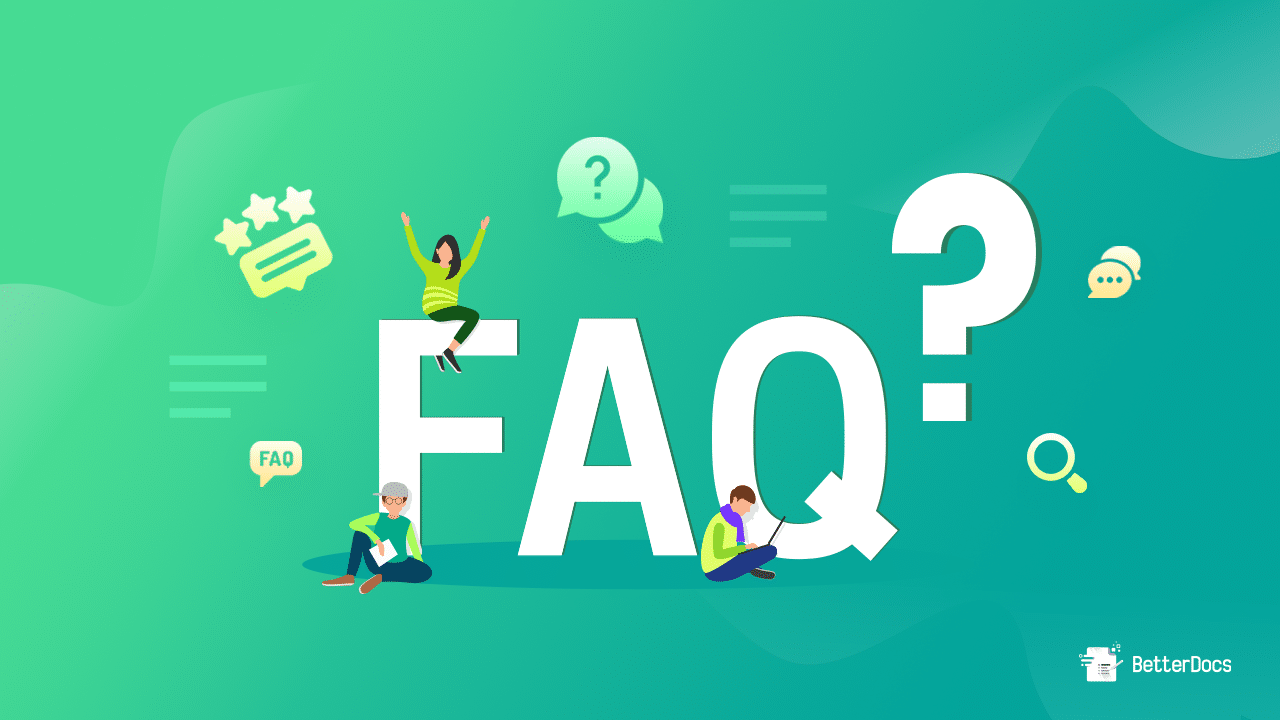 A Basic Overview Of WordPress FAQ Builder
An FAQ page is a page on your website that answers the most commonly asked questions by your consumers. The questions on a FAQ page often contain crucial information that most (if not all) visitors are interested in, such as working hours, product availability, cost, return policy, basic troubleshooting, and so on.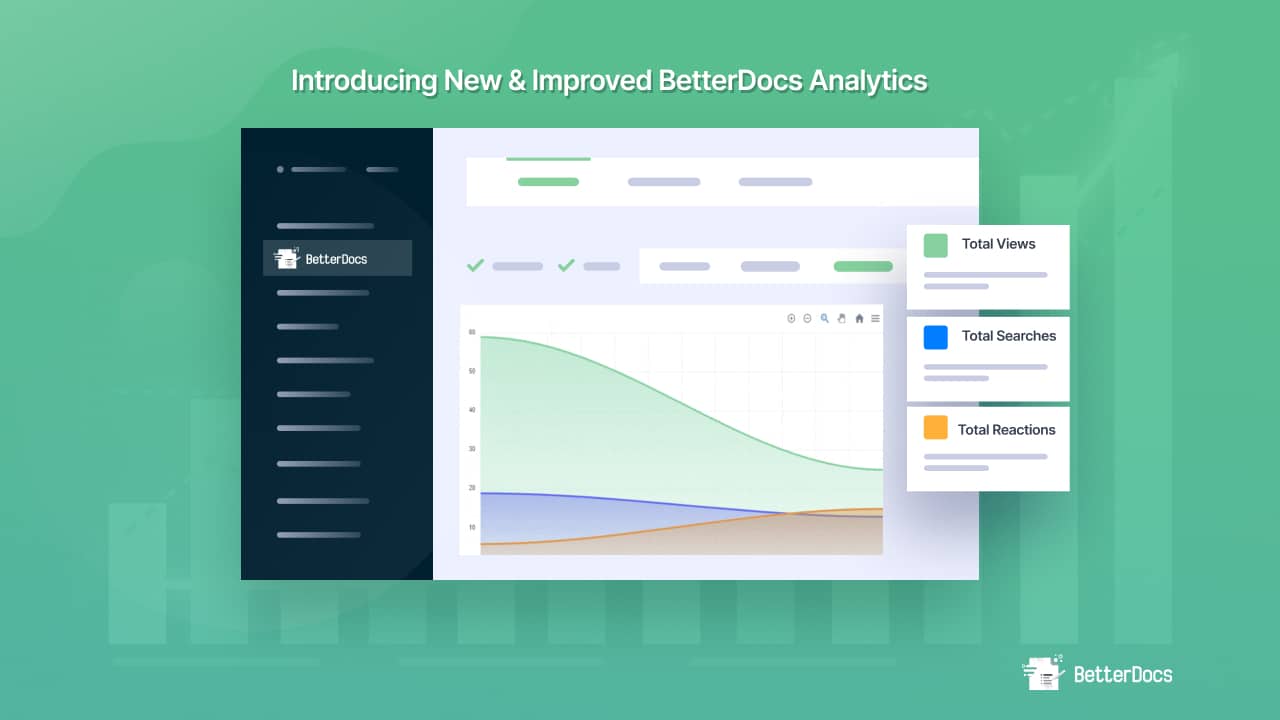 Additionally, if you want to properly manage your multiple knowledge bases then BetterDocs offers a fantastic Analytics feature, which will make it easier for you to see all of your knowledge base performance and analytics data, all from one place with a graphical representation. 
Key Benefits Of Using BetterDocs FAQ Builder For Your Website
In addition to having a central spot on your website, people will go to your FAQ page to discover more about your products and services.
Because your FAQ section will be the focal point of your website, you should include links to product pages on the FAQ page. This will boost your internal linking strategy as well as distribute the benefits of a good SEO strategy to other parts of your website.
🚀Saves Valuable Time For Your Users
Customers who visit your BetterDocs FAQ page will get solutions to your most frequently asked questions on a single, readily searchable page. They can learn about your product, delivery fees, return and refund policies, and much more without contacting or waiting for a representative.
68% of consumers would prefer to utilize self-service tools like a FAQ website than call an agent for simple questions like these (and wait for their response). Using the BetterDocs FAQ builder will give you a competitive edge along with a higher ranking in Google. 
🏆 Adds Value To Your Search Engine Optimization
WordPress FAQ builder tools can also assist your company's SEO efforts. FAQ pages are excellent places to insert keywords relevant to your company. If correctly optimized, your FAQ page can serve as an additional entry point into your website from a search engine results page.
Another SEO factor of using BetterDocs FAQ builder is, featured snippets. These are the questionnaires that appear at the top of search engine results pages and give a response to the question. A brief FAQ page is unlikely to acquire highlighted snippets, but an in-depth support center or blog may assist you in capturing that valuable real estate.
💡 Serves As A Larger Help Center
A WordPress FAQ builder is helpful in and of itself, but it may also serve as the foundation for further materials. You can, for example, leverage the answers in your FAQ as a templated response  — to rapidly answer repetitive queries even if they do create a ticket with the BetterDocs FAQ builder.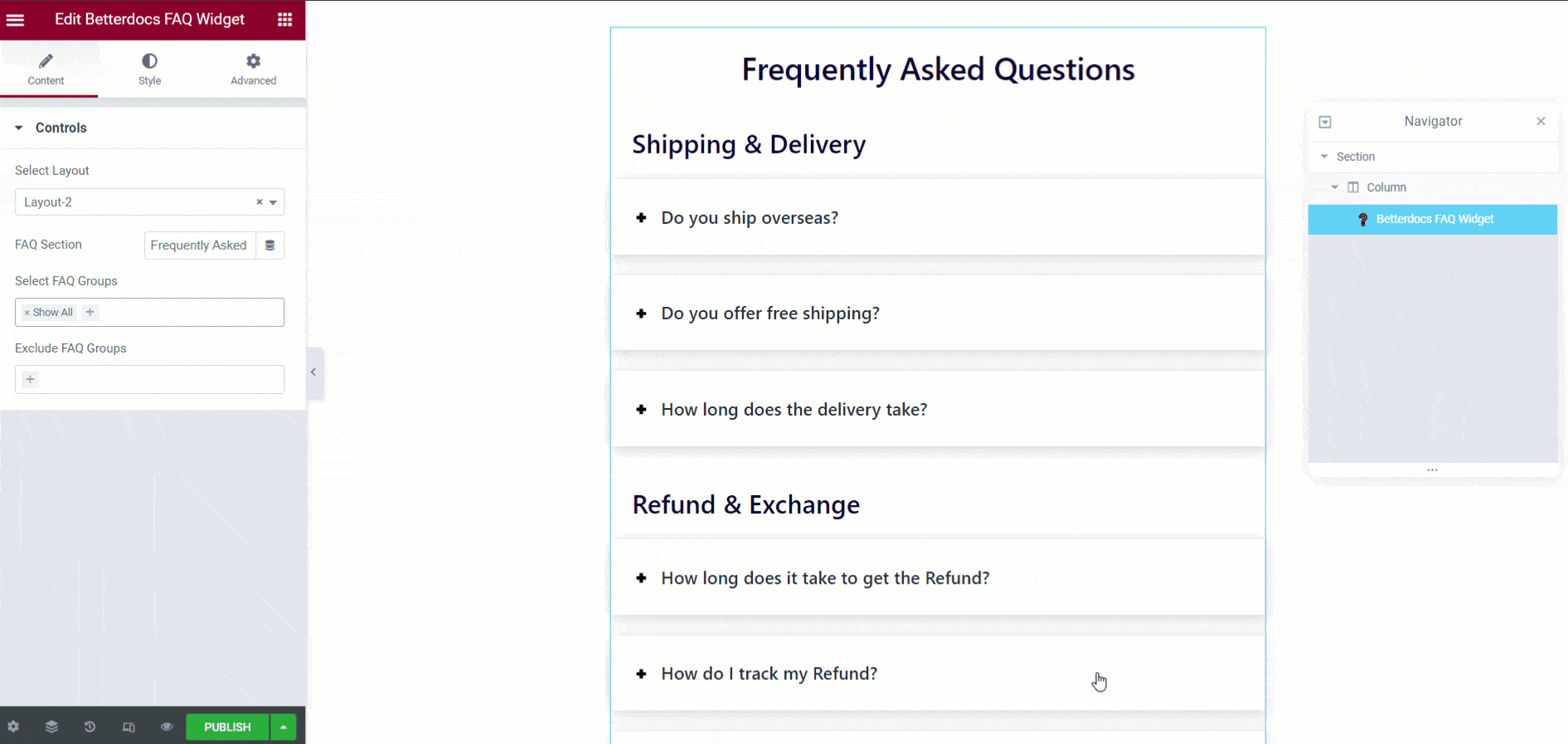 Similarly, your FAQ builder can serve as the foundation for a broader help center or knowledge library. These resources are more robust, structured, and searchable databases of support information that clients may access without the assistance of an agent.
🎖️Promote Your Business As An Expert
When you ask someone a question, you are looking for their opinion since you see them as experts. When your consumers ask you questions about your products and services, the same process happens. Because your clients want to discover information about topics that your company is familiar with, you can use your WordPress FAQ builder to position your company as a recognized authority.
When your audience asks you questions about your business, you can position yourself as an authority by delivering exceptional answers.
Step-By-Step Guide: How To Create A FAQ Builder With BetterDocs
BetterDocs has an exclusive FAQ builder feature that allows you to simply add a FAQ section to the documentation pages of your website. Follow the instructions to discover how to configure the WordPress FAQ builder with BetterDocs. 
Step 1: Make New FAQ Groups
Go to BetterDocs →  FAQ Builder. Here you will see two options. To add a pre-built FAQ, click on the 'Generate Sample FAQs' button. A new section with three new FAQ groups will appear.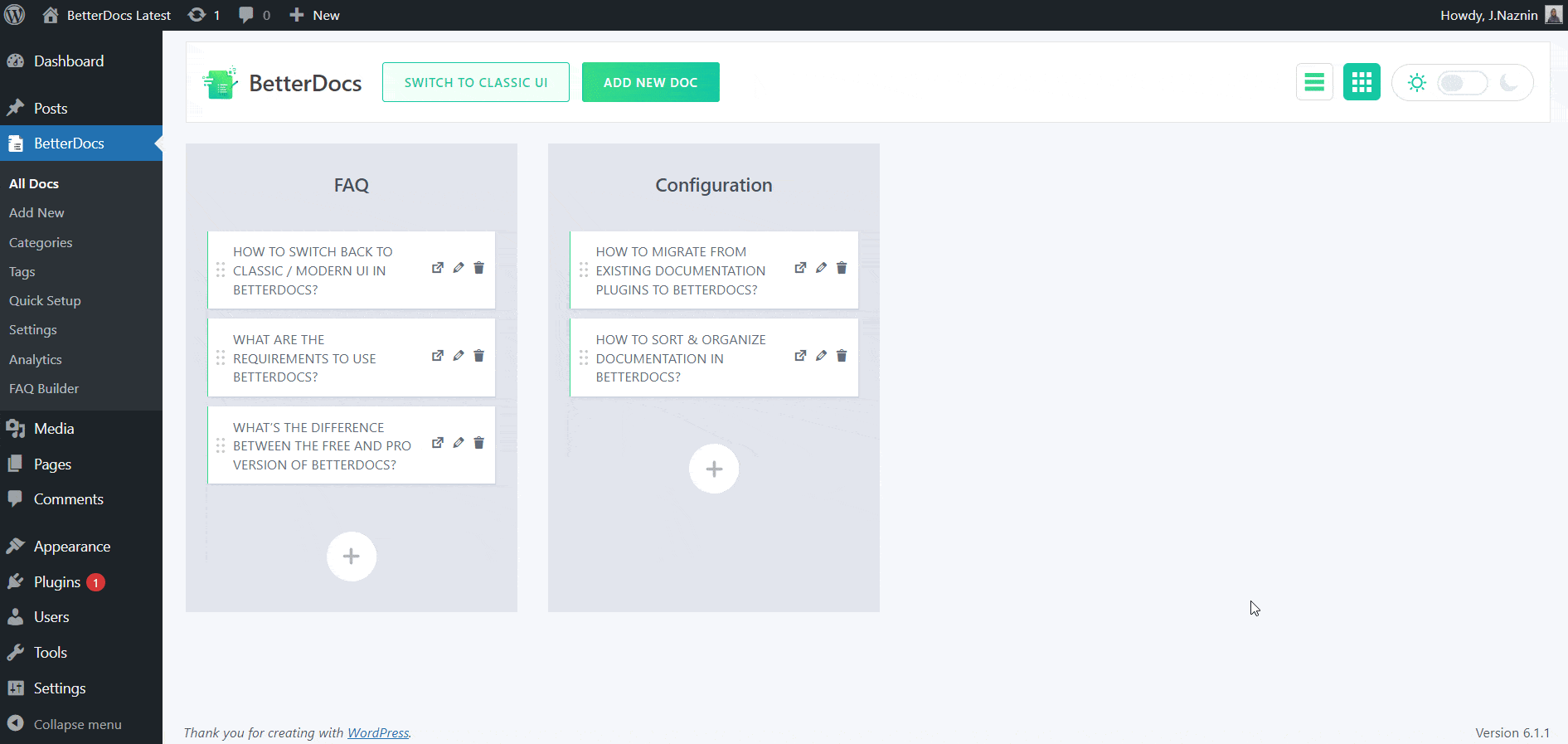 To create a new FAQ group, click on the 'Create A New FAQ' button. Give the new group a suitable name you prefer in the 'FAQ Group Title' field and hit the 'Create FAQ Group' button. A new FAQ group will be added.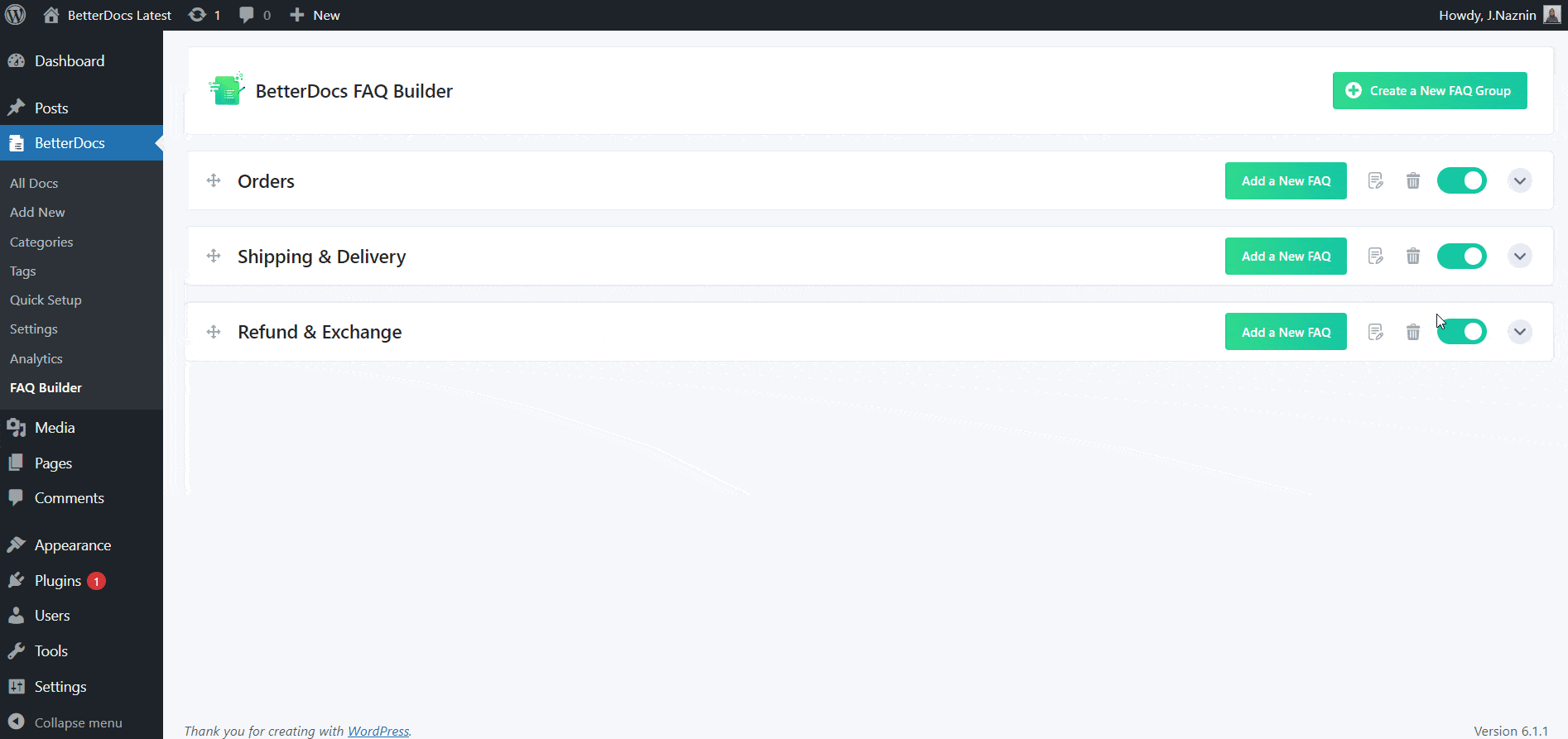 Each group contains a specific set of questions. You can add new questions to the specific group as many as needed.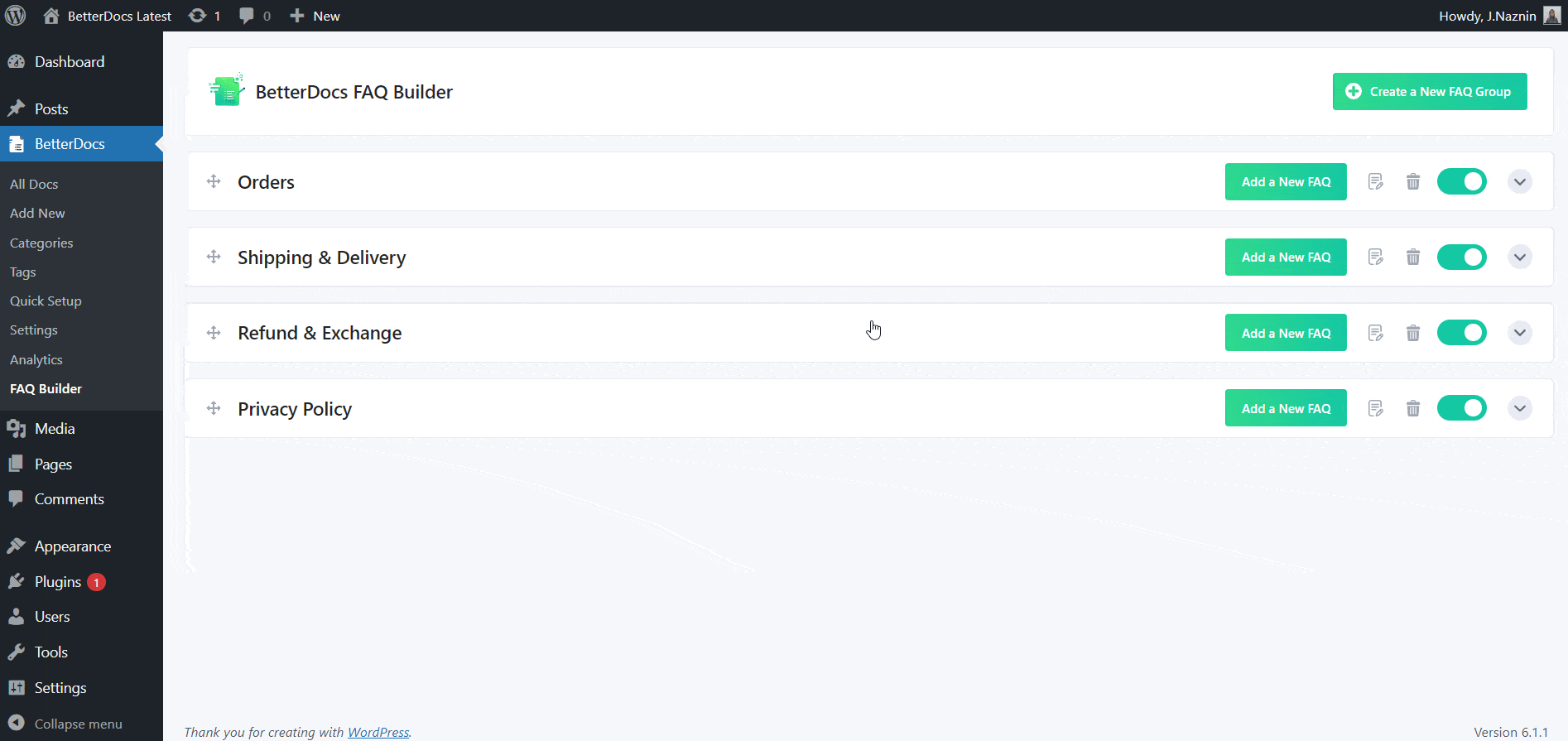 To add new questions, click on the 'Add A New FAQ' button of a FAQ group where you want to add the new question. Enter the question and the answer in the respective fields.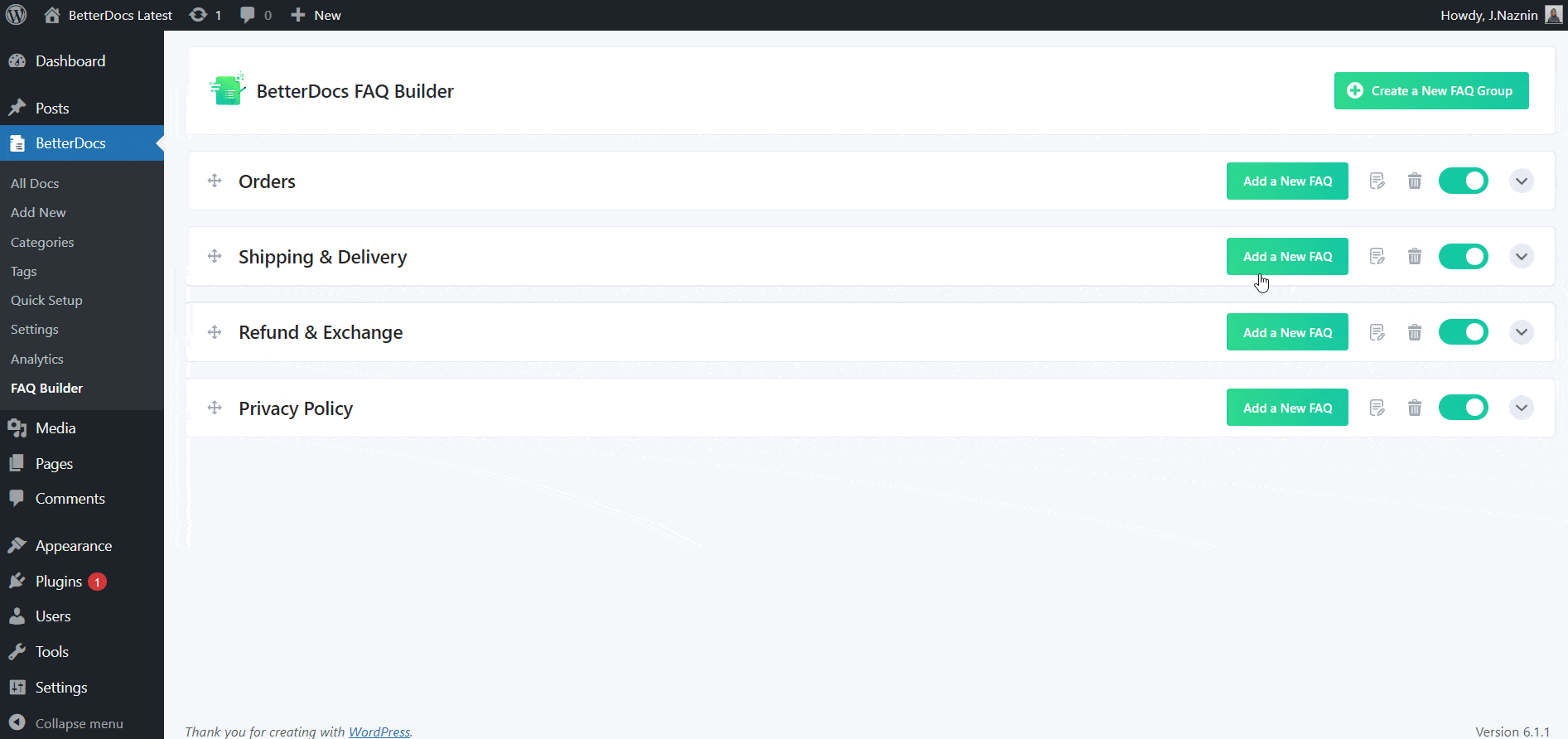 Step 2: Enable Or Disable FAQ Groups
You can decide which question or FAQ group you want to show or hide and based on that you can change the configuration. Simply toggle the button of a specific question or group, if you want to hide that from your website posts or pages.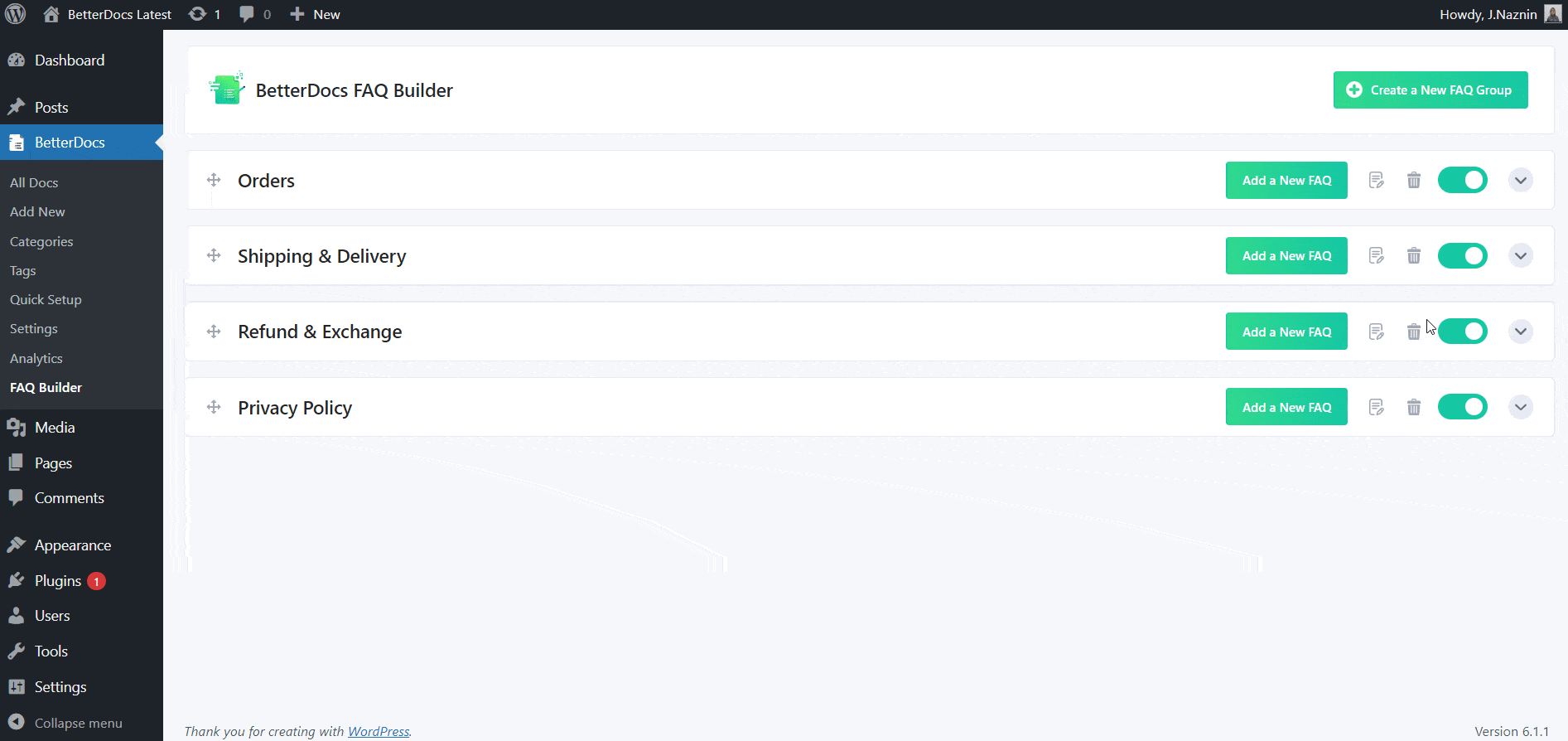 Once you are done configuring the settings it's time to see how it appears on your documentation page. So, click on the 'Visit Documentation' from your website and you will see the newly created FAQ section on your page.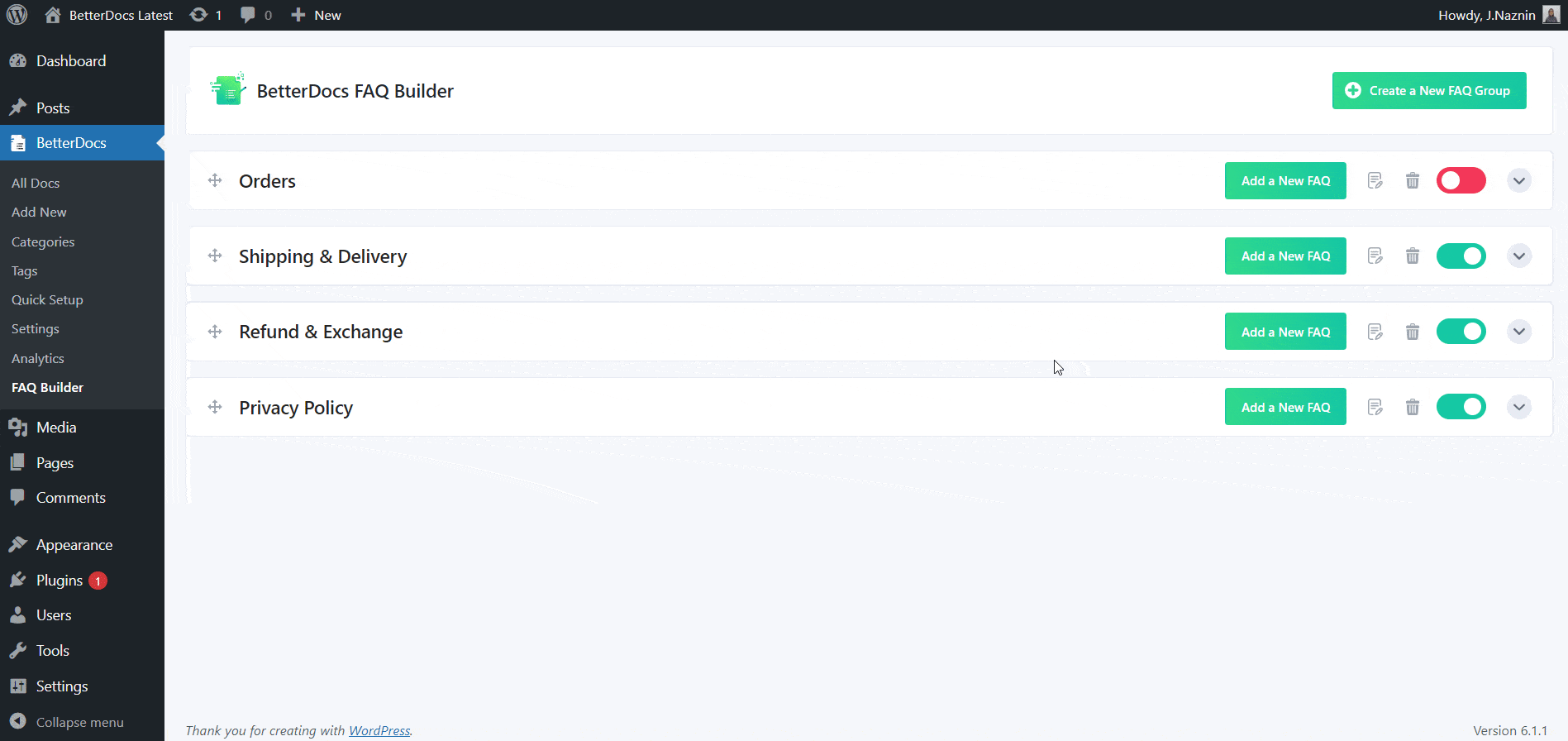 Thus, you can easily configure WordPress FAQ Builder in Gutenberg and create FAQ sections without any hassle with BetterDocs. 
How To Customize WordPress FAQ Builder WIth BetterDocs?
You can customize BetterDocs FAQ Builder easily from the settings panel. Here's how you can customize your BetterDocs FAQ Builder.
Step 1: Open FAQ From Live Customizer
From your WordPress dashboard, go to 'Settings' → 'Design' → Customize BetterDocs. 
Click on the 'FAQ' tab to customize it.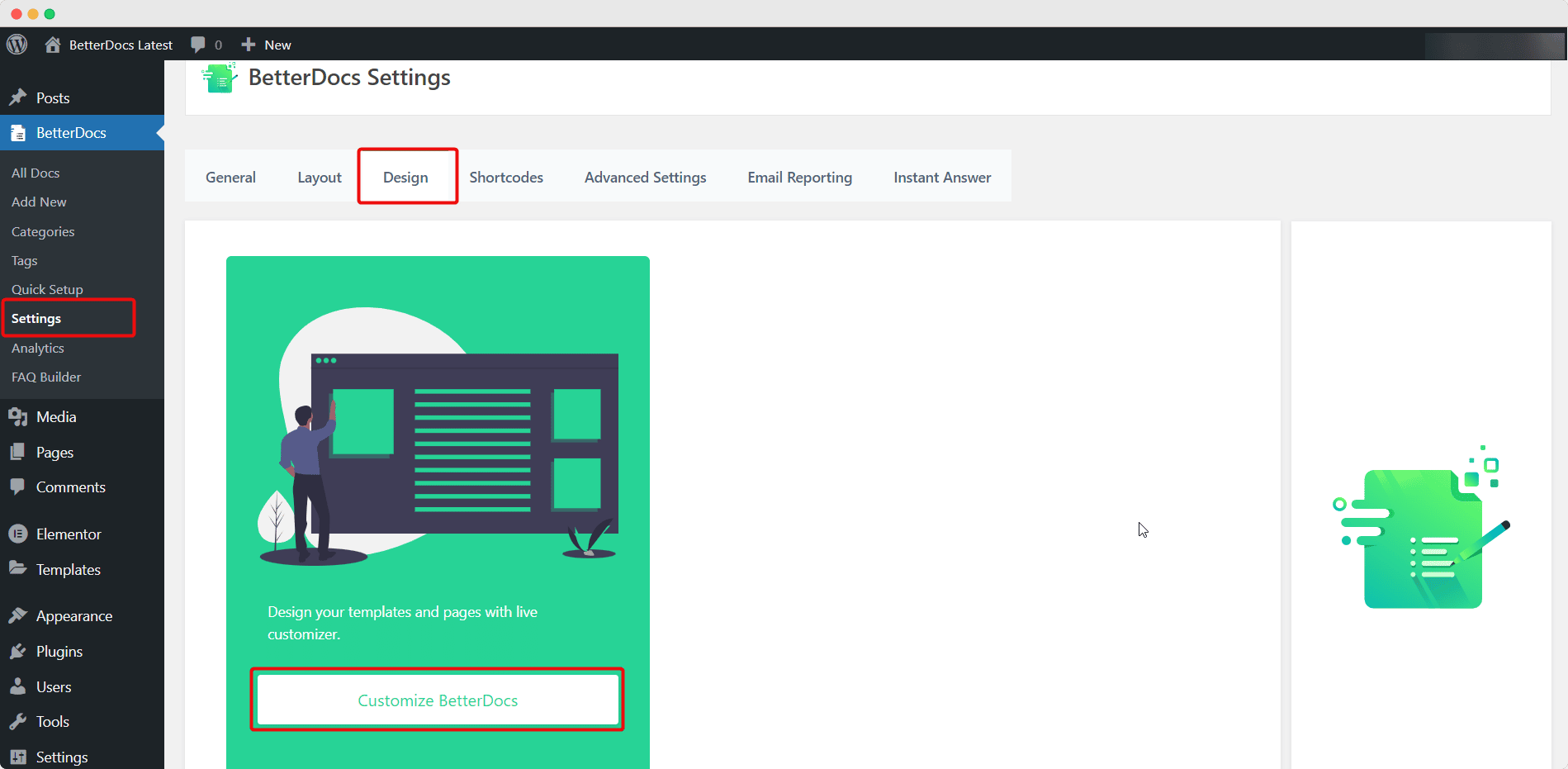 Step 2: Customize The WordPress FAQ Builder
From the FAQ tab, you can customize the FAQ Layout, Title Text, Section Title Color, Font, Background Color, etc. There are more options that you can explore.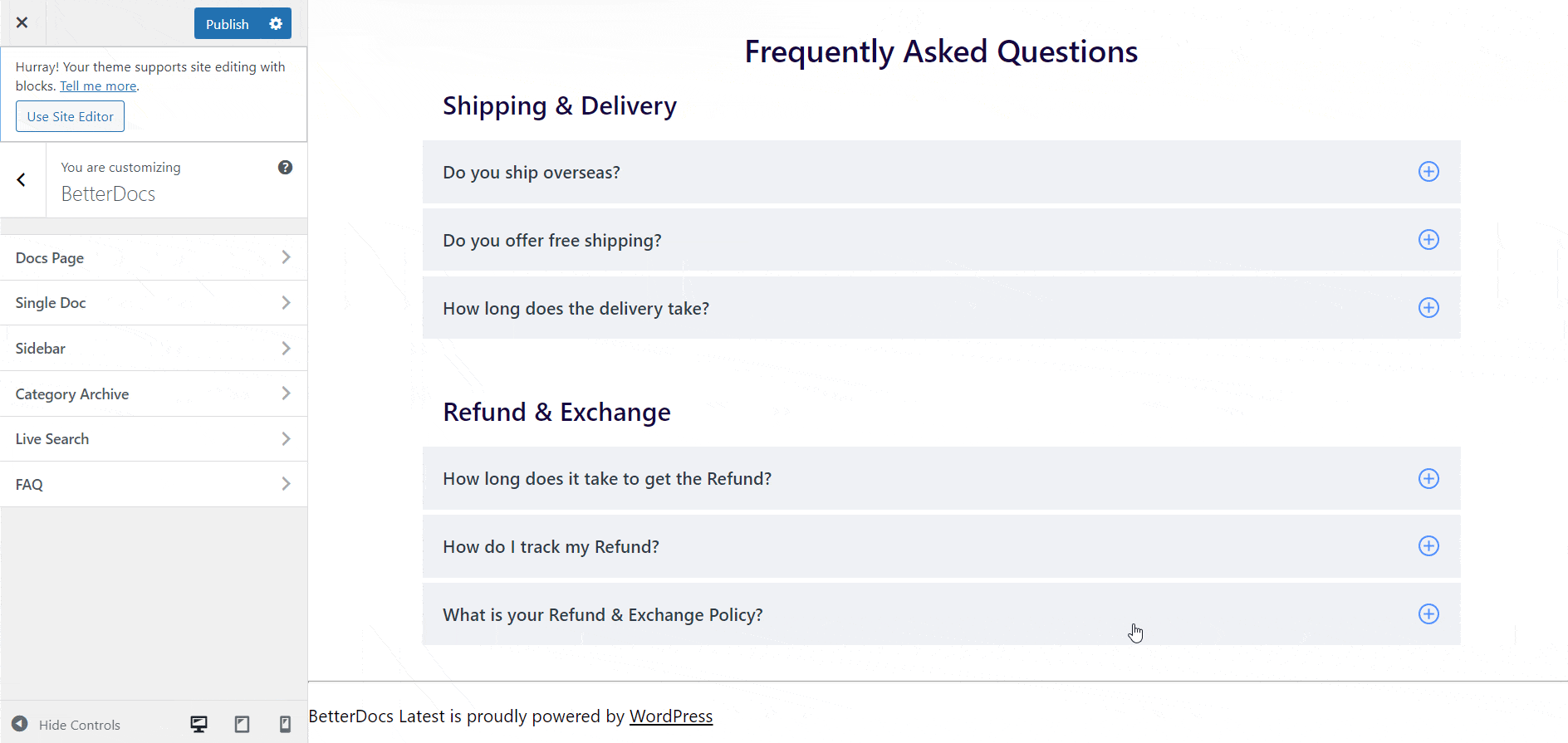 Change the Font Size, Font Color, and Background Color if needed on your WordPress FAQ builder. Play around with the customization options to explore and customize it as needed.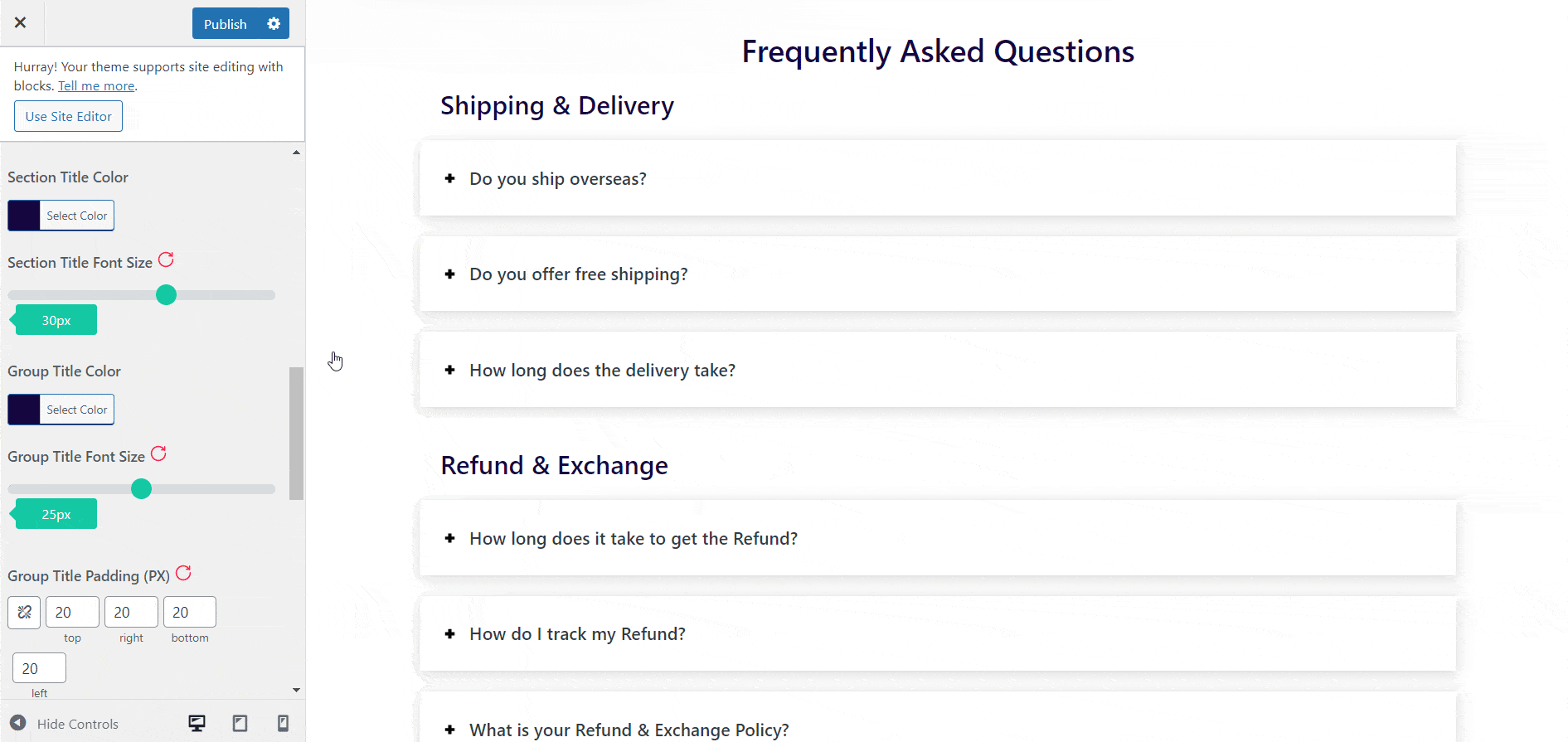 After all the customizations, your FAQ section is ready to be published. Just click on the Publish button and your FAQ is live!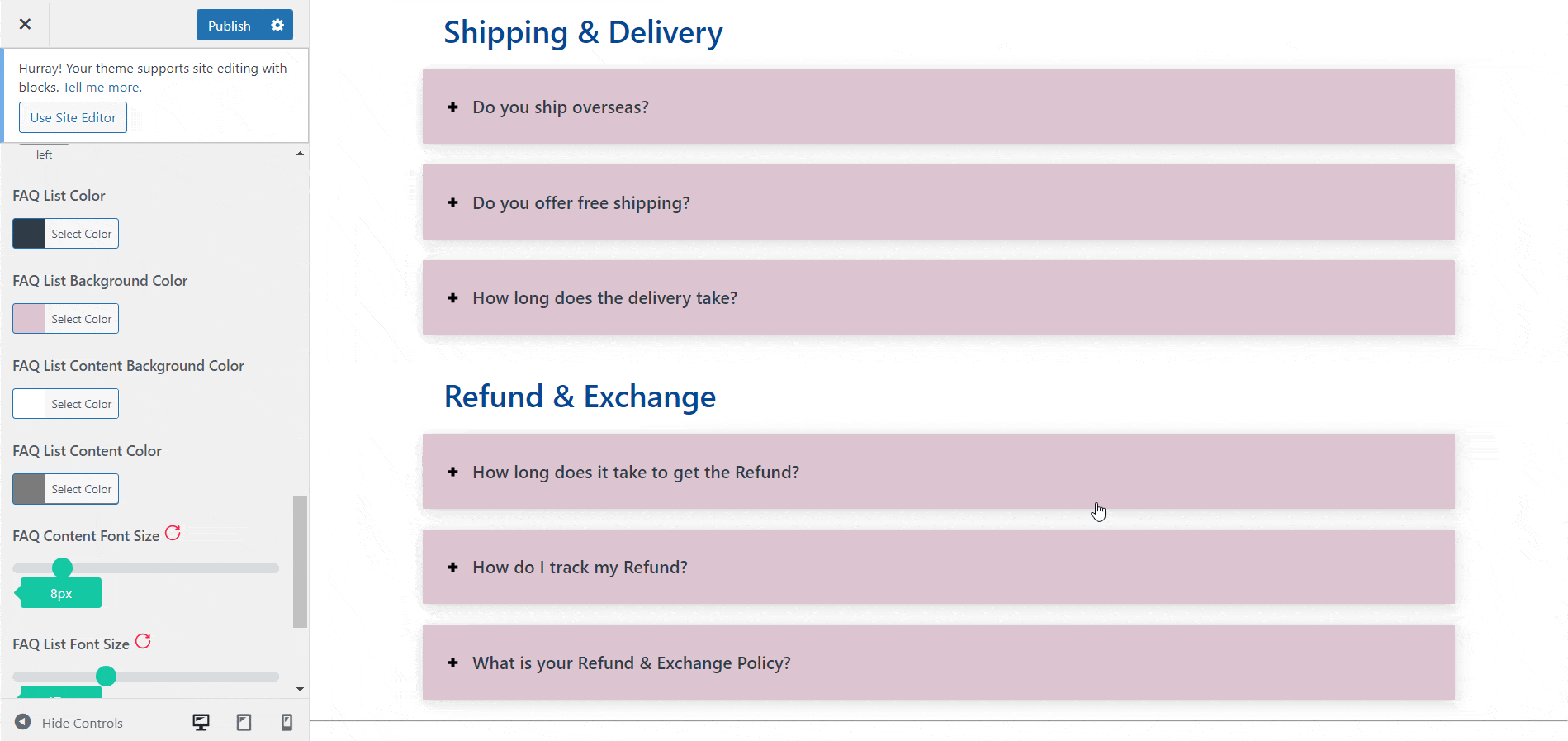 Let's have a look at how your newly customized FAQ section looks on your website's documentation page.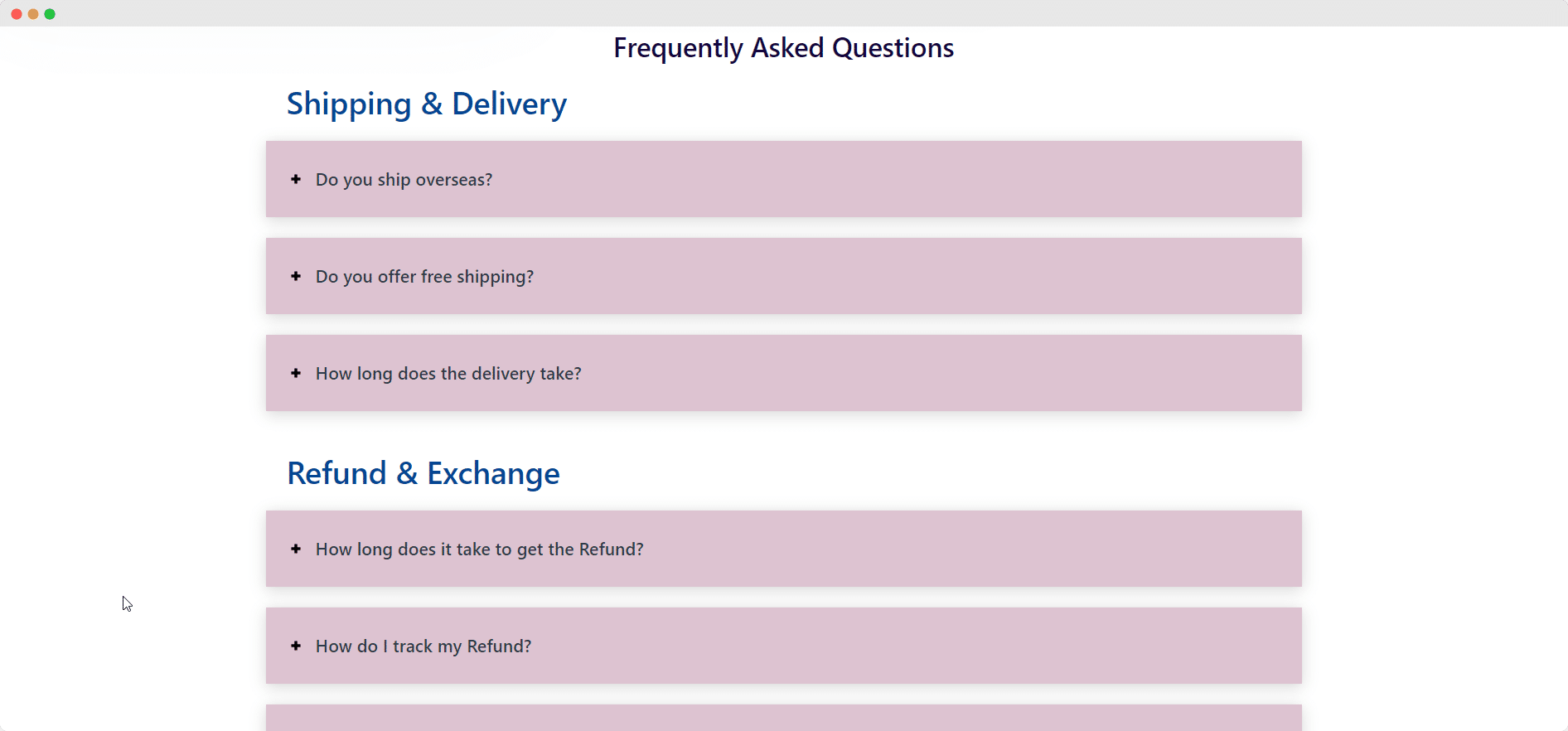 This is how you can create and customize a WordPress FAQ builder with BetterDocs without any coding. 
Bonus Read: 12 Inspiring FAQ Page Examples You Can Use
FAQ Pages enable you to answer specific inquiries about your company that your customers may have. These frequently asked questions could also be used to reach out to and interact with new consumers. As a consequence, it is one of the most important aspects of your site's promotion.
In this blog, we have talked about 12 fantastic FAQ page examples for your WordPress site.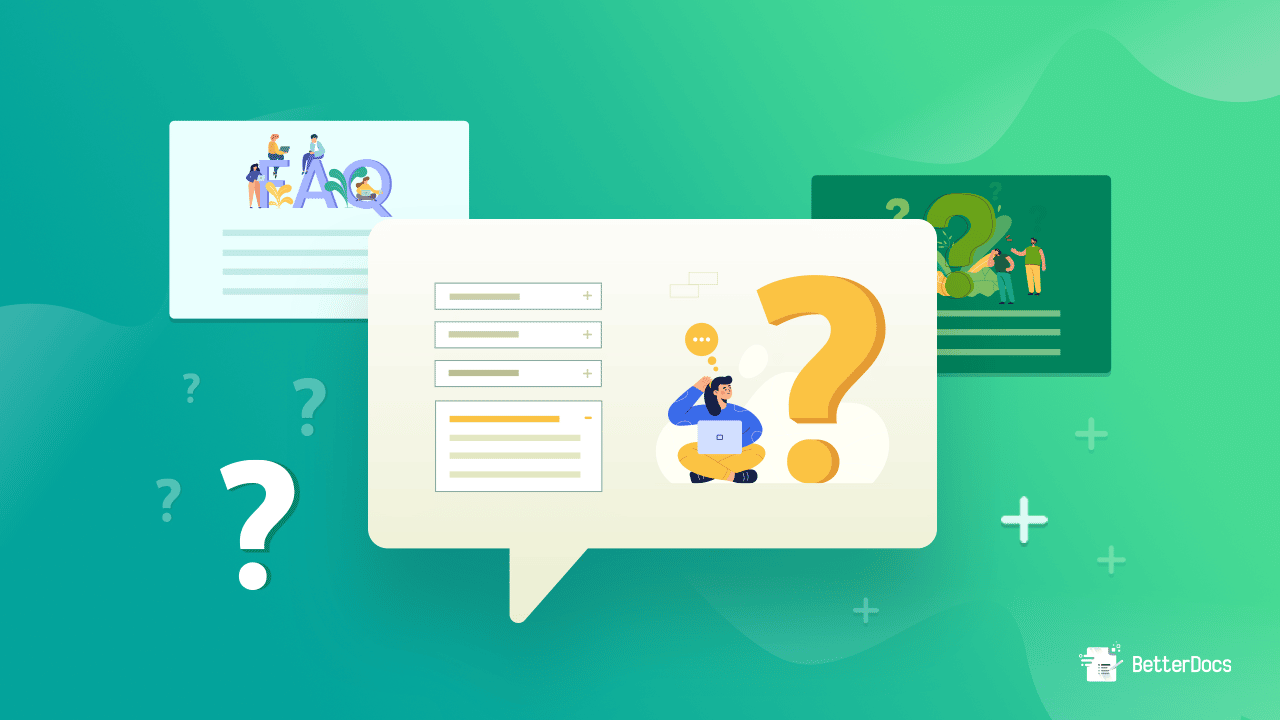 Give your feedback in the comment section. Subscribe to our blog and join our evergreen Facebook community for more exciting updates.