Having an internal Knowledge base is the most effective way to provide all team members with the information they require, including knowledge of the products, procedures, etc. With modern technology, creating internal documentation for your company is now a matter of minutes. It is one of the trendiest tools to nurture employee performance and boost productivity. But why should you invest in your company's internal knowledge base? To get to the answers, start reading.
What Is Internal Documentation?
Whether you manage your own company or work for a software or SaaS company, you might have heard of internal documentation or knowledge base. Similar to what you normally find the knowledge base for most of the tech-related products, eCommerce stores, LMS websites, on their websites. In the case of internal documentation, it is only accessible to restricted users and not for everyone on the internet. Let's explore what is meant by internal documentation. 
You can define internal documentation as a centralized library of internal documents stored, shared, and accessible by your team members. It can be compared with your company's own Wikipedia. You'll find most of your company's benefits, onboarding process, workflows, etc. in your internal knowledge base. It is easy to search and quickly find answers to the questions posed by your employees if your employees can organize the information hierarchically. 
Types of Internal Documentation You Can Create
Based on your company structure, goals, and objectives, you can create certain types of internal documentation. That will help you as well as your team members to get a detailed and clear idea about your company, product, business, and so on. Based on popularity, we are mentioning top internal documentation types that you can create for your company. 
A Guide For Better Onboarding Process
An internal document such as this serves as a guide for your new hires to familiarize themselves with your work processes. It can also be used by existing employees to brush up on their knowledge in specific areas. A company's policy manual includes information about its HR processes, organizational structure, top-level employees, and much more.
Knowledge Base For Team Structure
If any internal documentation about your company's team structure, how each department is interconnected, how your team works, is included, it is often also called "team documentation".
You can use this knowledge base to document everything your team has been working on. Among other things, it includes meeting notes, department goals, and project reports.
Documentation For Complex Processes
This type of internal knowledge base allows you to document all the steps you need to take to complete the task from beginning to end. Step-by-step instructions are provided to ensure that a process is completed as smoothly as possible. When your employees are familiar with all the standard work processes through the internal knowledge base, they are less likely to make mistakes. 
Internal Documentation For Projects
When you want to store down your specific project details, process, research, and so on, that internal documentation will be called project documentation. Throughout the entire life cycle of a project, everything at every stage is included. This internal documentation describes the project guidelines, timelines, deliverables, team members, and the resources required for the members' successful completion of the project.
5 Advantages Of Investing In Internal Documentation For Your Company
Now that you know what internal documentation or internal knowledge base is, you might be wondering: would it be worthwhile to create internal documentation and invest in it? In order to make a better decision, let's find out the advantages of investing in your company's internal documents: 
Fast And Effective Training To Team Members
To run your company smoothly, you need to brief and train your new members about your company, projects, projects, and so on. You can easily avoid wasting money and time in creating in-house training material for your team members. If you invest in an internal knowledge base, then you can run fast and effective training.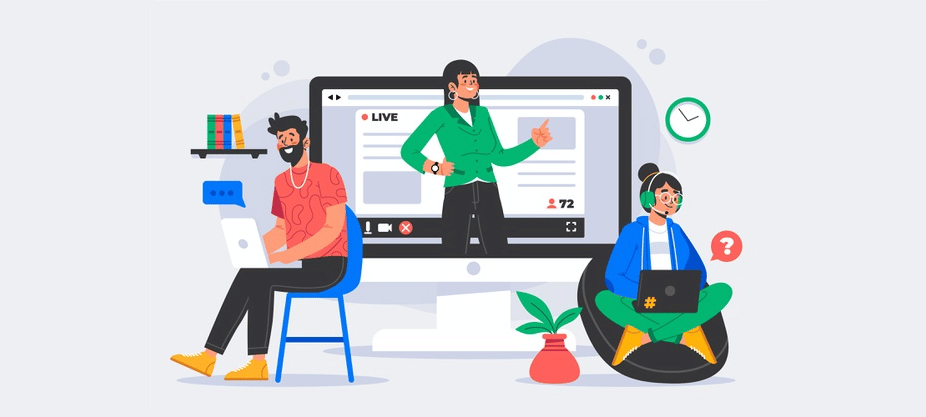 Moreover, whenever you enroll new employees to your company, to get them into productivity and a part of your team, it's important to train them about your company work process, products, methods, culture, etc. internal documentation can be the best onboarding tool to nurture your new team members. 
Keep Your Team Up-To-Date With New Changes & Integrations
When your team keeps growing and evaluating, it becomes harder to stay up to date about every project, change, minor details, and so on. But if you can invest in your company's internal knowledge base, and maintain them from the beginning, then your entire team can stay up to date about your companies, new changes, integrations, and many more. 
Ease Of Access To All Company Resources
Imagine you run a software service-related company, or have multiple running products like knowledge base plugin, social proof plugin, etc. No matter which tool you use to manage and run each project or product, you will need a centralized hub from where you can get updates of your company's all resources at once. If you invest in your company's internal documentation, then it can work as your company resource hub and all the team members can easily access them. 
Boost Knowledge Sharing Among Team Members
When your team members work together to find new solutions, lots of amazing and innovative ideas are generated. If your team can manage the internal knowledge base systematically, then it can work as a great medium for knowledge sharing. When your own company has internal documentation, it becomes easier to acquire knowledge about companies present status, new and ongoing projects, etc. without internal documentation, you would have to depend on other 3rd party tools and extra time to store info and share them. 
Companies That Effectively Scale By Using Internal Knowledge Base
Analyzing the advantages of internal documentation, hopefully, you got a clear idea of why you should invest in your company's internal knowledge base.  Mentioning some popular giant ventures that have upscaled company growth by introducing internal documentation. 
🔰 Wistia used an internal knowledge base to scale their culture. Without internal documentation, the HR and admin team have to depend on multiple tools to educate and maintain the practice of Wistia culture. Also, onboarding new team members and getting them involved instantly to Wistia culture has now become way easier with internal documentation.
🔰 Onboarding new members rightly is a crucial part of talent nurturing. If you want to run a successful onboarding program then it will require a lot of manpower, and time. That's where IMGE brought innovation with the internal knowledge base. With IMGE internal documentation, they can easily run virtual onboarding programs.
🔰 Geckoboard always believed that customer retention is the key to your company's growth. Geckoboard introduced internal documentation for upscaling their customer support. If your support executive is not from the technical background then it's a lengthy process to provide solutions to customers. To cut it short and save valuable time for everyone, Geckoboard has introduced internal documentation. Now support executives can look up solutions instantly from internal documentation, and upscale customer support.
Must-Have Features For Your Internal Documentation Plugin
Before jumping to the guideline to create an internal knowledge base for your company, let's follow up on the must-have features for your company's internal documentation. These features and the most popular practice among top companies. 
Multiple Categories To Manage Versatile Resources
As mentioned earlier, internal documentation is the hub house for all kinds of your company resources. To manage the internal knowledge base efficiently, you will have categories for documentations. So that at a glance your team member can go through the documentation. While creating internal documentation, make your tool has the option to create multiple categories.

Restrict Access Based On User Role, Category, Documentation Type
Firstly, internal documentation is maintained for your company team members, not for customers. So you have to restrict access to your customers from your internal documentation. Similarly, you can make documentation accessible for certain user roles. So while creating internal documentation, make sure you can restrict user access to a certain knowledge base, user roles, categories, and so on.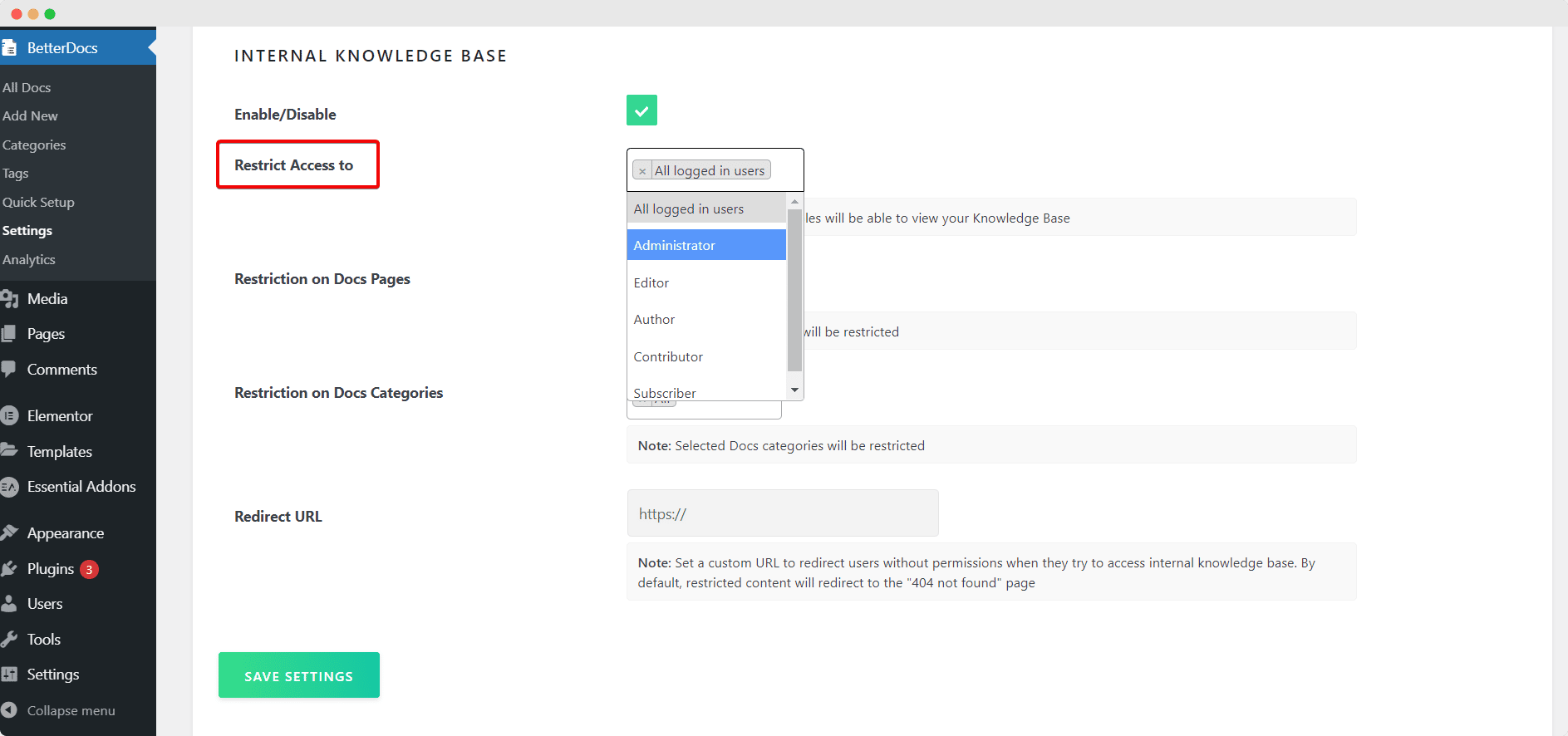 Analyze Every Documentation Performance WIth Insightful Data
The key factor of improvement and upscale is to analyze every data related to the internal knowledge base. How much your documentation is helpful, which types of documentation most team members follow, etc. Every type of data is important to make your internal documentation storage useful. Don't forget to enable analytics for your internal documentation. 
How To Create & Manage Internal Knowledge Base 
Creating internal documentation is a piece of cake if you can choose the right tool. It will also save you a lot of money.  If you are wondering where to start, here we are presenting the easiest and code-less way to create an internal knowledge base for your company. 
Basically, companies go for WordPress while creating a knowledge base. As it's easy to maintain, and anyone can easily adapt to maintain the internal documentation regularly. In this tutorial, we will enlighten you on how to create internal documentation in WordPress. If you are planning to create your internal documentation without coding, then the best way is to go for a knowledge base plugin. 
In this case, BetterDocs is the perfect knowledge base plugin. It is now the most popular knowledge base plugin with over 20,000 happy users. You will get a separate access restriction panel to maintain your internal documentation properly. Above mentioned all must-have features are available to this knowledge base plugin. Moreover, with the BetterDocs knowledge base plugin, you can create an instant IA bot, design with Elementor, create multiple knowledge bases, and many more.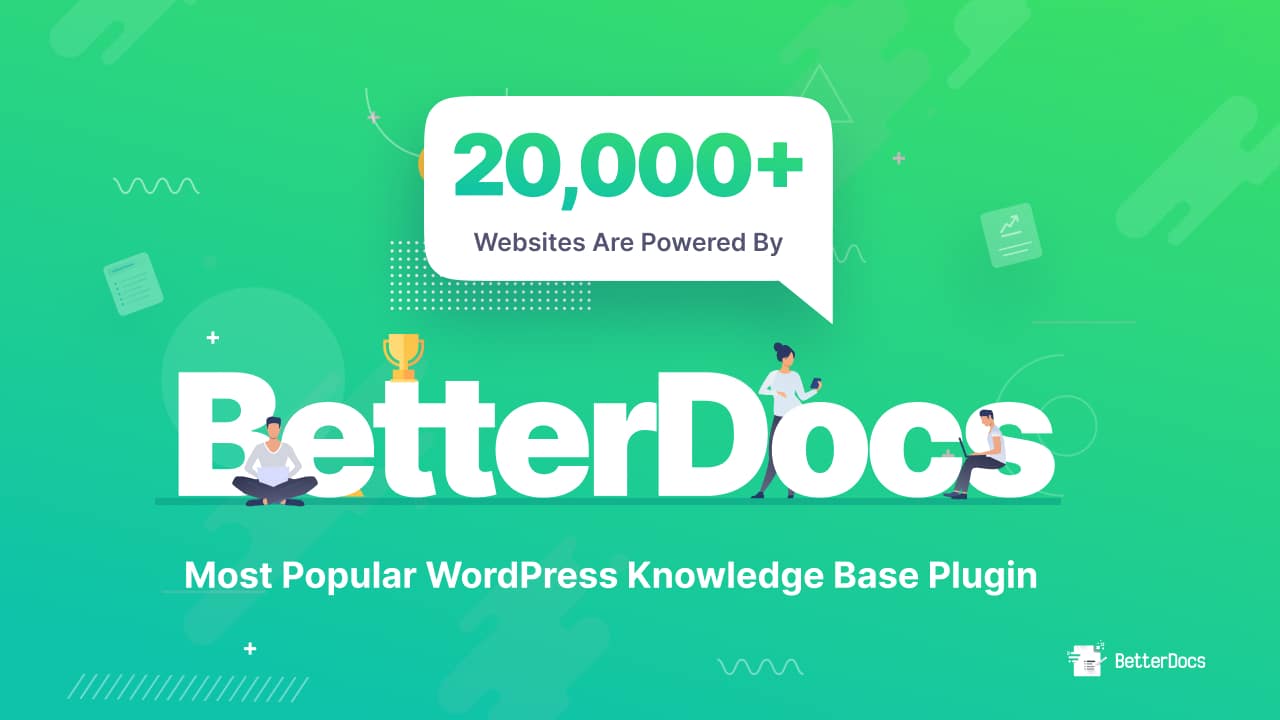 Step 1: Install & Activate BetterDocs In Your WordPress
Open your WordPress dashboard and navigate to the plugin tab. From there search for the Knowledge base plugin BetterDocs. Install and activate the knowledge base plugin into your WordPress website. Instantly a new page will be created where all your documentation will be displayed. 
Need to mention that, you must get BetterDocs Pro to get this stunning feature for your company's internal knowledge base. After purchasing the licenses, also install and activate that too on your WordPress website.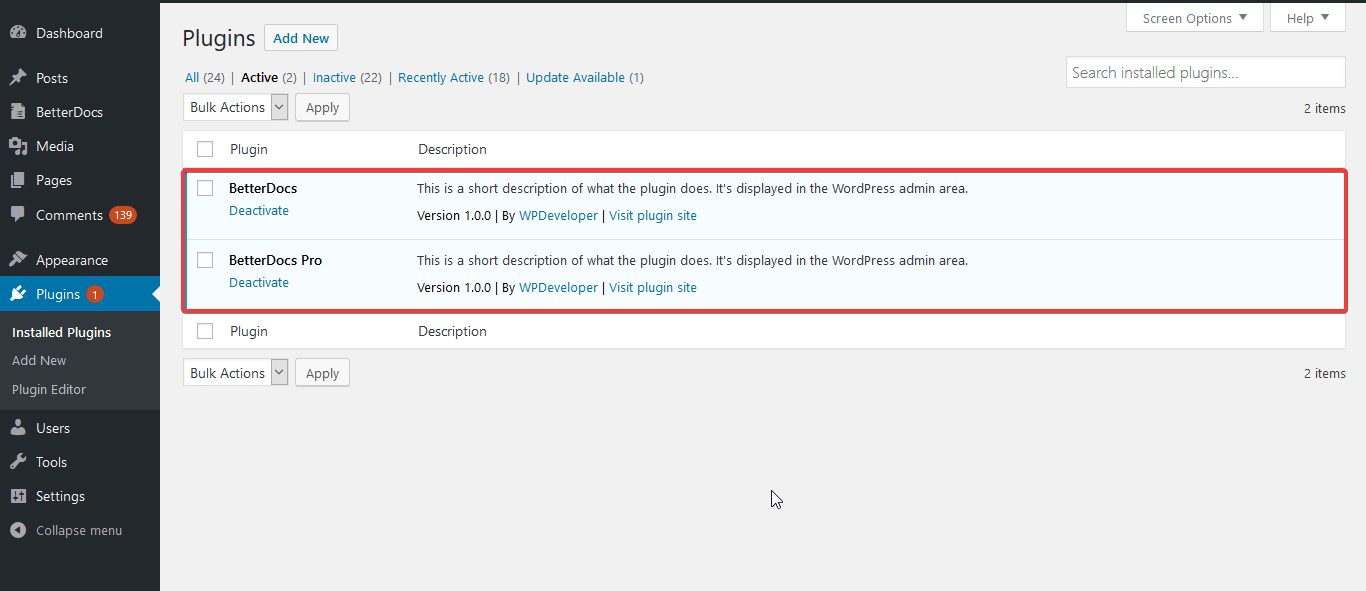 Step 2: Enable Internal Documentation In WordPress
To enable access restrictions, go to BetterDocs dashboard. Navigate to Settings → 'Advanced Settings' tab and there you will find the option to enable the Internal knowledge base. Tick to enable  Internal knowledge Base from there.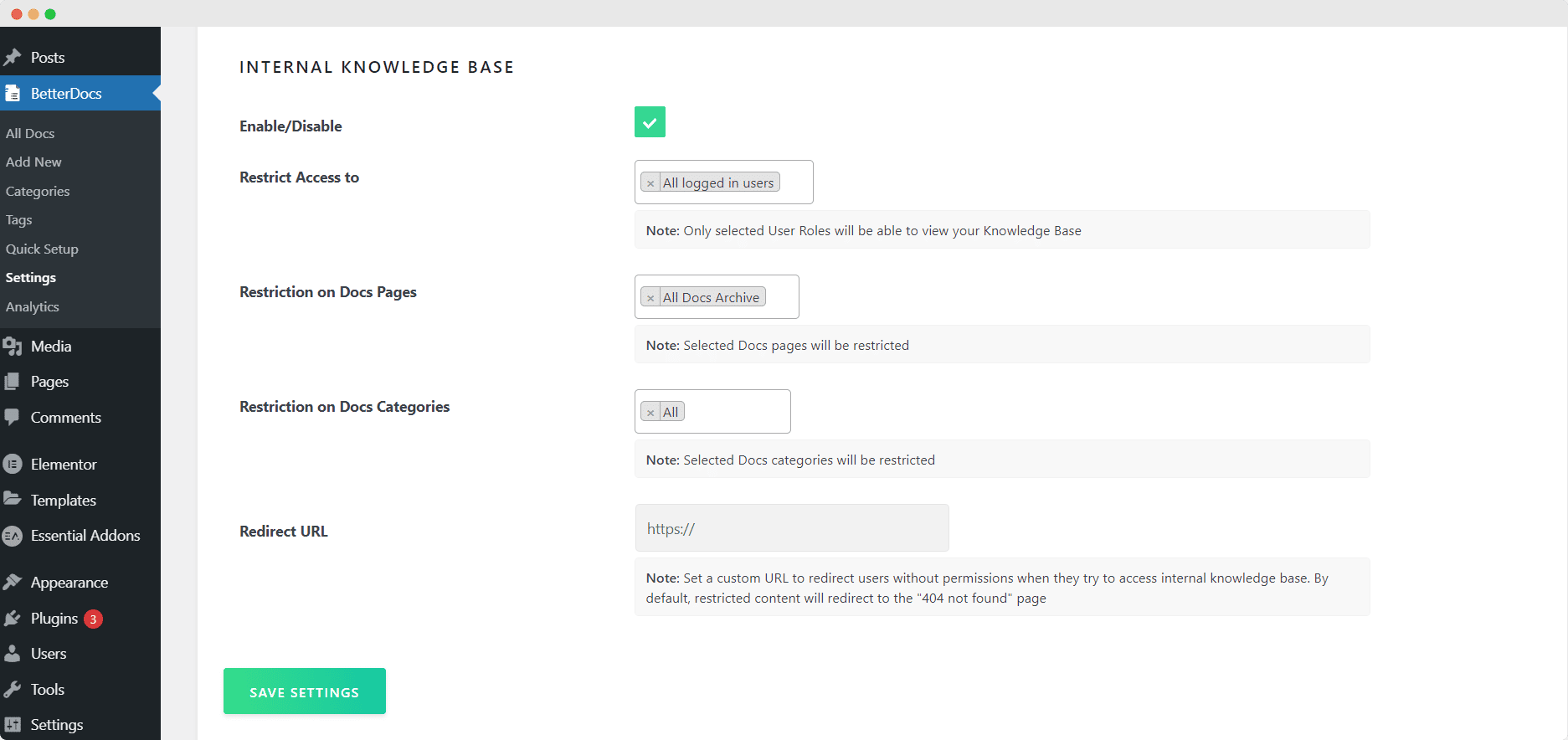 Step 3: Set Access Restrictions For Internal Knowledge Base
It's time to enable access restriction to your internal documentation based on usability. With BetterDocs knowledge base plugin, you can restrict access to an entire knowledge base, category restricted, or pick certain documentation. You can restrict user roles, docs category types also from this knowledge base plugin. You can set redirect URLs for restricted pages so that you won't have to face 404 errors.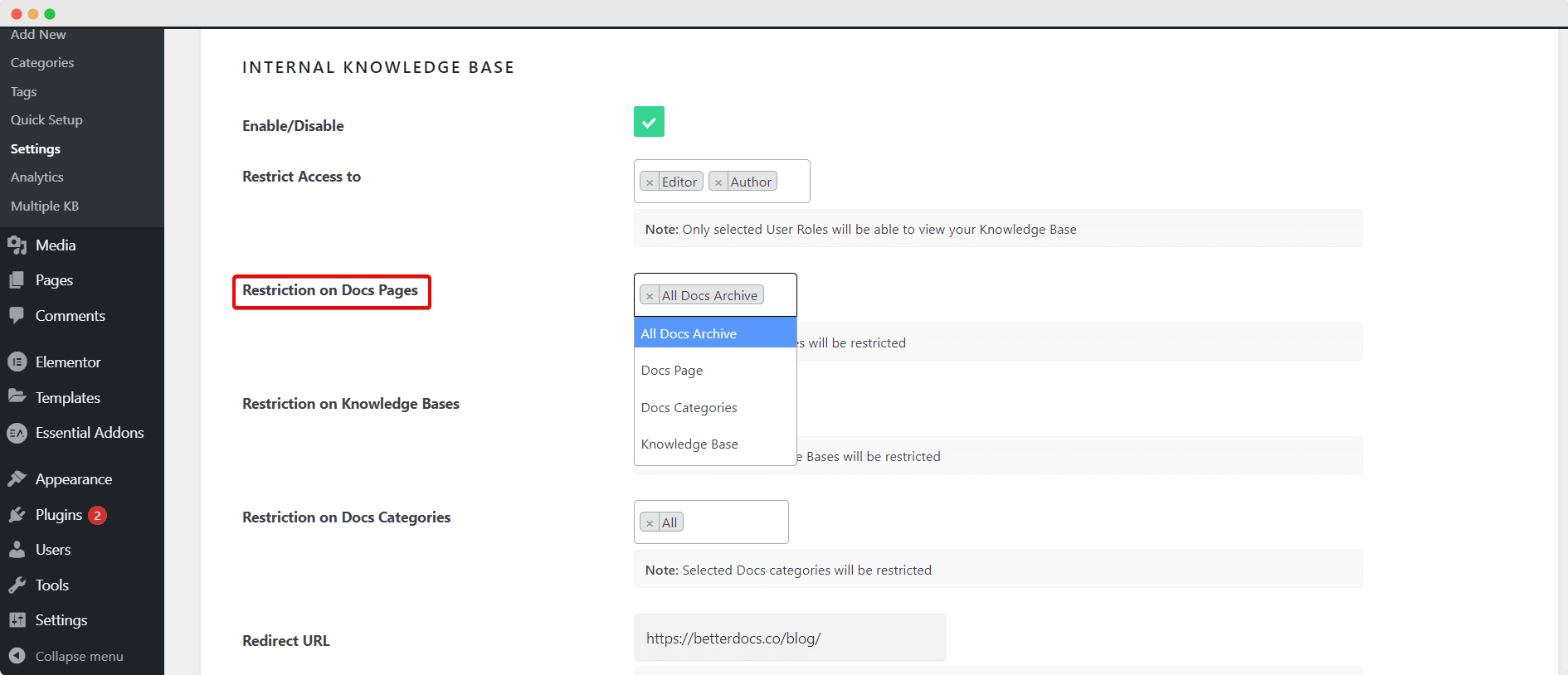 Step 4: Include All Your Documentations Into The System
Now is time to create all your documentation one by one for an internal knowledge base. Before that don't forget to create multiple knowledge bases and categories. While adding documentations, include precisely the categories and multiple knowledge bases. You can include one documentation under multiple categories, knowledge bases, and tags easily with the BetterDocs knowledge base plugin.
Step 5: Customize Your Internal Knowledge Base Appearance
This amazing knowledge base plugin offers internal knowledge base appearance customization. So you can set your documentation, categories, and even knowledge base outlook all by yourself. You can either design your internal knowledge base using Elementor or WordPress customizer. BetterDocs comes with advanced features like live search, sidebar, docs review, etc. that can easily be added to your company's internal knowledge base without any coding.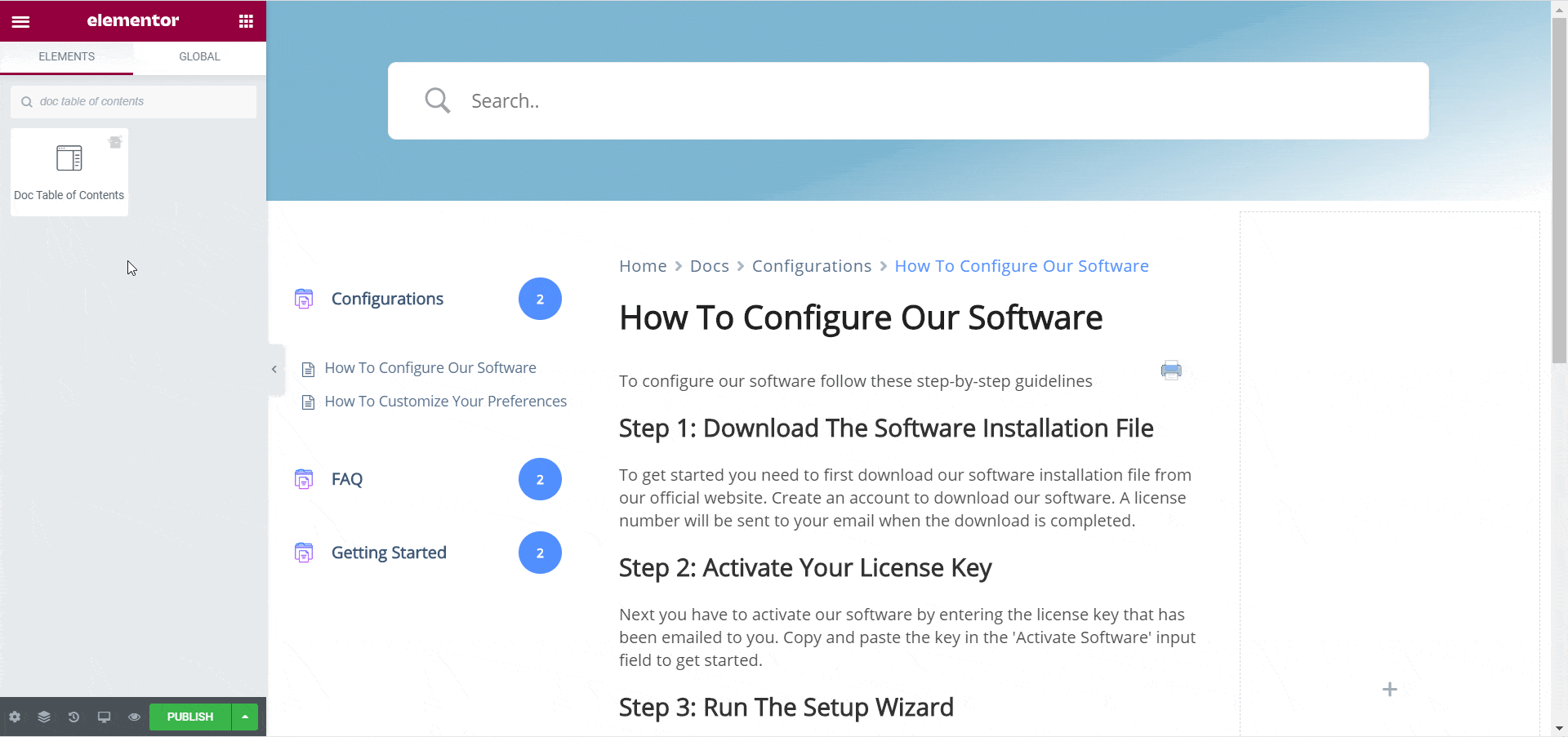 Get Started With Your Internal Knowledge Base
BetterDocs knowledge base plugin helps you to create internal documentation in such a way that you can manage and maintain documentation for customers and team members from the same platform. After making all the customizations, hit the 'Save' button. That's how you can create an internal knowledge base using BetterDocs instantly.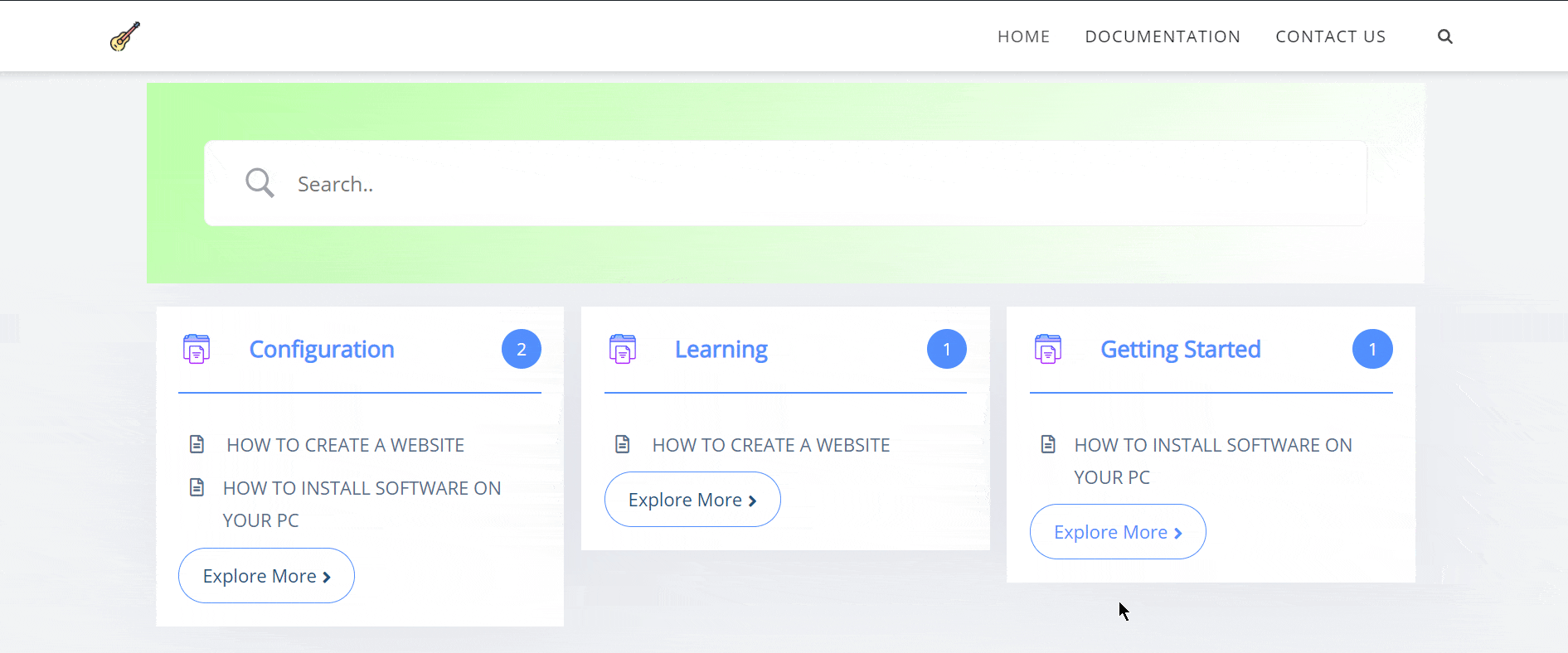 Whether you need to upscale company culture, improve customer support, onboarding, or drive innovation, it's worth it to invest in your company's internal documentation. In the long run, an internal knowledge base will help you to skyrocket company revenue. So, get started with your company's internal documentation if you haven't yet. 
Was this post helpful for you to clear the idea of investing in your company's internal documentation? Then don't forget to share your thoughts about the internal knowledge base via comments or by joining our Facebook group. Also, subscribe to our blog to keep up-to-date about new updates, insights about internal documentation, knowledge base plugin, and so on.