Do you want to make your technical information and guides engaging for your readers and customers? Well, today is your lucky day. Here we are about to share the top 6 technical writing style guide examples that you can try and make an amazing knowledge base. So, without further ado, let's get started.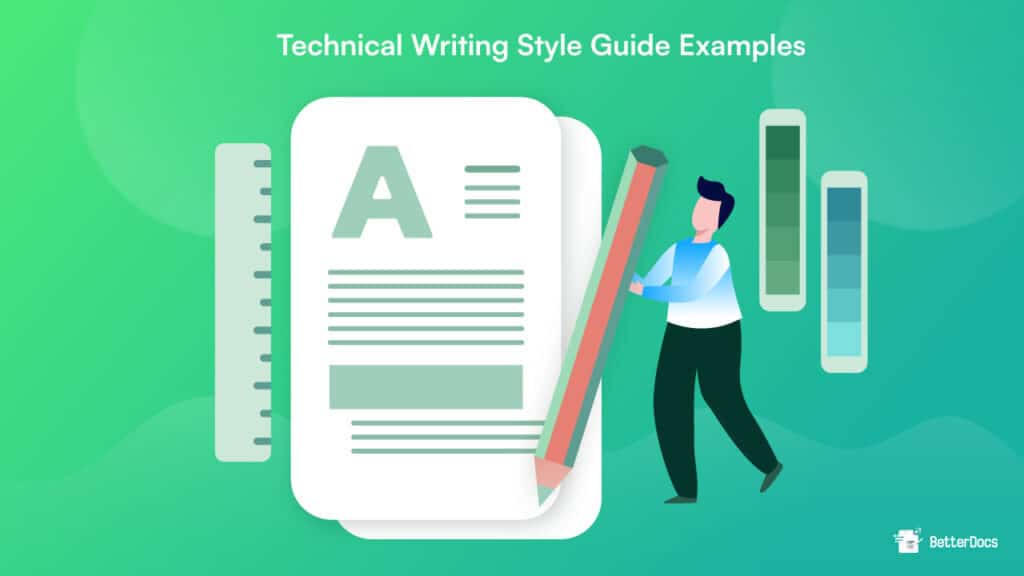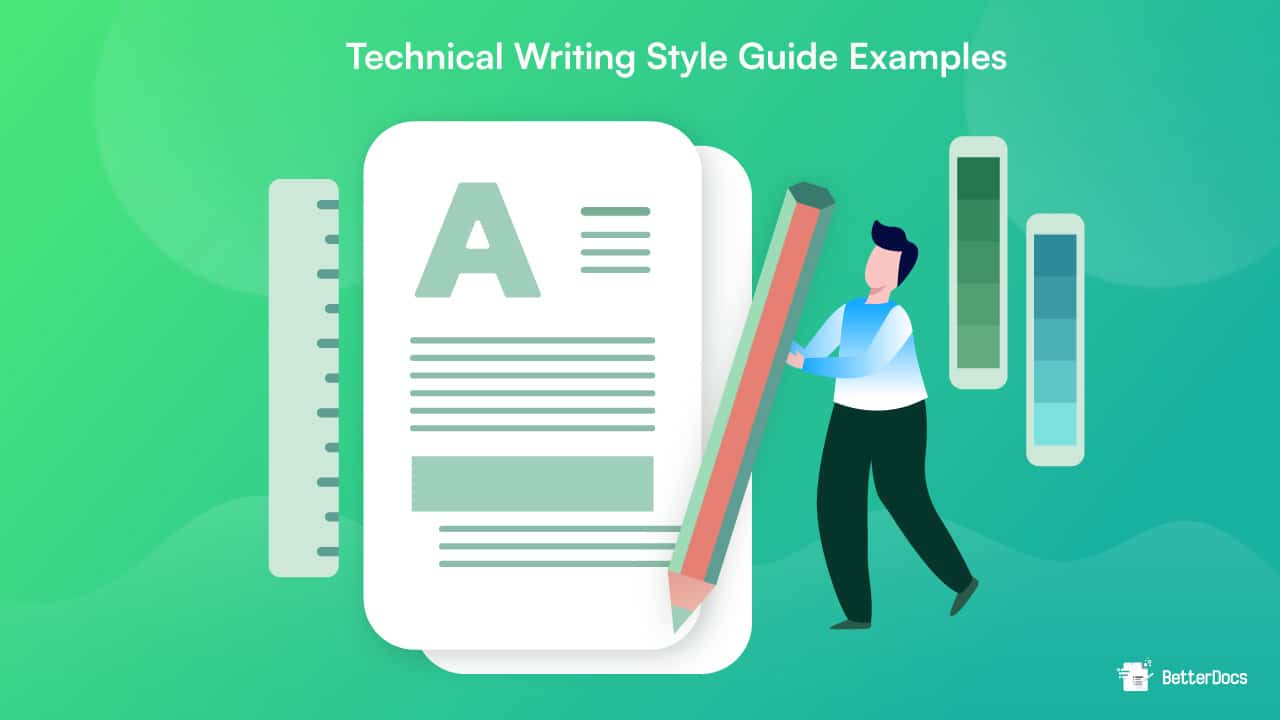 📖 A Quick Overview of Technical Writing Style
Technical writing is basically a type of writing where people write about complex topics in order to help others to carry out a specific task. As the topics are generally a bit complex, to help the reader understand easily there are a number of technical writing styles and guidelines invented. All of them are created to make sure the readers understand the topic without any confusion. Thus, technical writing is often called simplifying the complex.
✨ The Main Component Of Technical Writing Style
When you are writing technical content, it will not be similar to the other form of writing. So what are the main differences you can think about? Well, here we will break down the differences between technical writing styles and other writing styles. So, now let's check out the main component of technical writing below.
⭐ Clear & Straightforward Language
Technical writing is not the place to show how much control you have over the language. It is all about writing in a clear and concise tone without leaving any scope for further interpretation. Rather than using jargon, it is recommended to use straightforward language anybody can understand.
⭐ Well Structured & Easy To Skim
Technical writings are intended to convey information in a simple and easy-to-skim manner. The content should be detailed however there should be step-by-step instructions to easily perform the intended task.
⭐ Problem-Solving & Denotative
Technical documents or contents should solve problems and clear confusion from the readers. These contents use denotative words to avoid any misunderstanding. Therefore, even though these contents are not very catchy to read they should be able to solve any problem properly.
💡 Top 6 Technical Writing Style Guide Examples
Many brands and companies developed their own style guide for their technical documentation. You can take inspiration from them and create your own brand guide. Now, let's go below and find the popular technical writing style guide below.
1. Google Developer Style Guide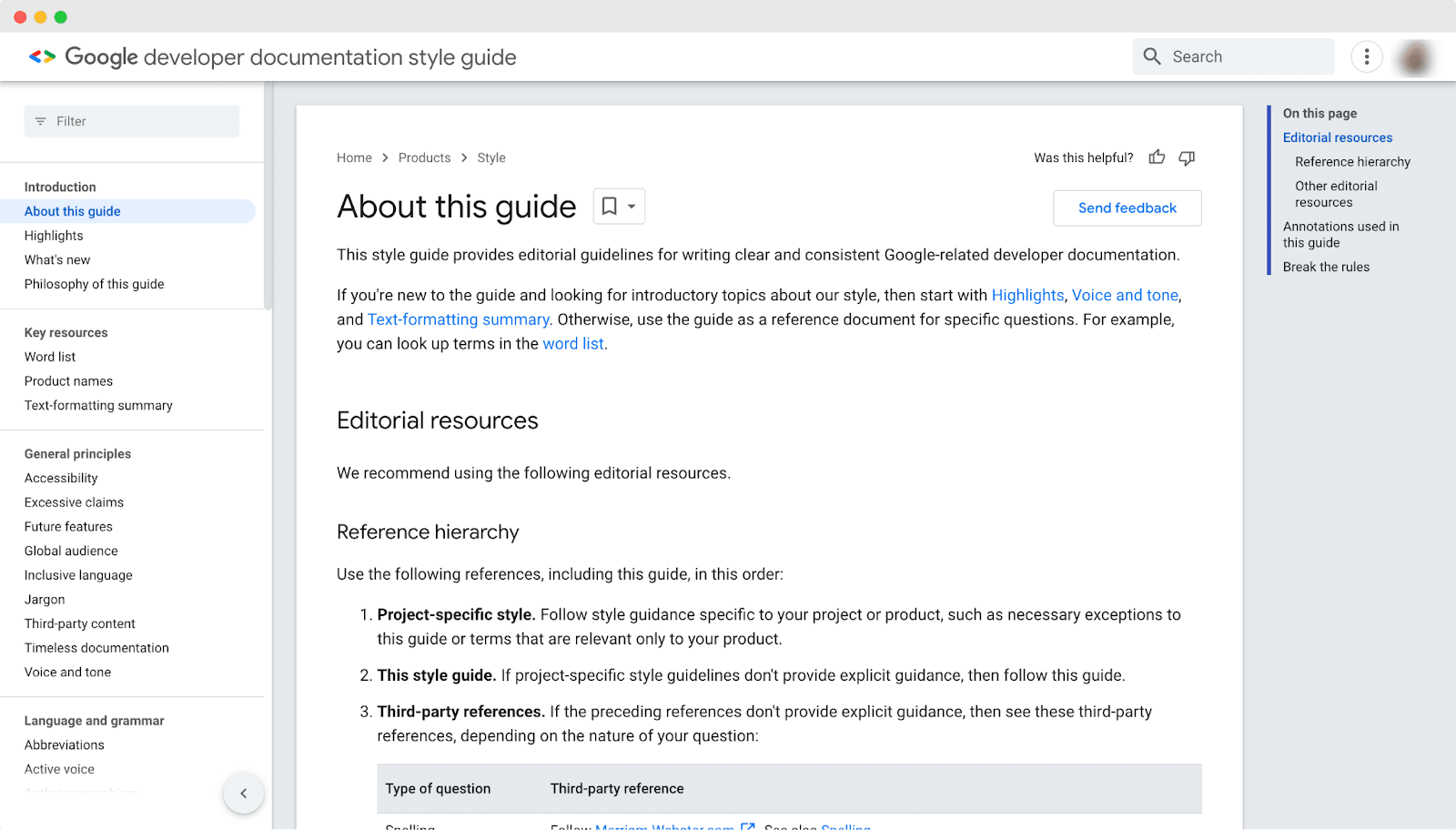 The Google developer style guide has the full guidelines for creating Google-related developer documentation. You can follow this technical writing style to showcase your technical content on your website. This guideline has detailed instructions for creating conversational, respectful, and easy-to-understand content. Additionally, you will get instructions for images, formatting, grammatical issues, linking, and others. You can follow Google's developer style guide to recreate your own documentation.
2. Apple-Style Guide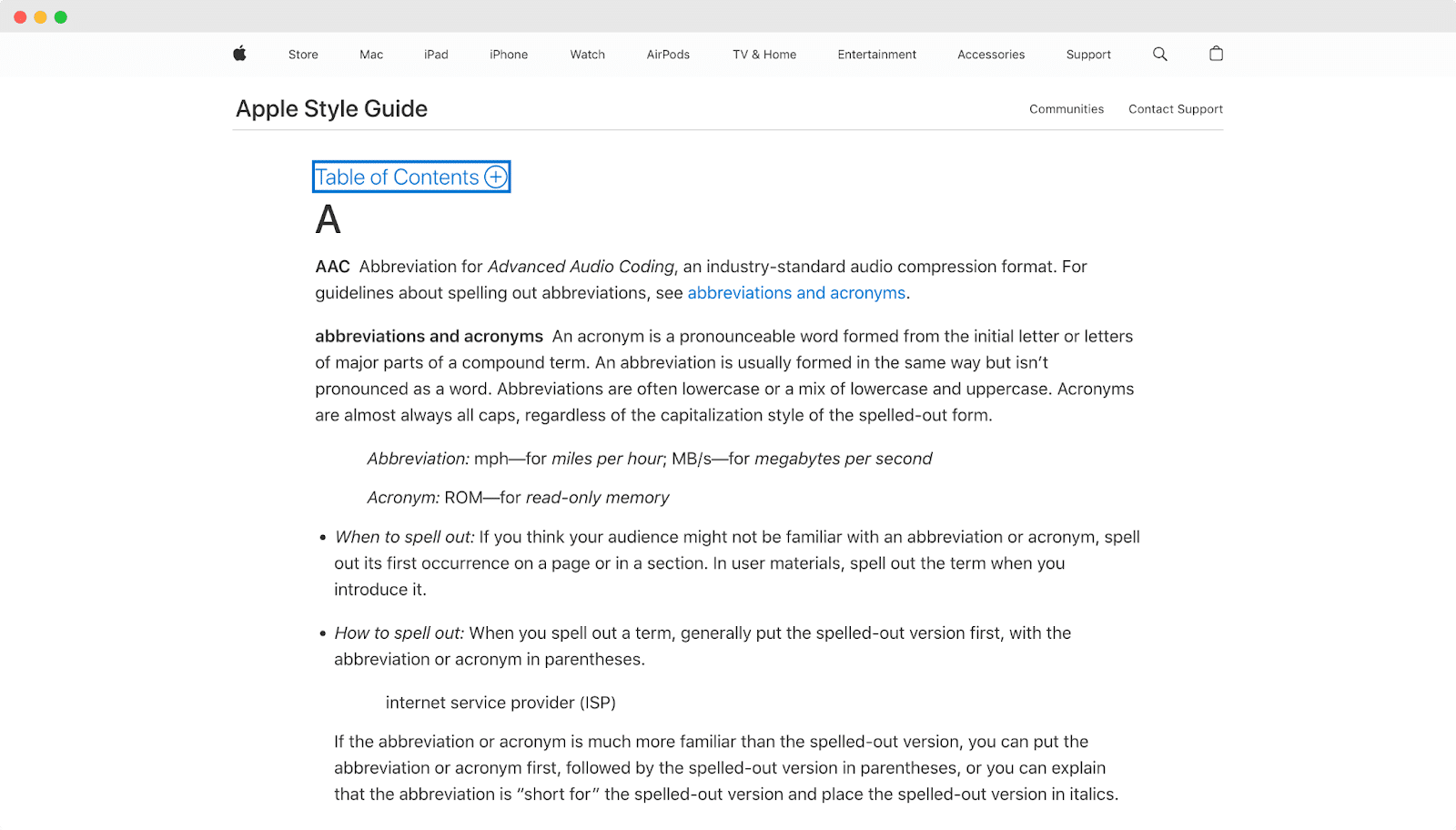 Apple also has a clear and concise style guide. From Apple's Style Guide, you can learn how to showcase your technical content professionally on your website. They use a table of contents to navigate the content with ease. Exploring Apple's style guide you can learn how to format your training programs or instructional materials strategically for your visitors So, this could be another option for you to take inspiration from.
3. Microsoft Writing Style Guide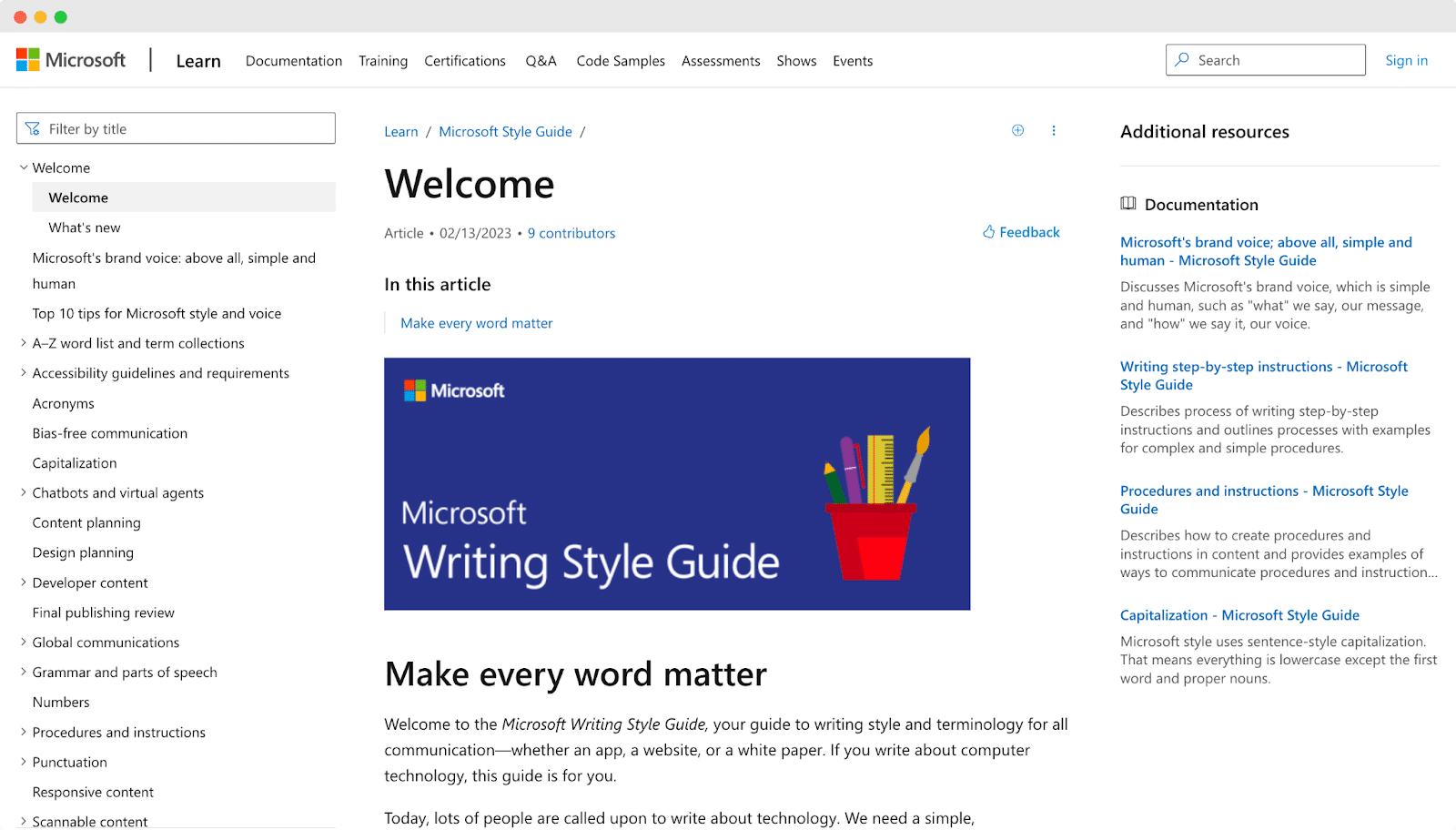 The Microsoft writing style guide can help you to develop an unbiased and professional writing style and terminology for your documentation. It comes with different examples for you to understand the style guideline without any hassle. So, from the Microsoft wiring style guide, you can easily adapt a new way of writing technical articles at ease.
4. Mailchimp Content Style Guide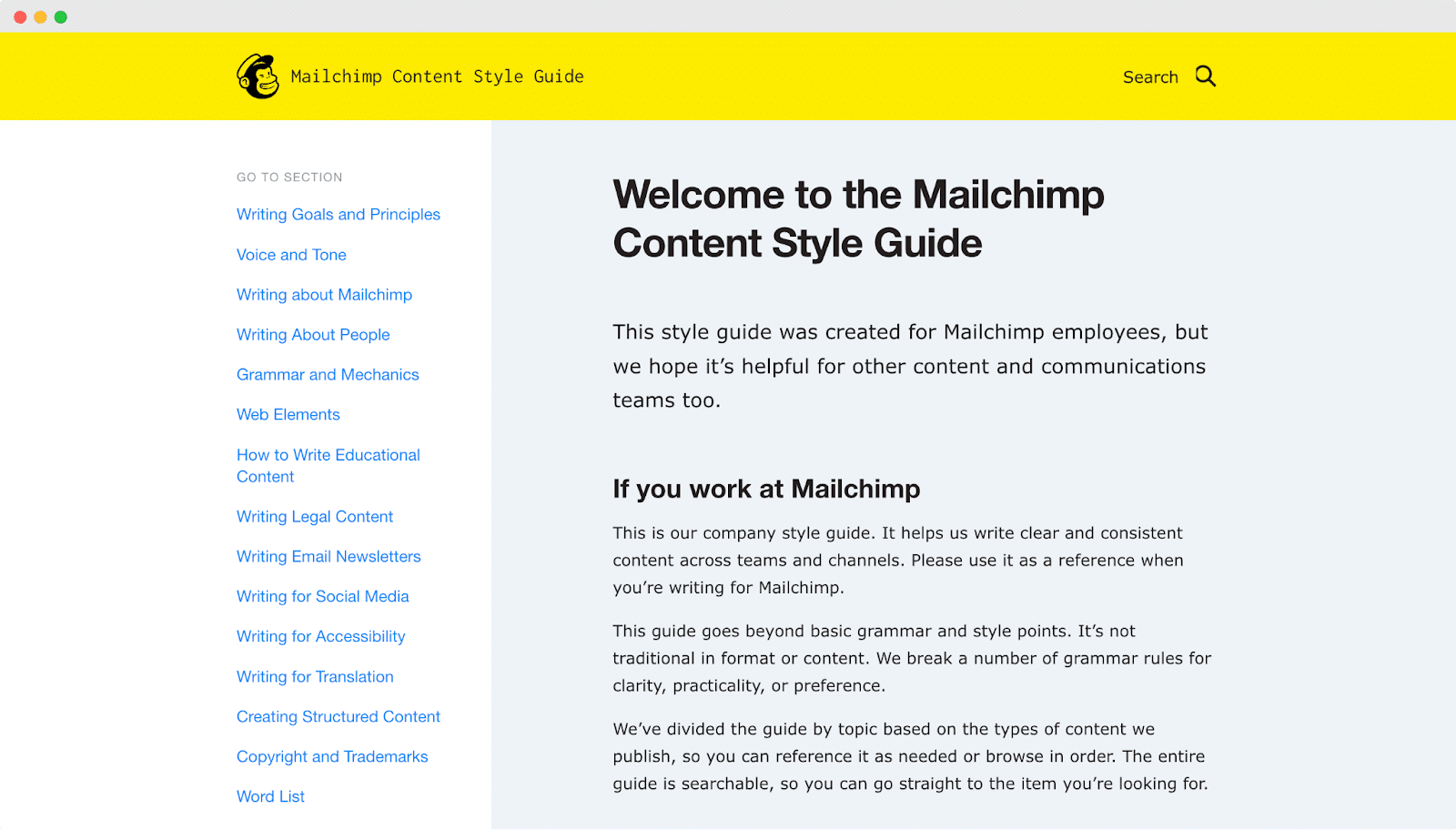 Mailchimp has created a style guide for their own employees along with helping the community. They have in-depth documentation for specific guidelines where you hone your technical writing skill. You can find educational resources to format your text, headings, and other content to write the complex topic in a clear and consistent manner. It could be a great option for you to follow Mailchimp brand guidelines for technical writing.
5. GitLab API Style Guide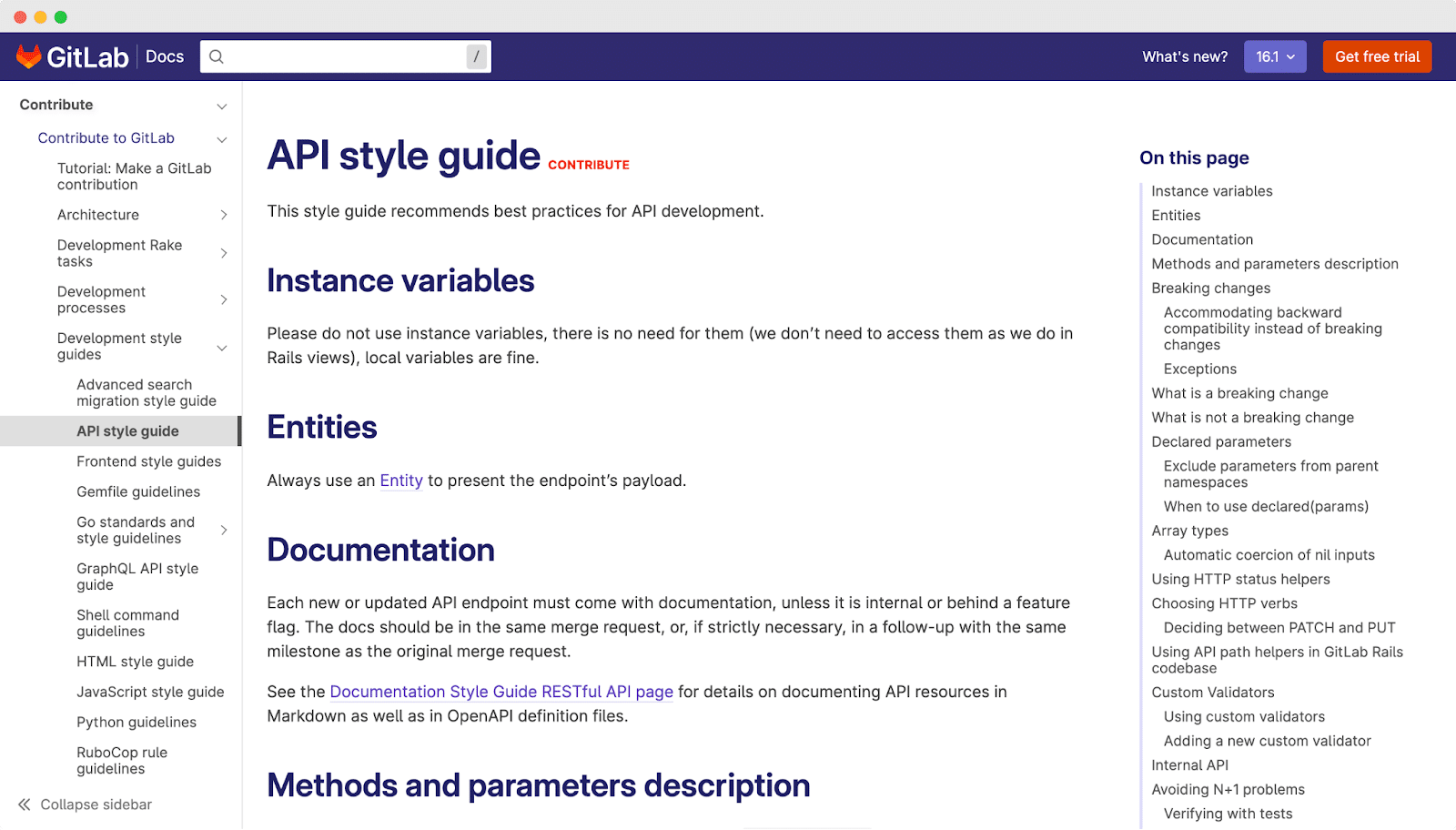 The GitLab API style guide is a perfect example of a modern technical style guide. Considering the industry trend, they update their style guide. From their style guideline, you can take inspiration to create your writing structure, links, and other formatting guidelines. You can take a closer look at the GitLab technical writing style guide and adapt their style guide for your API documentation.
6. Salesforce Style Guides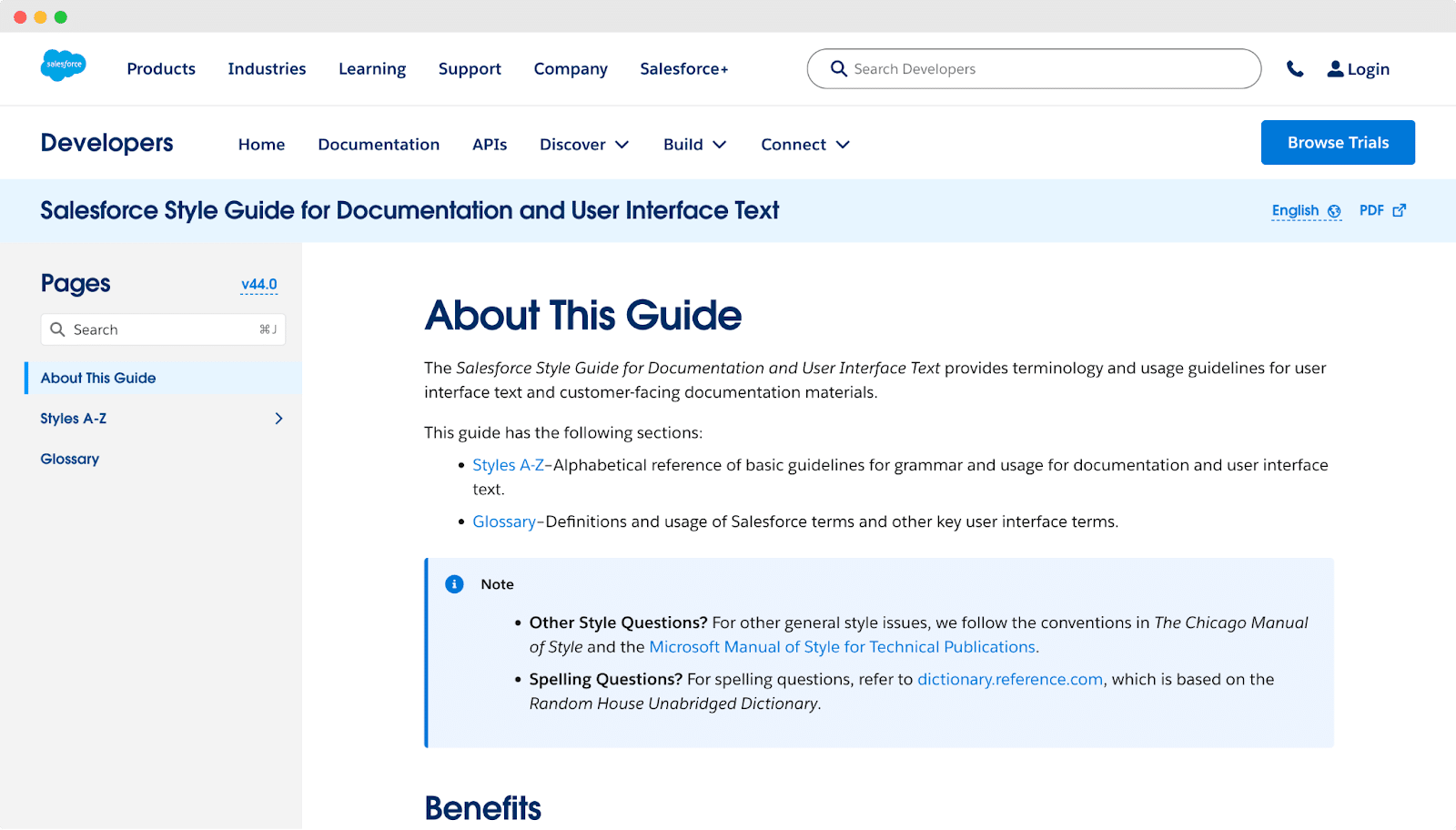 Salesforce also developed a style guide that you can check out for taking inspiration. Their guideline provides helpful resources for technical writers to follow all the style guides and glossaries. Their documentation is easy to read and presented with detailed information. For adapting a style guide, Salesforce's technical writing style could be a good option as well.
⭐ Best Technical Documentation Layouts For WordPress
While writing technical documentation, choosing the ideal layout is also a critical factor to create a reader's friendly documentation. Ideal documentation layouts can help the readers to skim through your documentation. Now, let's have a look at the best technical documentation layouts that you can use for your WordPress website below.
🔵 Classic Layout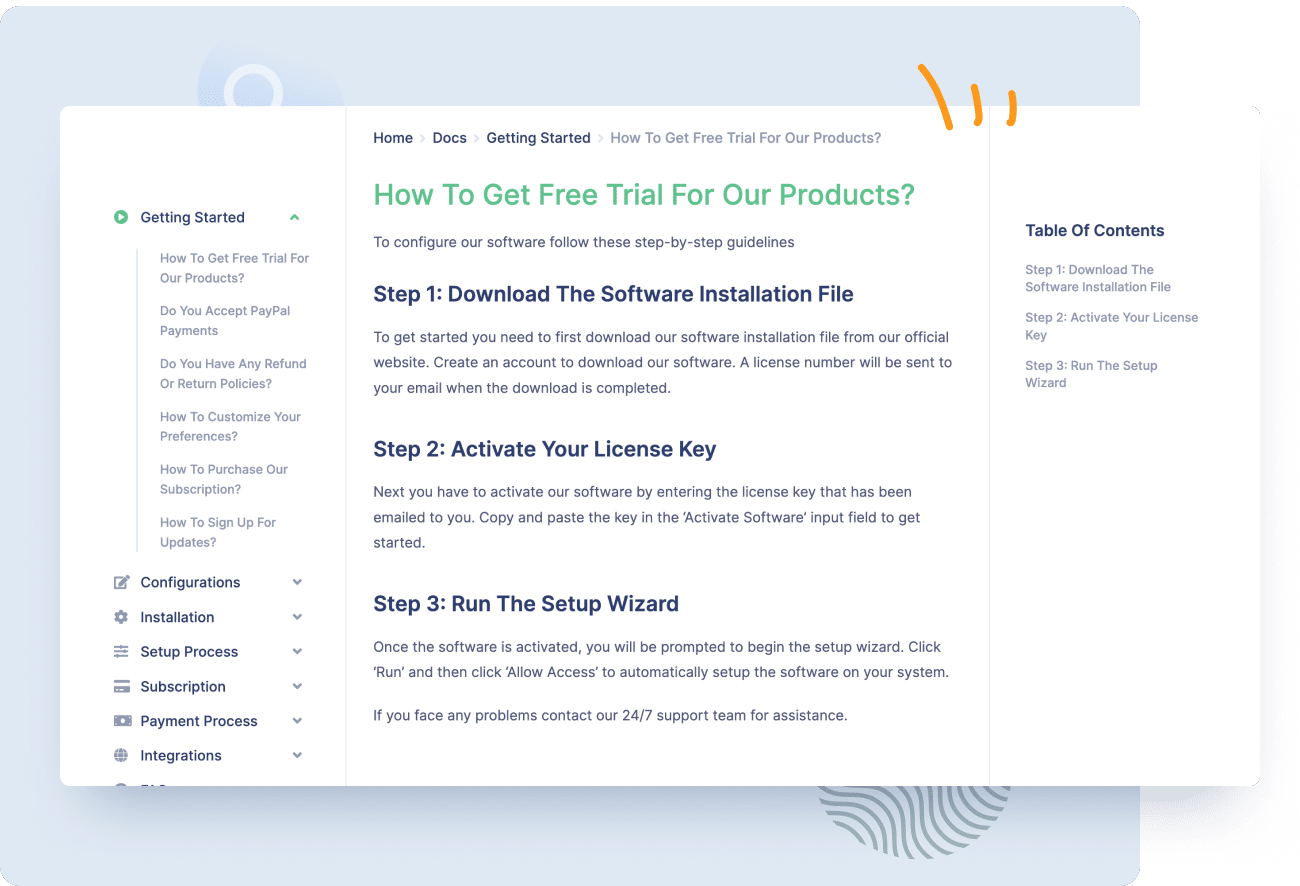 Classic documentation layout has the old-school vibe for designing your knowledge base. It can make your documentation easily accessible to your visitors.
🔵 Modern Layout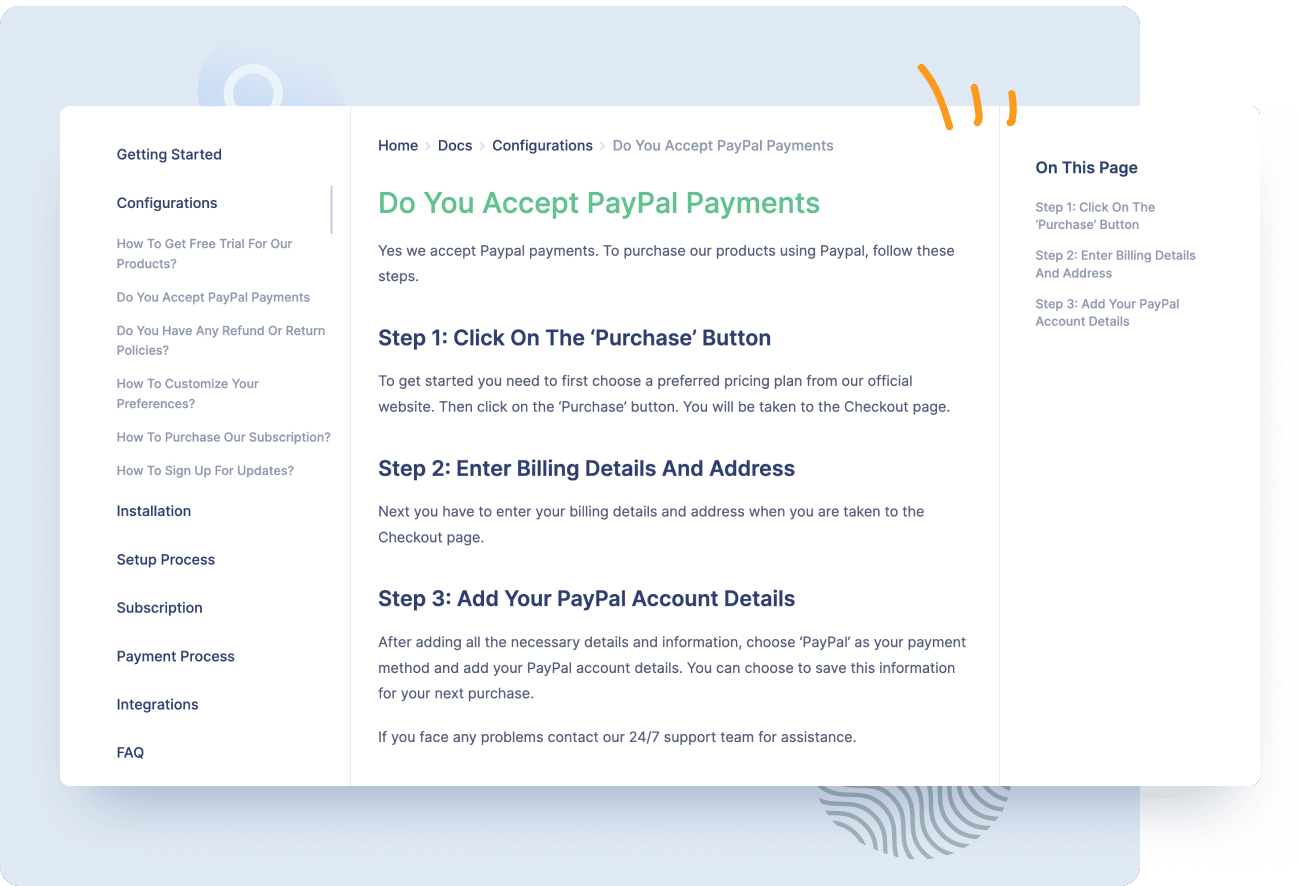 Modern documentation layout creates more focus on the main content of your documentation. Also, it provides the accessibility to easily navigate the related documents with ease.
🔵 Abstract Layout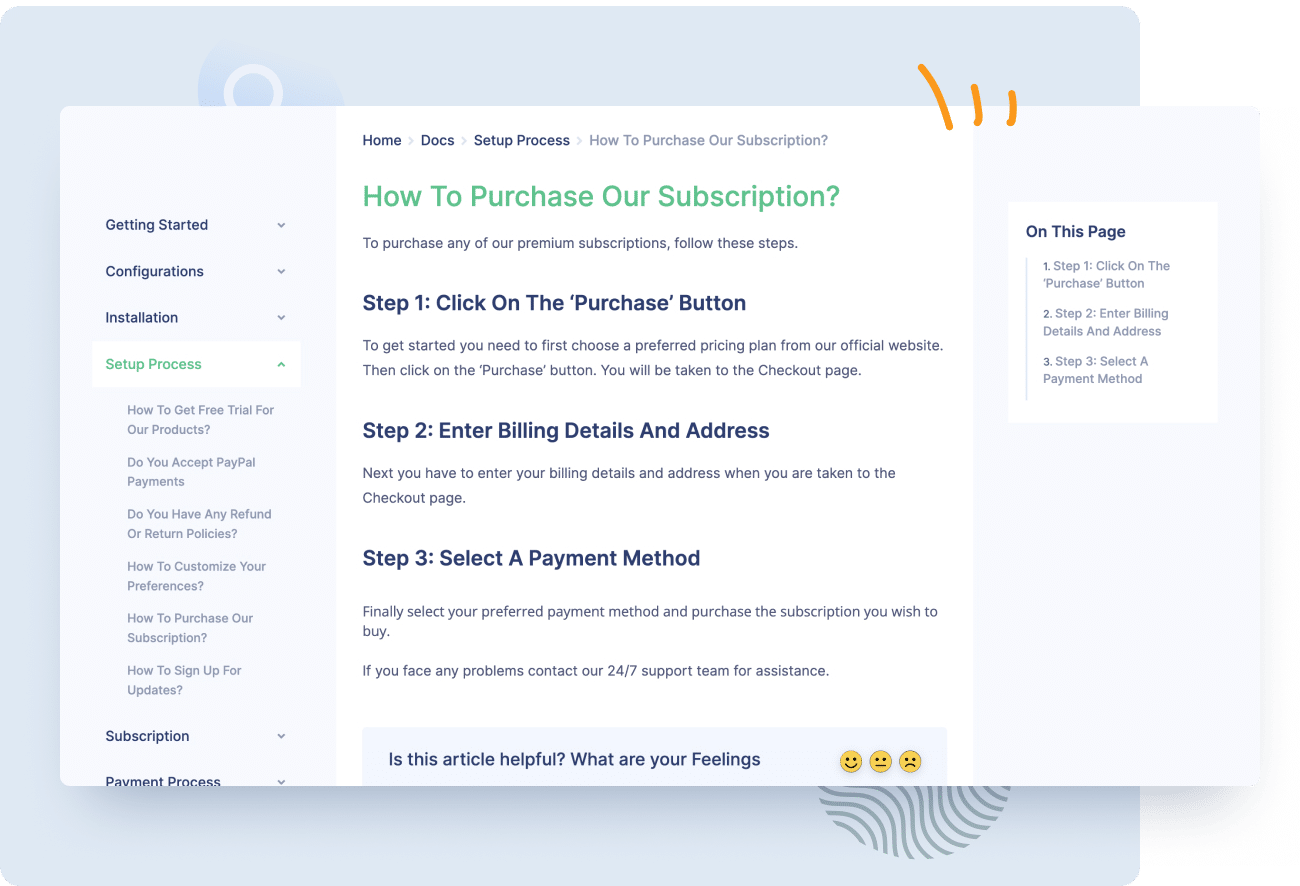 Abstract documentation layout adds a bit of color to your documentation page. You can try this layout and create detailed documentation for your users.
🔵 Minimalistic Layout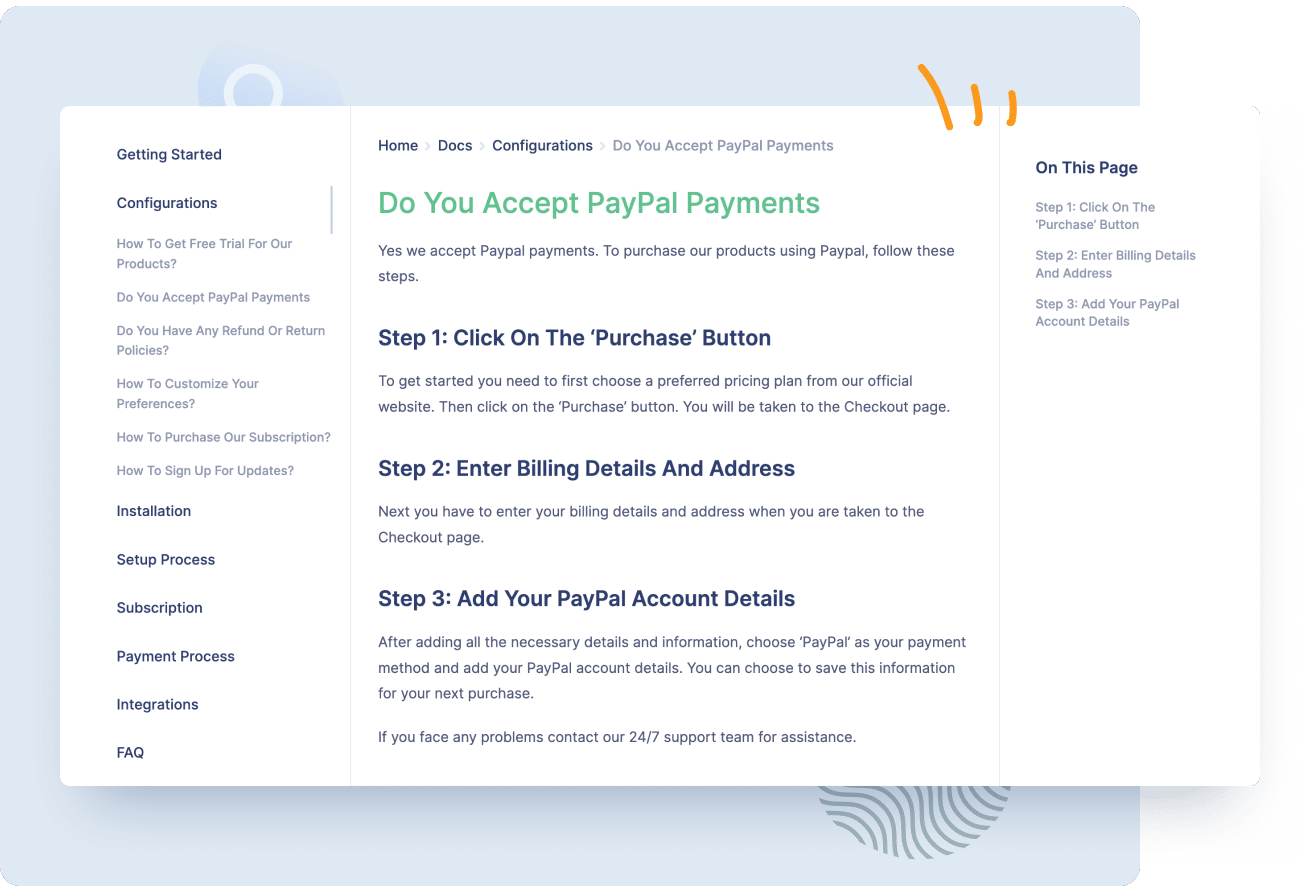 Minimalist documentation layouts provide easy-to-skim layouts for writing technical documentation. It can help your readers navigate through and find their relevant information easily.
🔵 Artisan Layout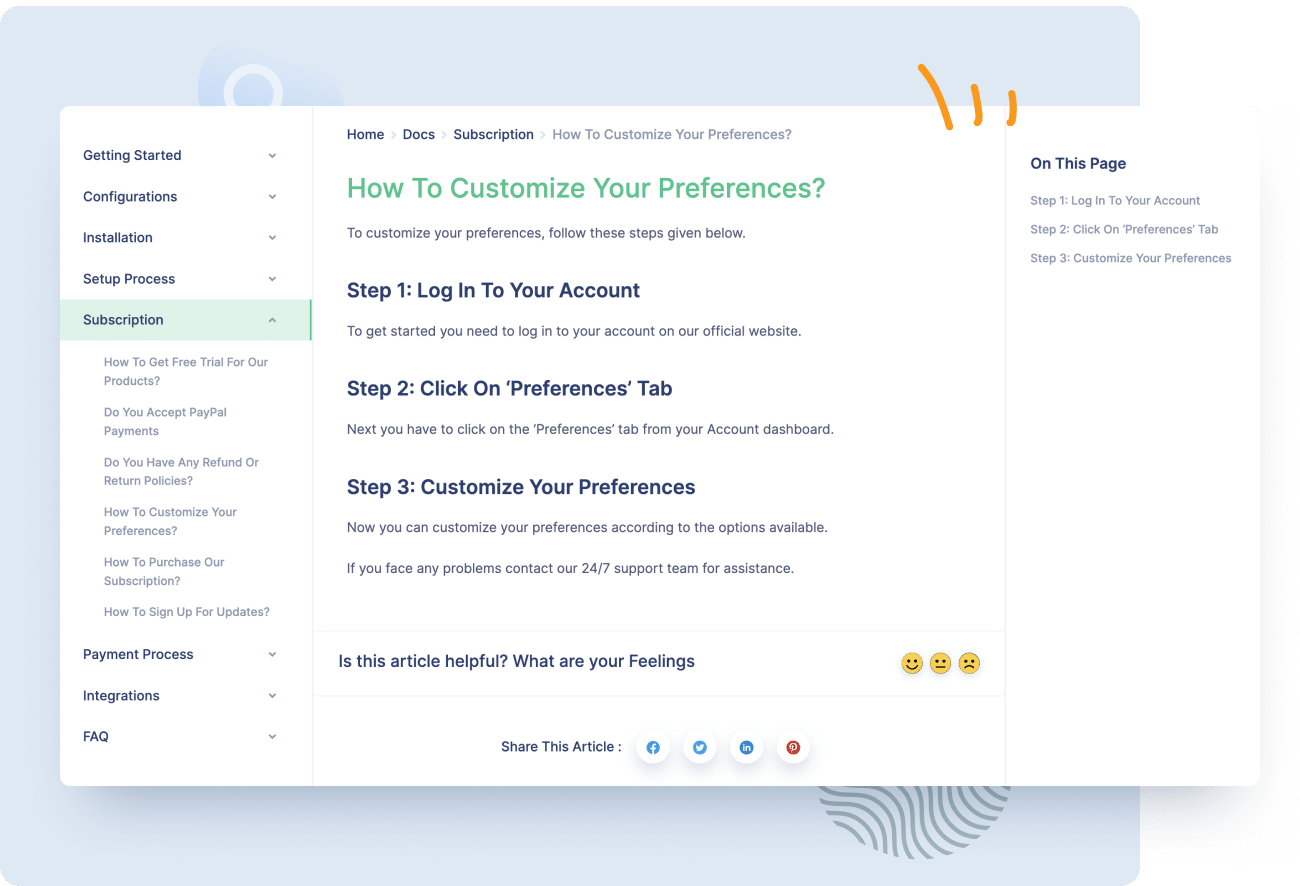 The artisan documentation layout can make your documentation navigation interactive to your readers. Using this layout, you will be able to please your readers as they can easily read your documentation.
🔵 Bohemian Layout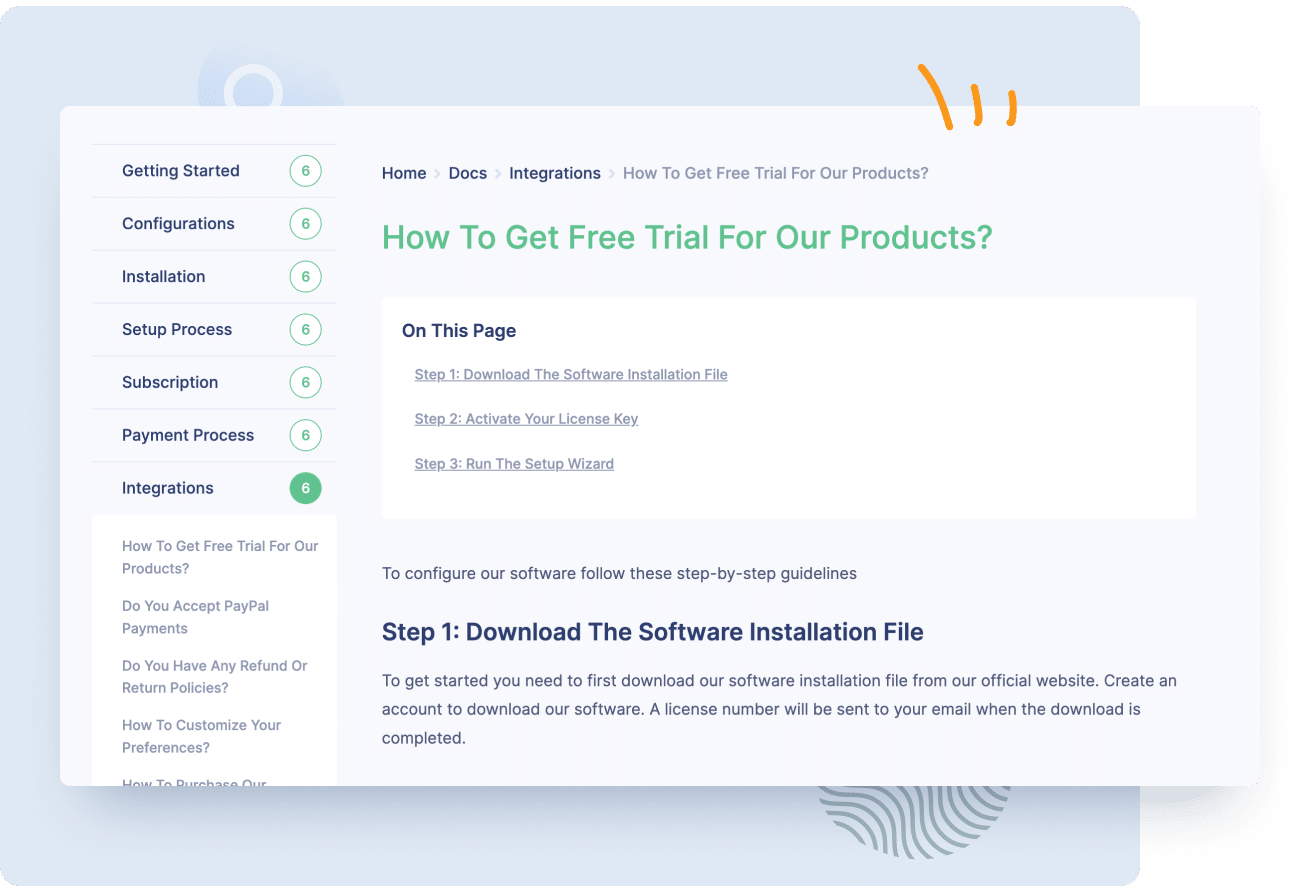 Bohemian documentation layout can make your documentation page stunning. Your visitors can easily navigate through the section of your documentation at ease.
📖 Guide: How To Create Technical Guide In WordPress With BetterDocs
WordPress is one of the most popular content management systems that you can use to bring your technical documentation live for your users. WordPress has many knowledge base plugins like BetterDocs to create and manage your documentation with ease.
With BetterDocs you can publish your technical writing and design any way you want. Also, it will help you to recreate any technical writing style guide example without any hassle. In addition to that, BetterDocs comes with advanced features to create a complete knowledge base for your users that you will love to have.
You will get ready to use templates, and chatbots to resolve your customer queries instantly, along with advanced analytics to show the performance of your knowledge base. In addition to that, you can create multiple knowledge bases and internal knowledge in case of special needs.
So, now, let's learn how you can create technical guides in WordPress using BetterDocs and help your users with a perfect knowledge base. Before going to the tutorial part, first, install and activate BetterDocs on your website and then follow the steps carefully.
Step 1: Open BetterDocs From Your WordPress Dashboard
Once you have BetterDocs activated on your website, go to the BetterDocs dashboard. From there, you can easily style your documentation page and set up categories and everything you need. Click on the 'Add New' button to create a new documentation.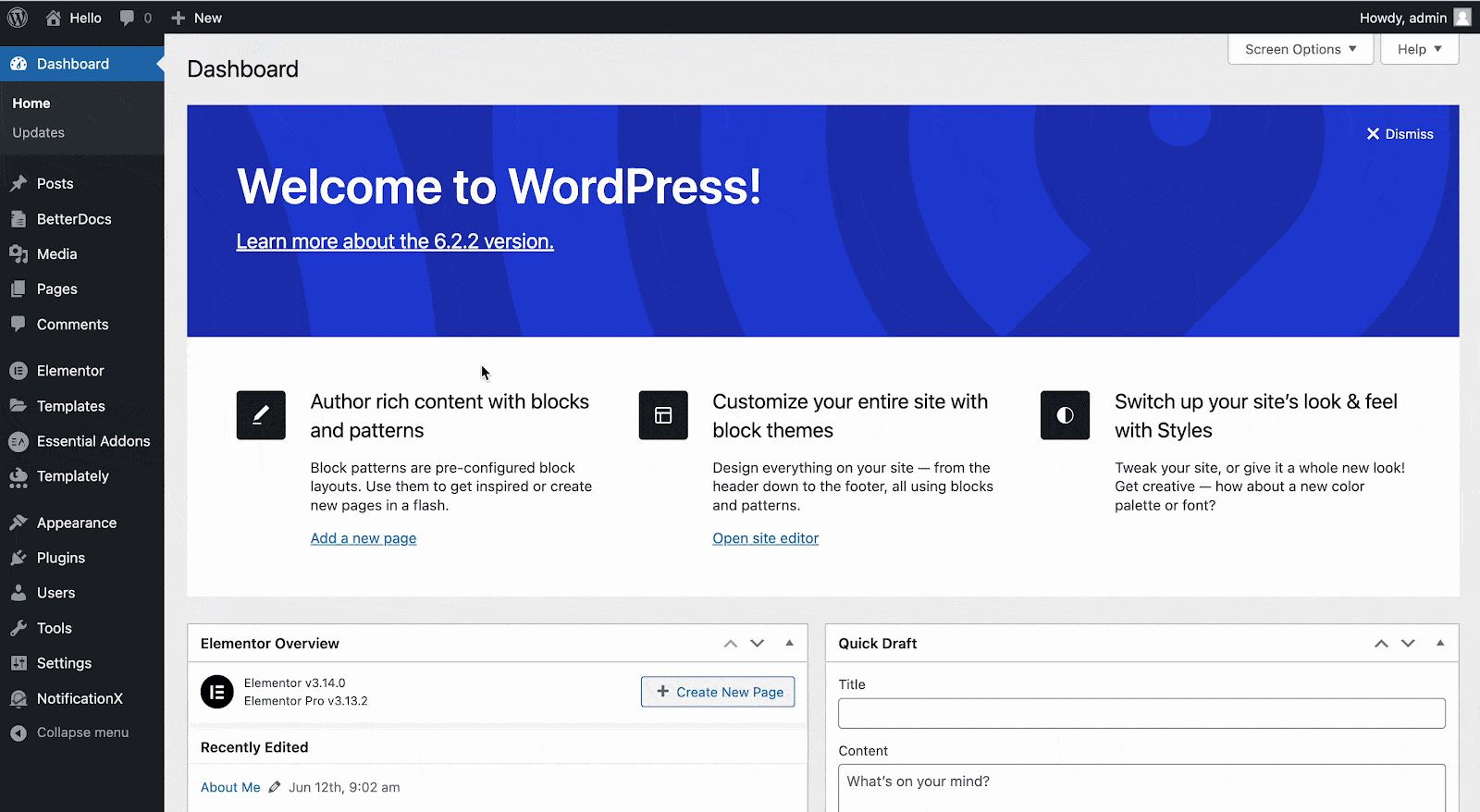 Step 2: Add Your Content & Publish
Now, just like any other WordPress blog post, add your documentation title, content, and others as you need. Once you are done, simply publish it on your website.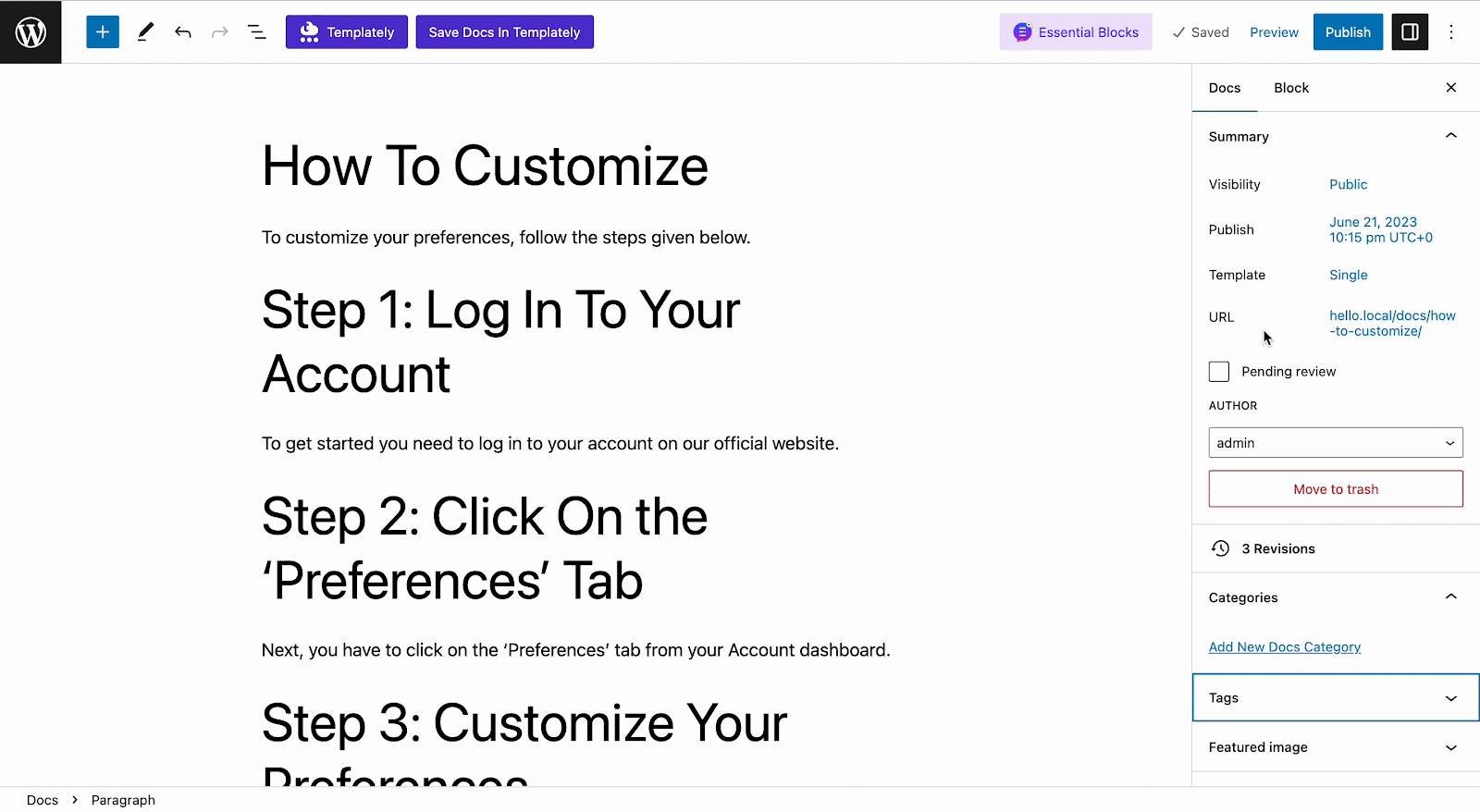 Once you publish your documentation, your users can easily read your technical documentation with a stunning outlook. For further customizing and styling, you can visit our documentation and try it yourself.
⚡ Make Complex Information Engaging With Ideal Technical Writing Style
The technical writing style guide is all about making a guideline to write complex information in a simple manner for the readers. We hope you have already chosen a style guide from our example. So, don't wait anymore; try BetterDocs and bring your technical documentation live today. 
If you want to read more insightful information about writing style and documentation, please subscribe to our blog. Also, join our Facebook community to keep yourself connected and share your thoughts.