Get ready to redefine the way you manage your WordPress knowledge base with BetterDocs 3.0 – the latest release that is about to set a new standard for documentation creation and management. With a substantial upgrade, this advanced plugin introduces a new and improved user interface, quick setup changes, and more exciting new features & updates!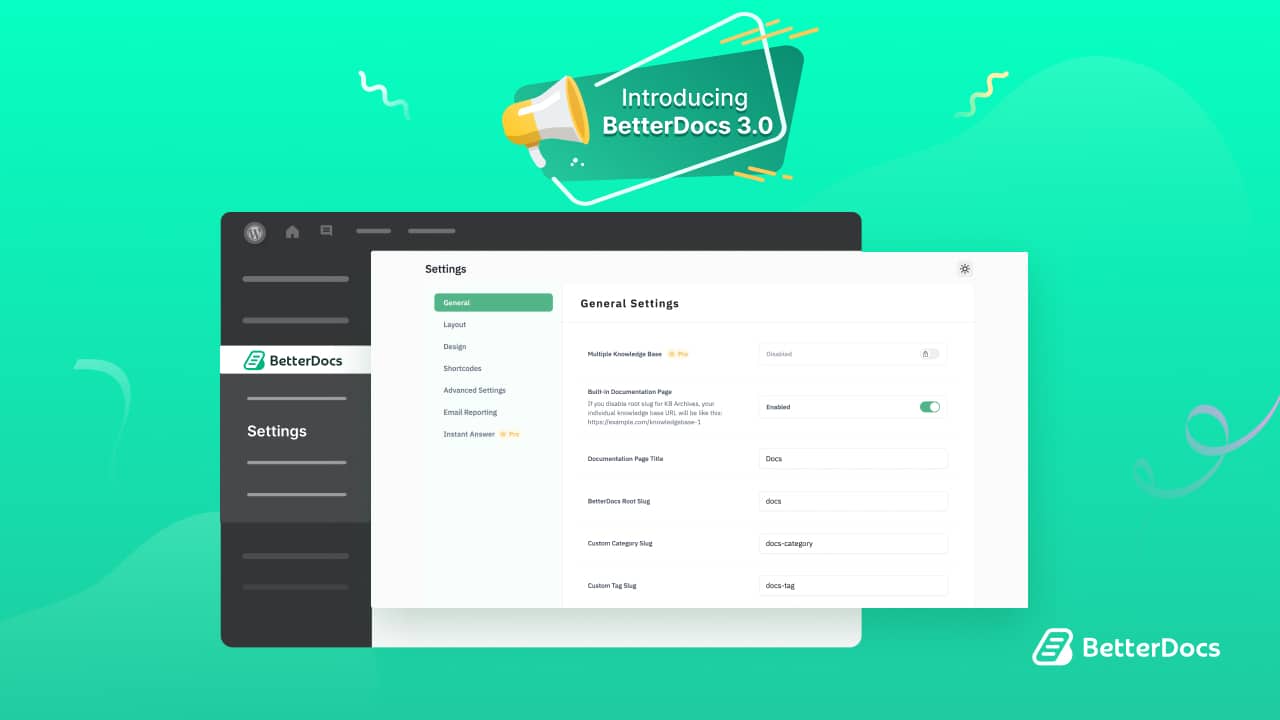 These enhancements elevate the user experience, making it more intuitive, user-friendly, and efficient than ever before. Furthermore, we are thrilled to announce Gutenberg compatibility, enabling users to effortlessly create multiple knowledge bases directly in the default block editor. Join us, as we delve into the exciting improvements and explore all that's new with BetterDocs 3.0.
Create And Manage Multiple Knowledge Base With Ease
With a more intuitive design and user-centric features, BetterDocs 3.0 is better equipped than ever to help users streamline their knowledge base management and provide exceptional support to their end-users.
The new user interface introduces a much cleaner and more organized layout, with key functionalities more accessible and easy to find. We have simplified the navigation, and knowledge base-related settings together. This not only speeds up the workflow but also makes the platform more approachable for new users.
Gutenberg, WordPress's innovative block editor, has transformed content creation, offering a more visual and flexible editing experience. BetterDocs 3.0 has embraced this transformation, ensuring seamless integration and compatibility. Now, users can effortlessly create multiple knowledge bases directly within the Gutenberg editor, bringing unprecedented convenience and efficiency.
These small yet impactful changes contribute to a more seamless and intuitive user experience. This provides a clear, tangible representation of the improvements made. The enhancements made to the BetterDocs interface mark a significant step forward in our ongoing commitment to delivering a top-tier knowledge base solution that meets the evolving needs of our users.
Quick Glimpse Of The Notable Improvements And Features In BetterDocs 3.0
The latest update to BetterDocs goes beyond interface enhancements, introducing some additional features and improvements. Enhanced search features ensure users find what they need faster, while new customization options allow for a better experience. Let us have an overview of the latest features and improvements.
🚀 [New] Full Site Editor Support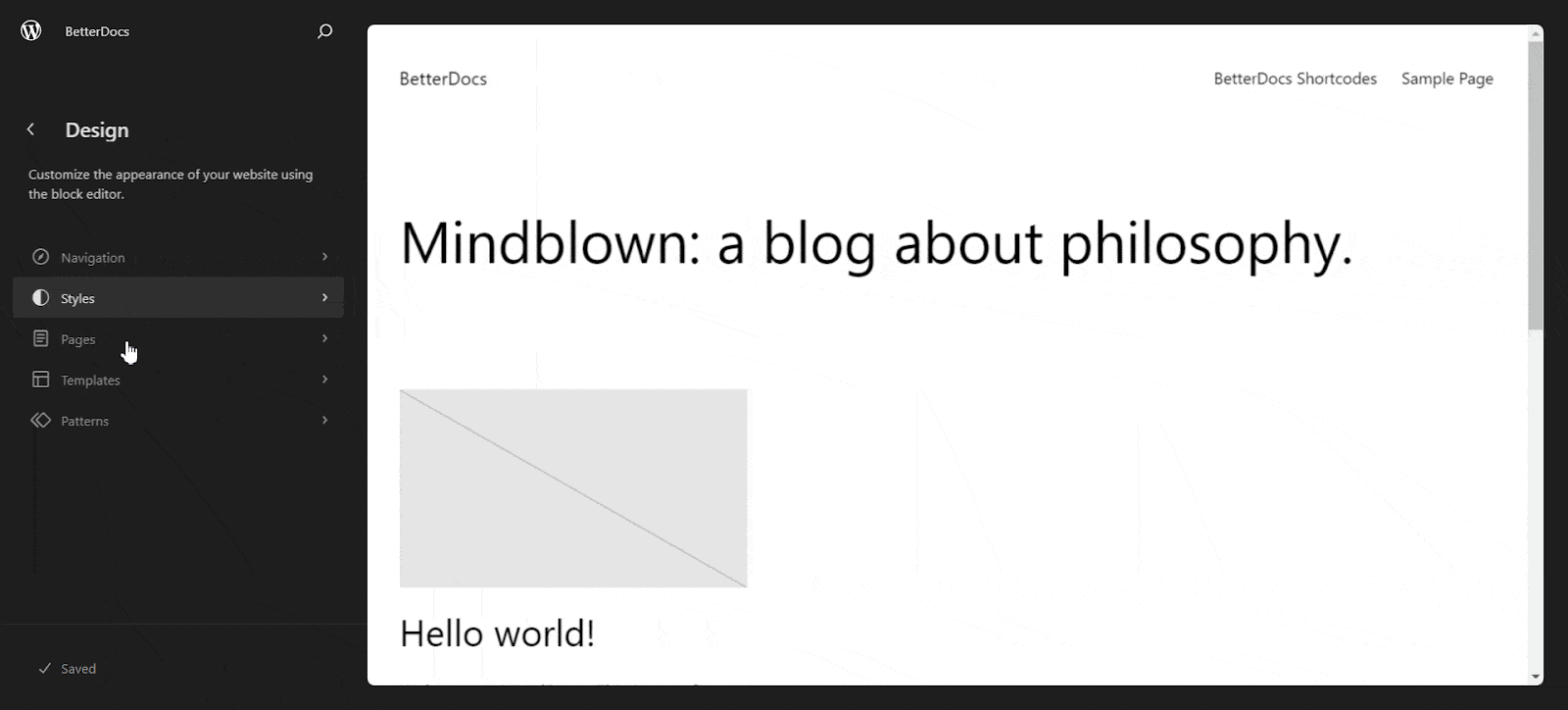 This update from BetterDocs has significantly enhanced its capabilities by introducing Full Site Editor support, a feature that transforms the way users can interact with and modify their website's documentation design and layout. This update aligns WordPress more closely with the intuitive experience provided by popular page builders, allowing for a more visual and user-friendly approach to website design.
With the Full Site Editor, also known as FSE, you get access to functionalities like 'page templates and template parts', as well as 'template blocks and block patterns.' In its latest update, BetterDocs has fully integrated these features, enhancing the way you manage your WordPress website's documentation. Here's how this new feature helps,
🔹 Graphic Interface for Design and Layout Changes: The Full Site Editor support in the neBetterDocs 3.0 brings a graphic interface to the forefront of your website design process. This means that you can now make sweeping changes to your documentation's design and layout directly through a visual editor, rather than navigating through complex menus and settings. This graphic interface is not only more intuitive but also significantly speeds up the design process, allowing for real-time previews and adjustments.
🔹 Easier and More Catchy Documentation Display: With the aim of making website documentation not only easier to create but also more engaging for users, the Full Site Editor support of BetterDocs v 3.0 focuses on enhancing the aesthetic appeal and functionality of your support articles. You can easily adjust fonts, colors, and other design elements to create a documentation page that is not only informative but also visually pleasing. This catchier and more attractive design can play a crucial role in retaining user attention and improving the overall user experience.
🔹 Increased Design Flexibility: The introduction of Full Site Editor support in BetterDocs 3.0 provides users with unprecedented design flexibility. This flexibility ensures that your documentation pages can evolve alongside your brand, remaining consistent in design and user-friendliness.
🔹 Simplifying the Design Process: By making the design process more visual and intuitive, BetterDocs' Full Site Editor support significantly reduces the time and effort required to create stunning and effective documentation pages. Users can make changes on the fly, receive instant feedback through real-time previews, and ensure that their documentation is always up to standard.
👉 [Enhancement] Instant Answer For Quick Support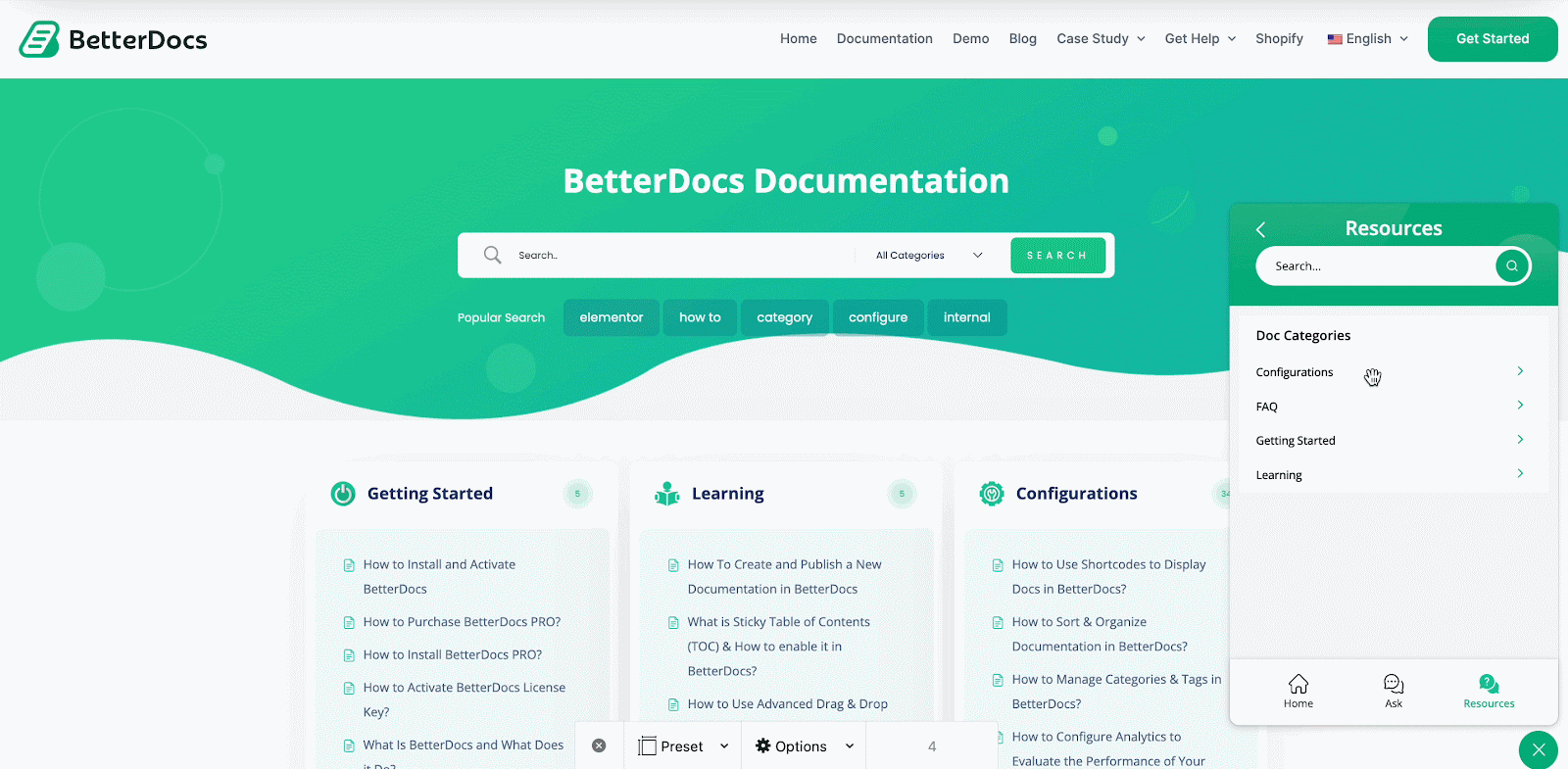 The 'Instant Answer' toolbar is highly versatile and can be seamlessly integrated into any page of your website. This ensures that no matter where your users are on your site, they have immediate access to the knowledge base and support articles that they need on your website. Now, with the latest update, this feature is improved with better functionalities. Let's take a quick glimpse of the enhancements that the Instant Answer feature has to offer.
🎯 More User-Friendly Interface And Features: The toolbar offers a user-friendly interface, making it easy for even the most non-tech-savvy users to navigate and find the information they need. Now, the search functionality is more intuitive, providing instant suggestions and relevant articles as the user types their query, ensuring that they can find answers to their questions in a matter of seconds.
🎯 Select Docs You Want To Appear On The Toolbar: In the Instant Answer Toolbar, visitors can see the docs you want them to see. That is, you can select the documentation you want to be visible in the Instant Answer toolbar.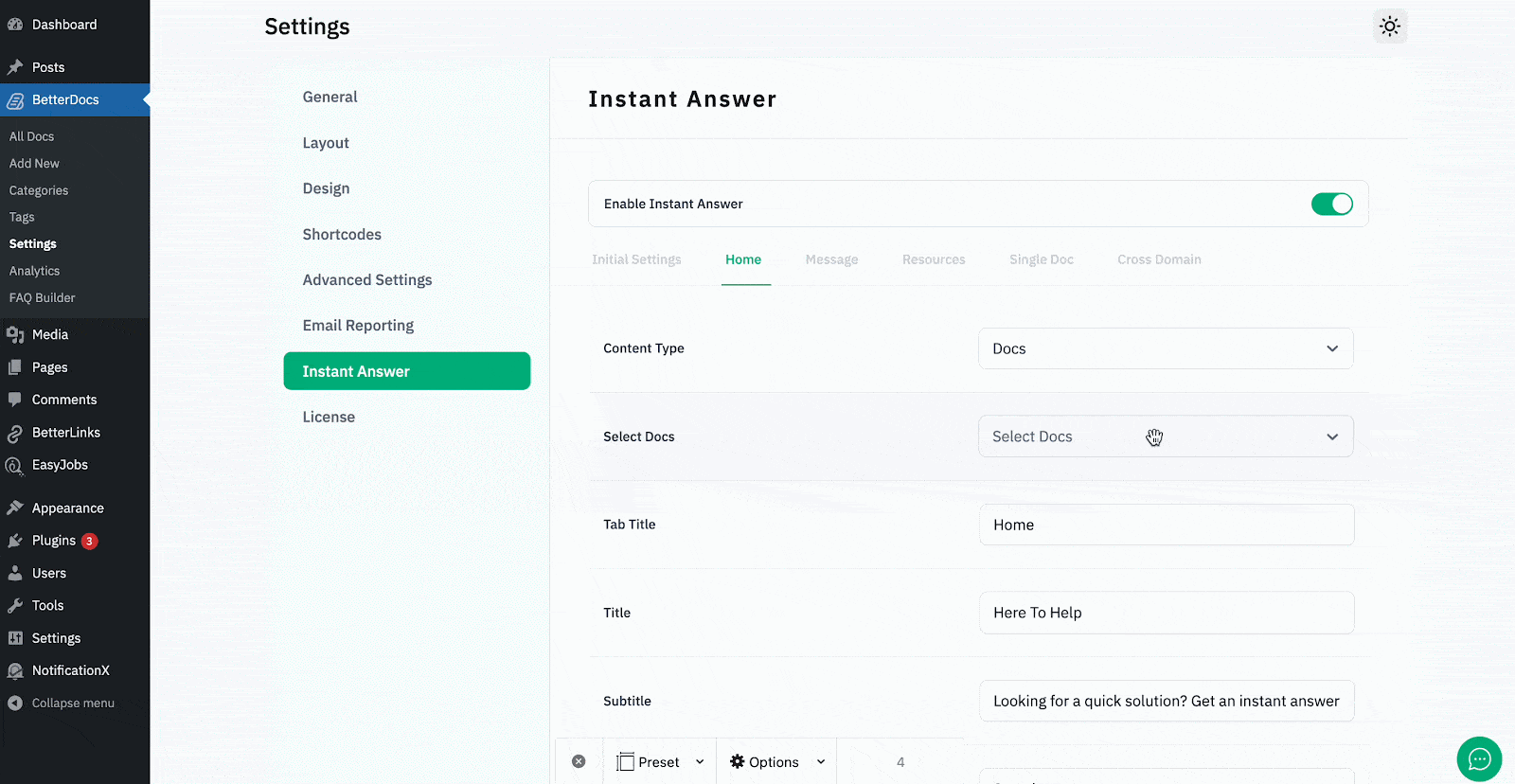 🎯 Search Any Resources On Your Website
Your website visitors will now be able to see the docs category, and FAQs in the Instant Answer section and you can select which categories need to be included.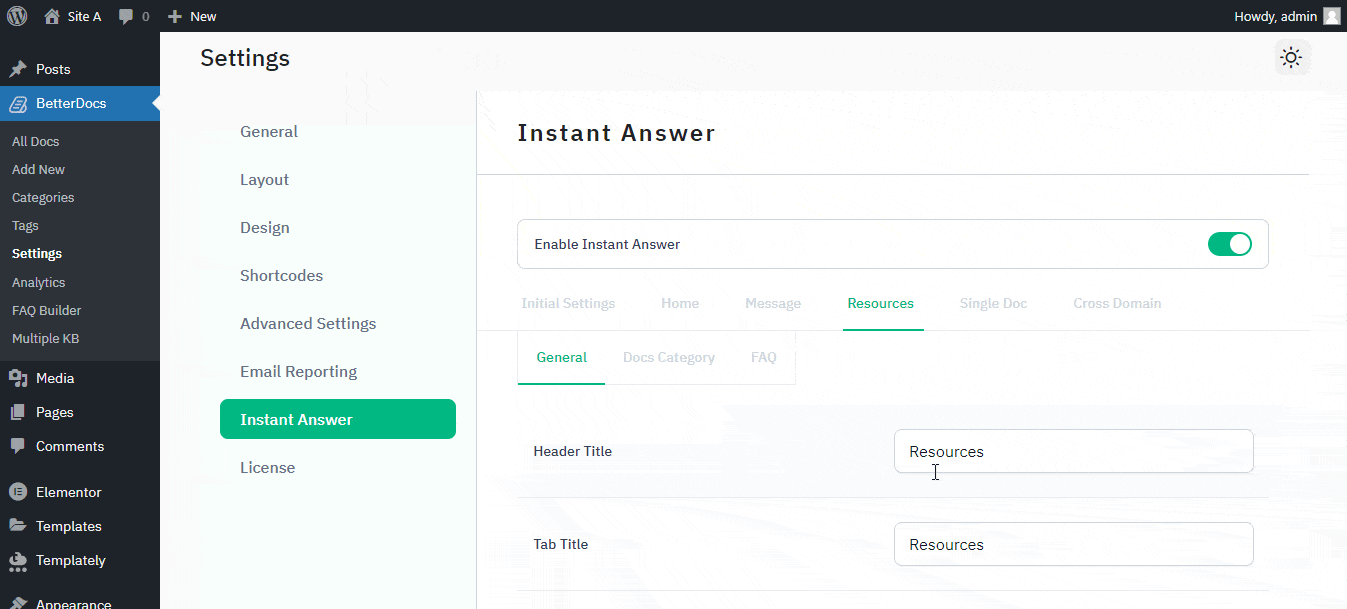 You can enable/disable and customize the 'Ask' tab with the title and subtitle on the Content options. You can customize colors for titles, subtitles, buttons, labels, etc., from the Style options.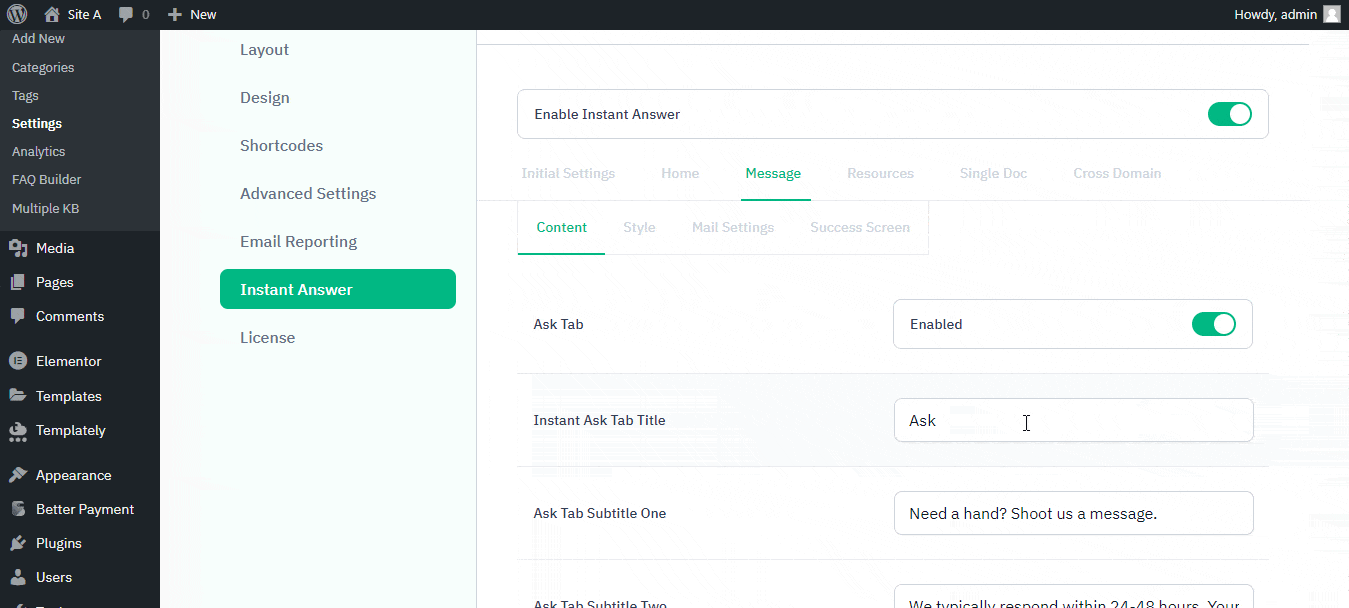 There is a versatile array of features and customization options that came up with the new version of BetterDocs v3.0. To check out those, you can explore and play around with them.
👉[ Improvement] Quick Builder For Faster Setup
You will be taken directly to the BetterDocs Quick Builder setup page after installing BetterDocs on WordPress. Using this advanced BetterDocs Quick Builder, you can quickly configure your initial knowledge base settings using BetterDocs. This will speed up the BetterDocs setup process without requiring you to go into your 'BetterDocs Settings' manually. However, you can also choose not to go through the BetterDocs rapid builder setup procedure.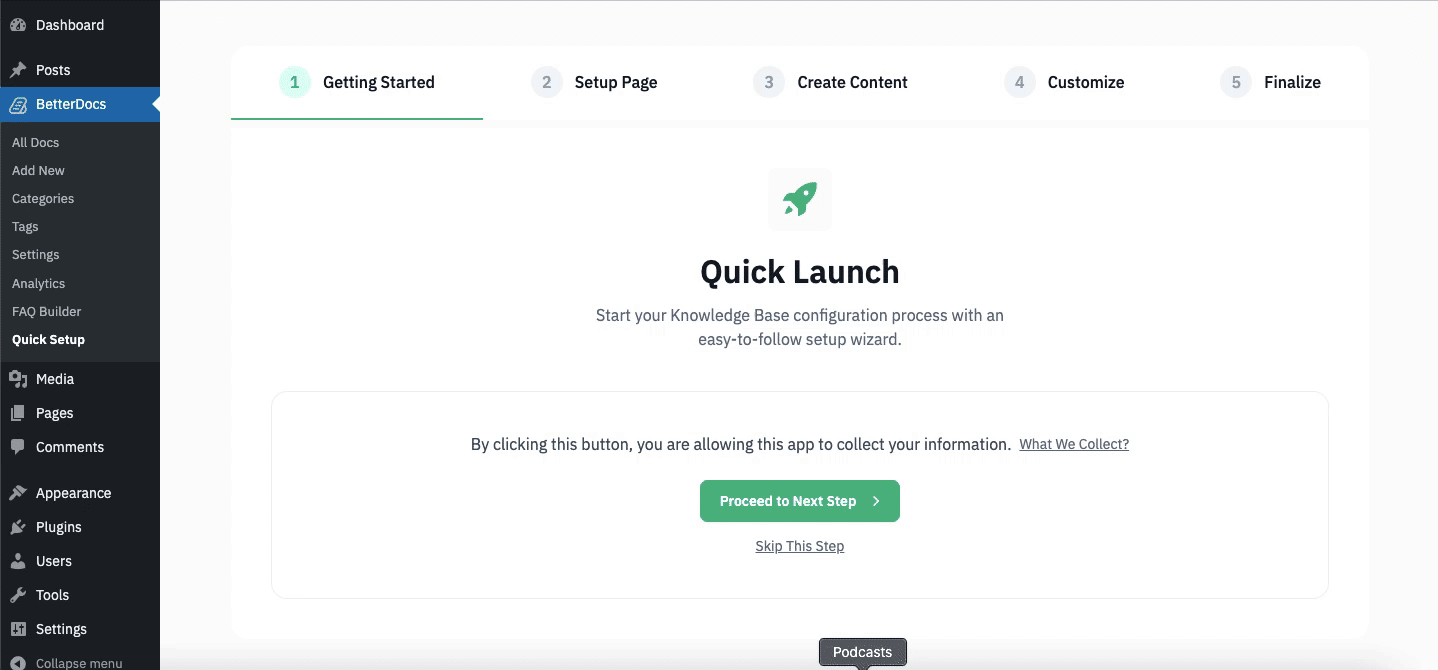 Find The Ideal Documentation Tool For Your Business…
Choosing the appropriate documentation tool is crucial for efficiently organizing and accessing the wealth of knowledge within a business, irrespective of its size. A well-selected tool can enhance collaboration among team members, ensure the consistency of information, and save time by making data retrieval straightforward and quick. By streamlining the knowledge base, businesses can foster a culture of continuous learning and improvement, leading to increased productivity and innovation. You can check out this blog to find out the suitable documentation tool for you.
To get more blogs on efficient customer support, subscribe to our blogs and join the Facebook Community to connect with fellow enthusiasts.