BetterDocs 3.0 comes with an exciting update: Full Site Editor support which allows you to make sweeping changes to the documentation design and layout as per your preference. You can now customize your knowledge base design directly using BetterDocs compatibility for WordPress full site editor.
Full site editor (in short FSE) consists of features like 'page template and template parts', and 'template blocks and block patterns.' BetterDocs has its all with this latest release. Now let's follow how BetterDocs is providing Full Site Editor support for advanced managing WordPress website documentation.
Note:
To take advantage of Full Site Editing, you at least need to have a WordPress site up and running with version 5.9 or above; if you have any lower version, make sure you have installed & up-to-date Gutenberg plugin on your site.
A block theme needs to be installed and up and running on your site. For example, Twenty Twenty-Two which came up with version 5.9
How To Access The Full Site Editor Support In Your WordPress? #
To get access to the Full Site Editor on your WordPress site, navigate to WordPress Dashboard → Appearance → Editor. You will get all the design possibilities here such as 'Navigation', 'Styles', 'Pages', 'Templates', and 'Patterns' by which you can customize the appearance of your site.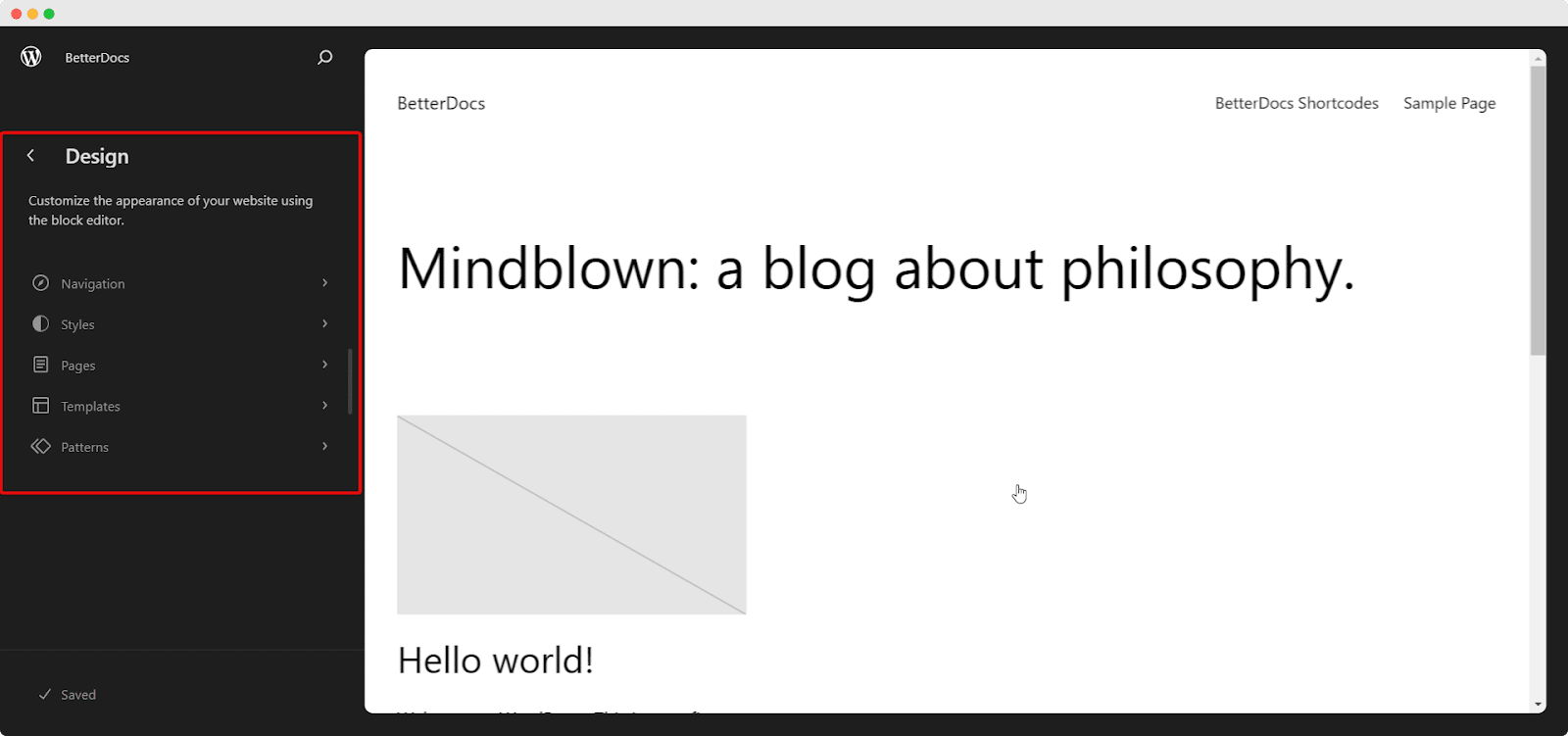 Customize Your Documentation With BetterDocs Templates #
BetterDocs comes with 4 ready templates in the full site editor (Docs Category, Docs Page, Docs Tag, & Multiple KB). Click on 'Templates' from the Full Site Editor panel and see all the templates BetterDocs provides you to customize your documentation page layouts similar to the normal content editor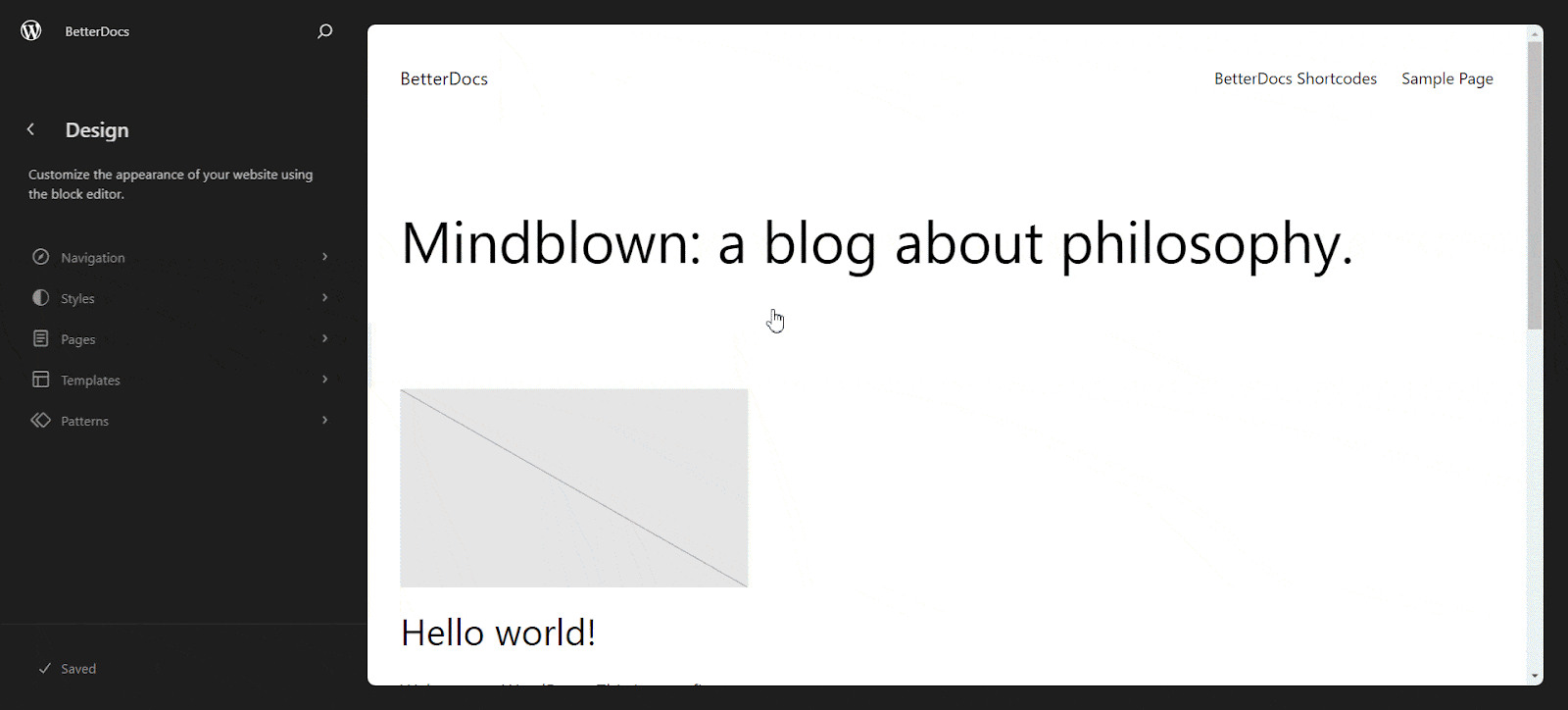 Docs Category: In the Full Site Editor, BetterDocs comes with a 'Docs Category' template by which you can easily create and manage your documentation category live on the editor. To do so, click on the Docs Category template from the Full Site Editor panel and tweak your categories.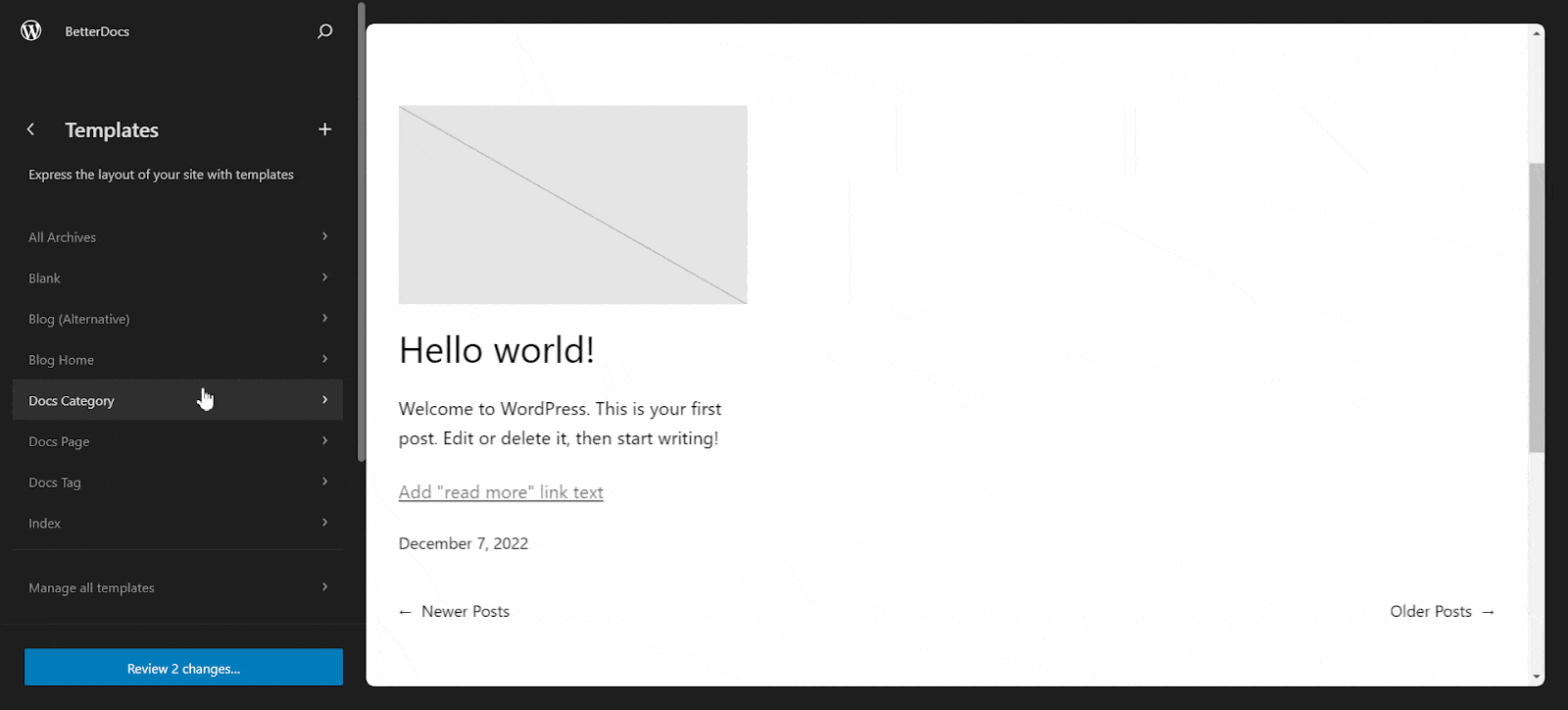 Docs Page: With BetterDocs Docs Page template in Full Site Editor, you can effortlessly craft informative and organized documentation pages that help your users find the information they need quickly and easily. All you need to do is, click on the 'Docs Page' template and create your documentation page the way you want.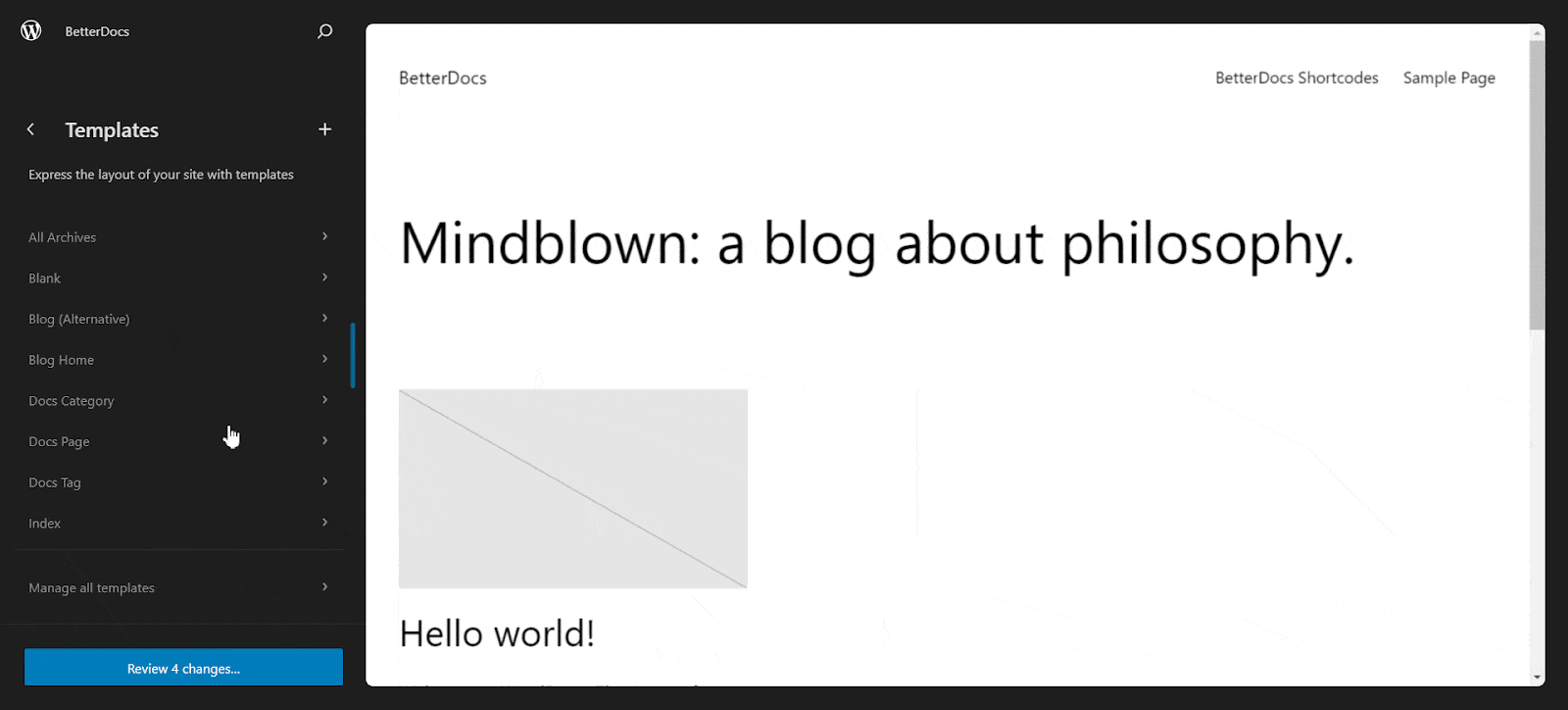 Docs Tag: The 'Docs Tag' template of BetterDocs allows you to seamlessly integrate content from various sources, organize it coherently, and display it in a visually appealing and engaging manner. Just click on the template from the Full Site Editor panel and organize your documentation tags effortlessly.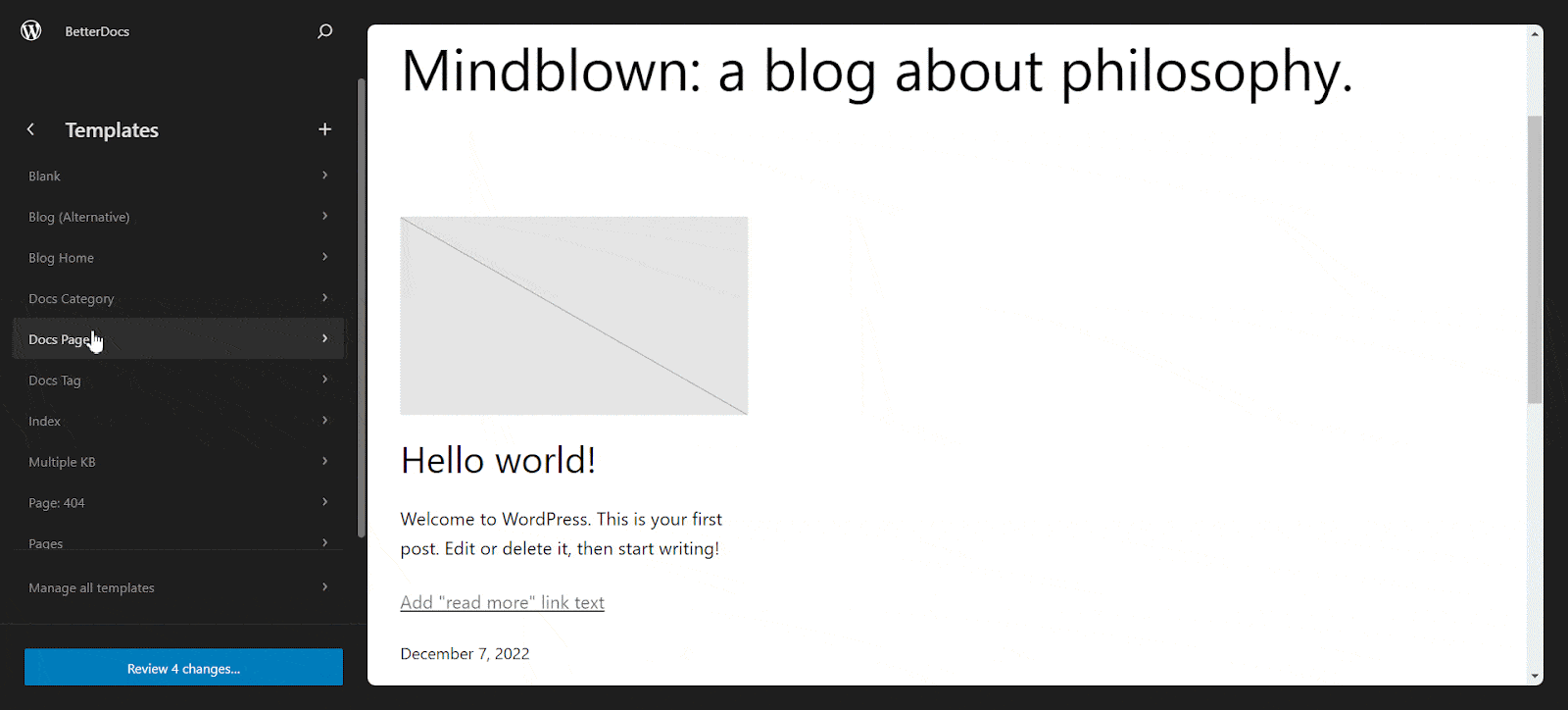 Multiple KB: The 'Multiple KB' templates of BetterDocs can help you effortlessly create and manage multiple knowledge bases within your website, providing a structured and user-friendly experience for your audience. Click on the template & create your multiple knowledge base with BetterDocs easily.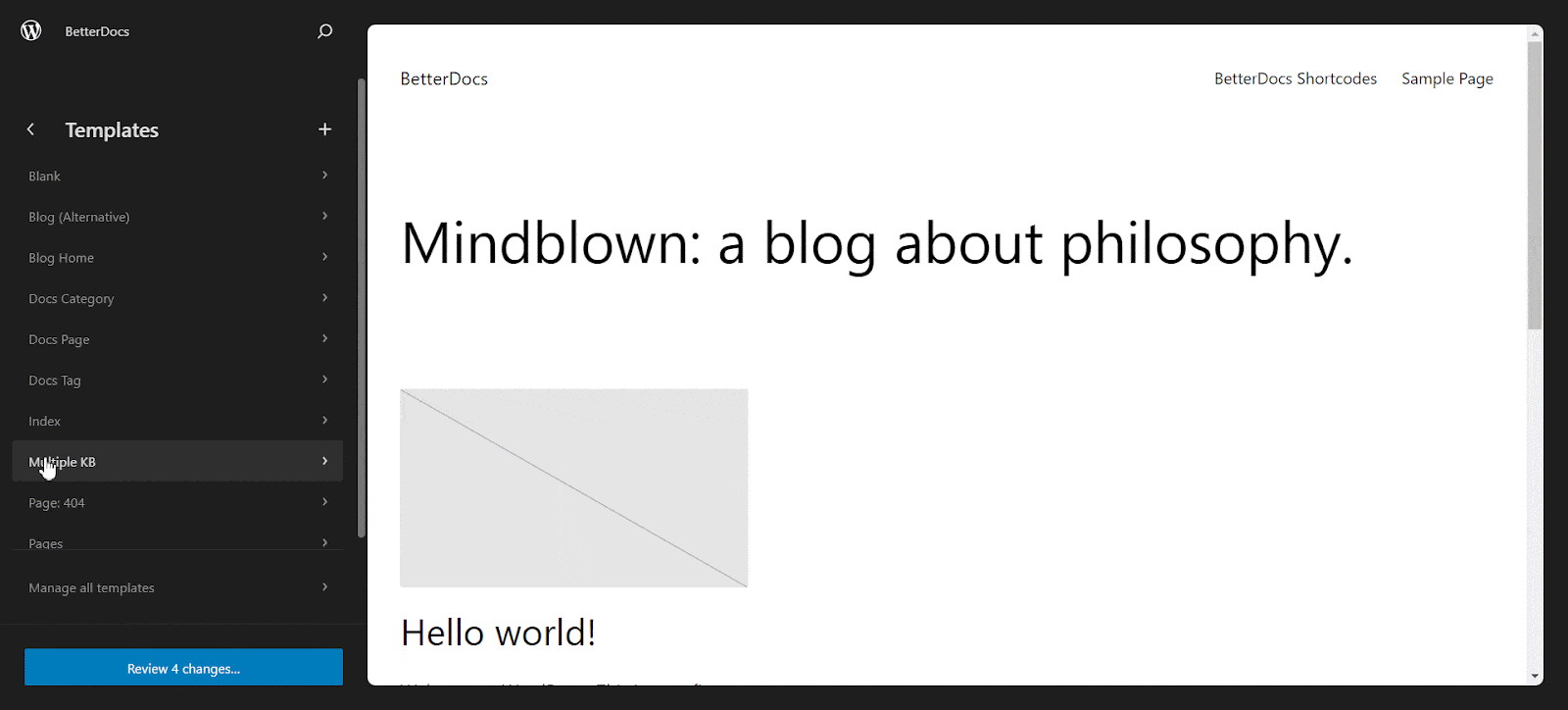 Add A New Template In Your Full Site Editor Using BetterDocs #
With BetterDocs, you can not only use premade templates but also add a template in your full site editor to use later for your documentation. To do so, navigate to Dashboard → Appearance → Editor → Templates → Manage All Templates, & you will get an interface like below.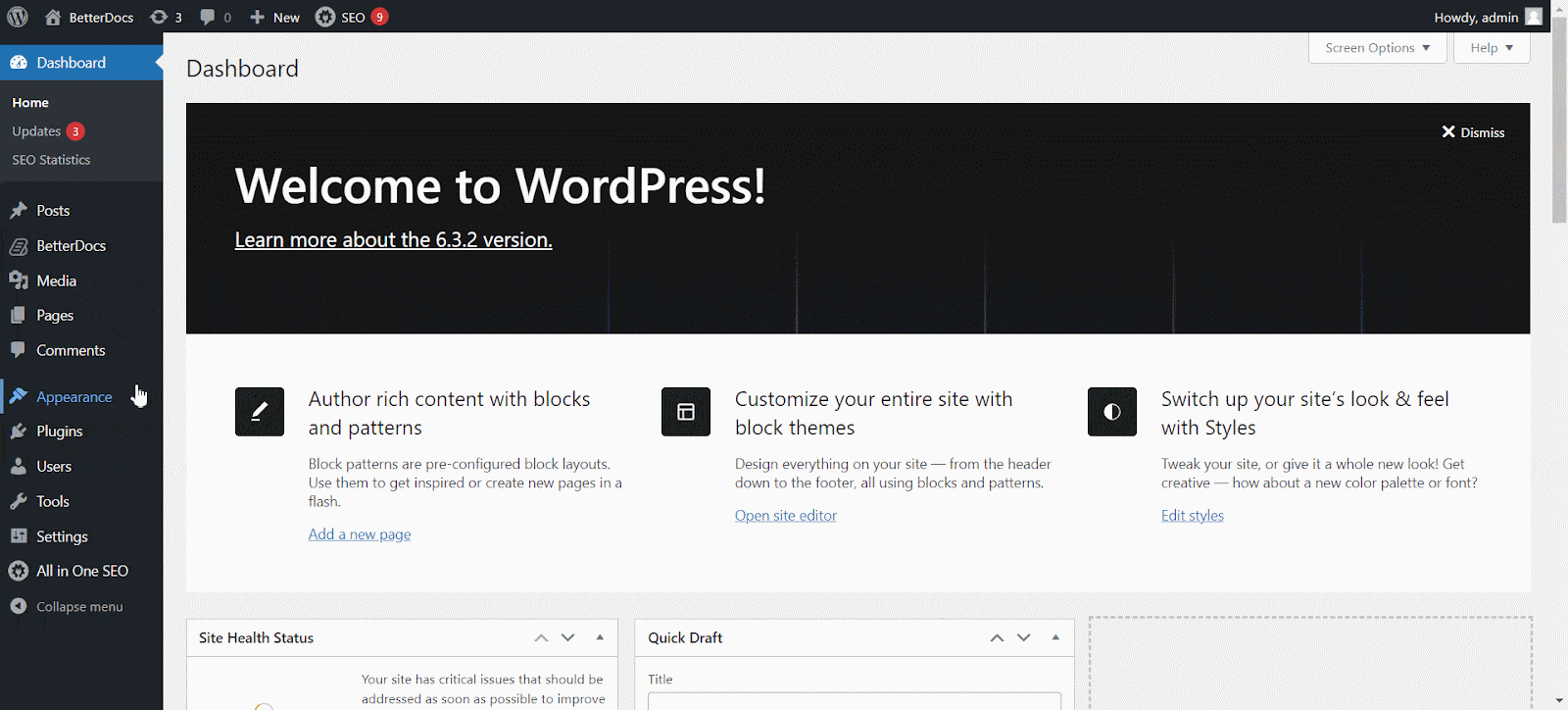 Now click on 'Add New Template' from the top right corner. Select the templates and add a new template of your own in the template library of the Full Site Editor.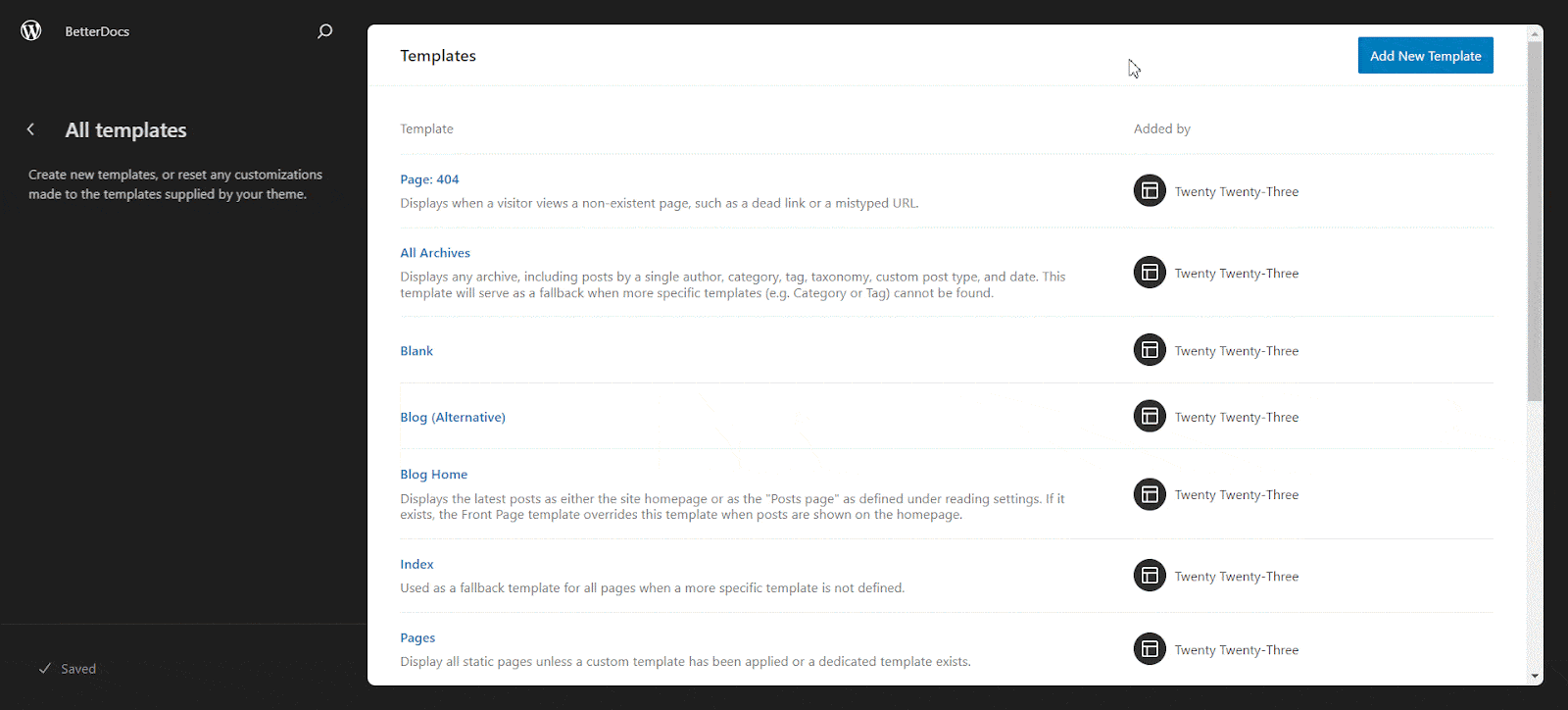 Create Custom Template Using BetterDocs Blocks & Patterns #
In the 'Add Template' page, you will get the option to create a Custom Template. Click on 'Custom template' and name it you want to remember and use this template later on.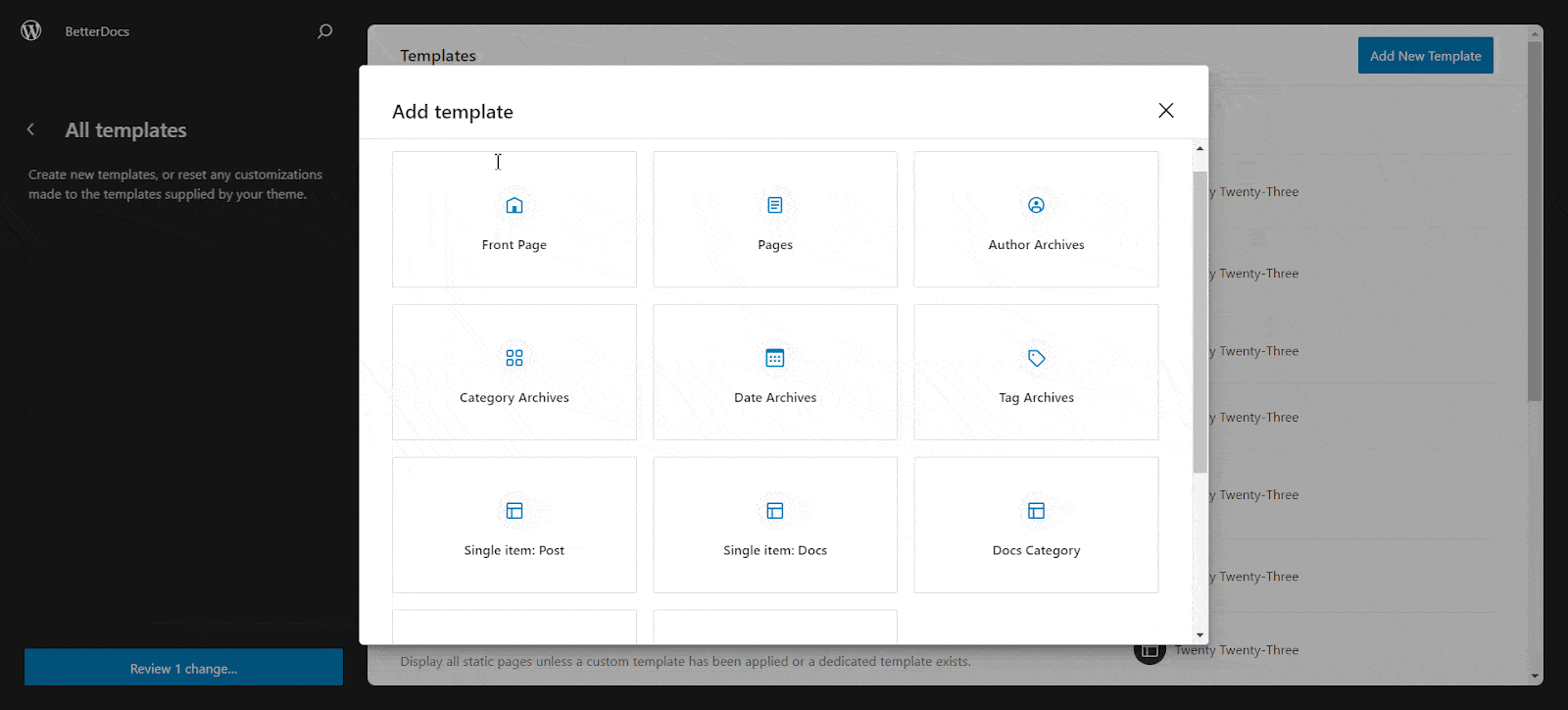 Now click on the '+' icon from the top left and get the patterns and blocks to create your custom template with BetterDocs using Full Site Editor. In the 'Patterns' section, you will get 'Docs Page', 'Docs Category', and 'Single Docs' patterns for BetterDocs. Each pattern comes with a premade design that you can customize on your own.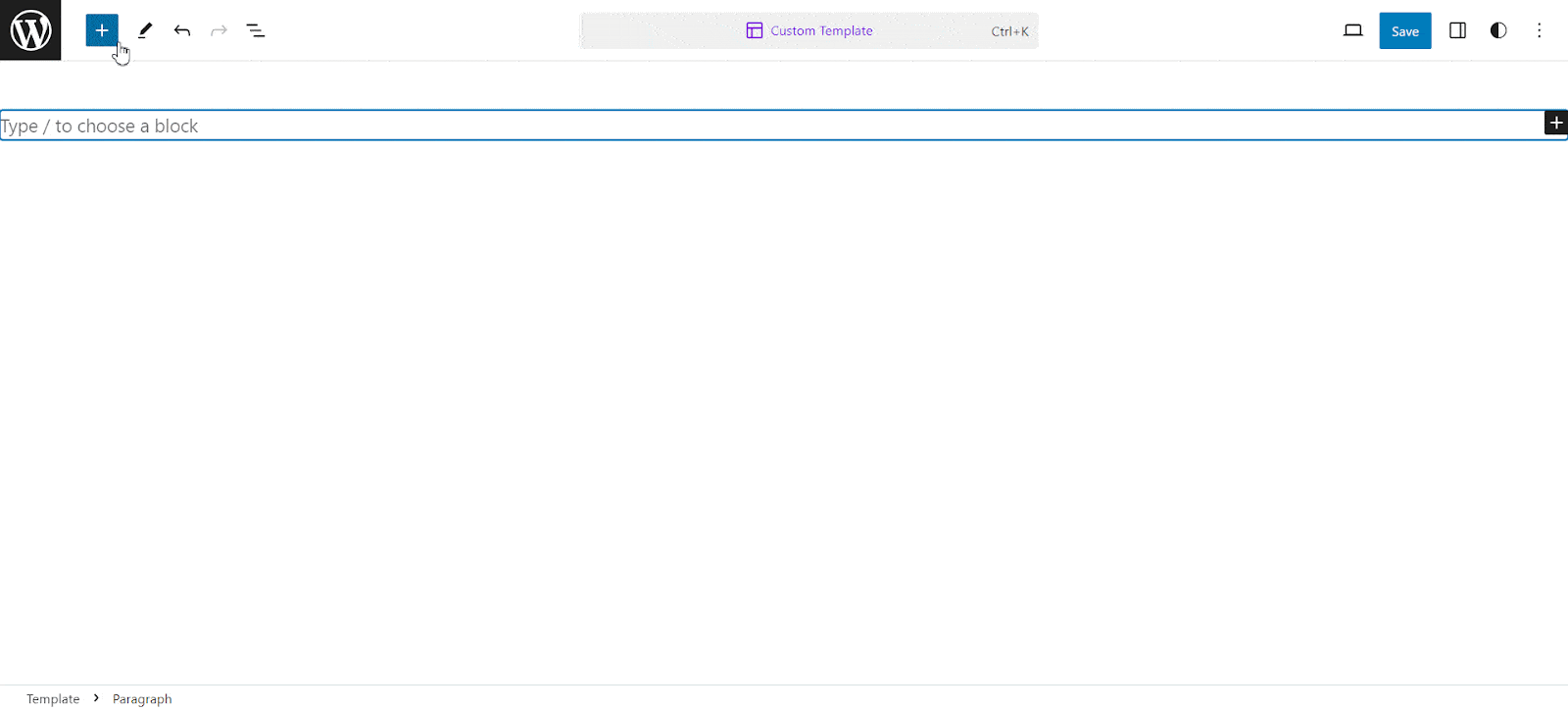 In the 'Blocks' section, BetterDocs blocks such as 'Print Button', 'Breadcrumb', 'Category Box/Grid', and many more will be available for you to create a documentation page of your own. Drag each blog on the editor and make your documentation page the way you wish.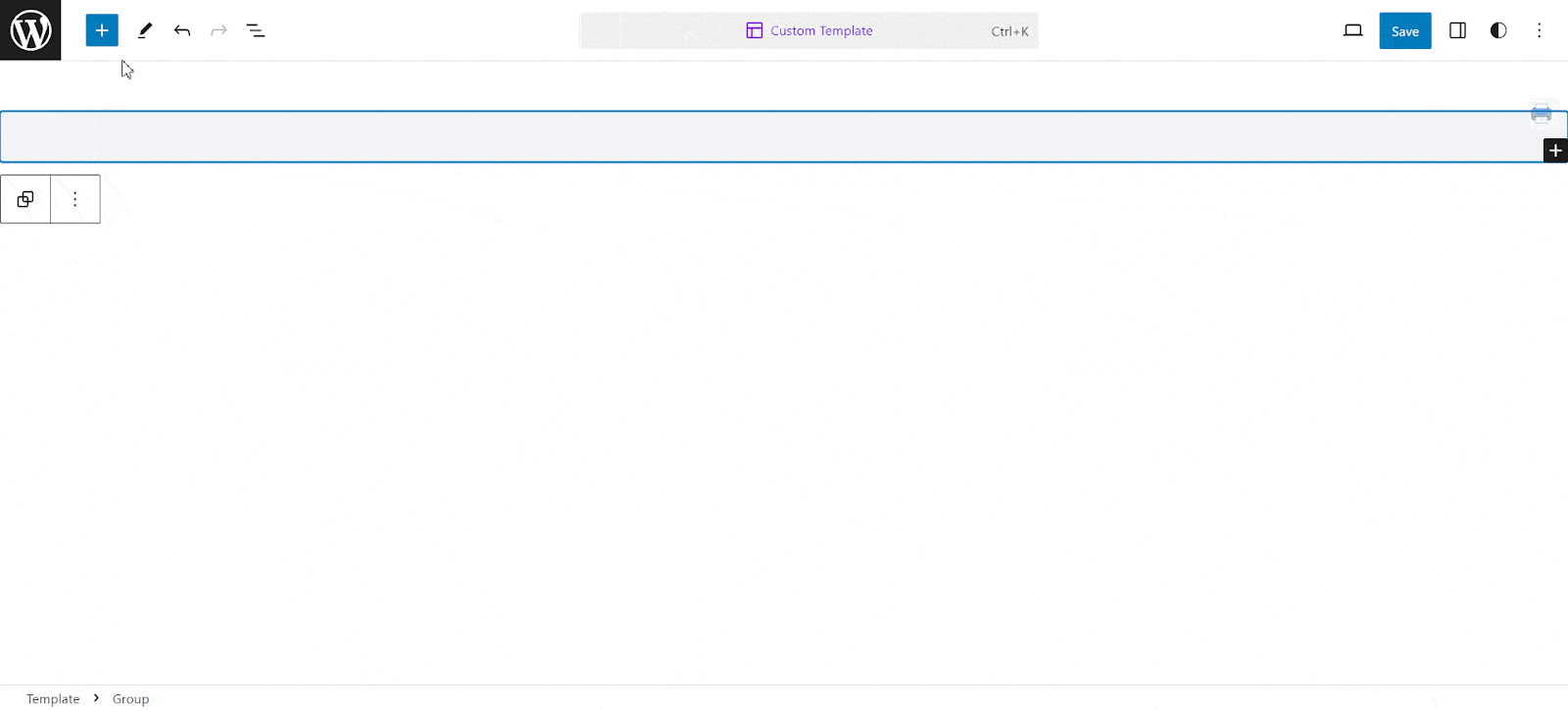 Now, go back to your Full Site Editor, navigate to Templates → Manage all templates & get your custom template saved the way you named it a bit earlier.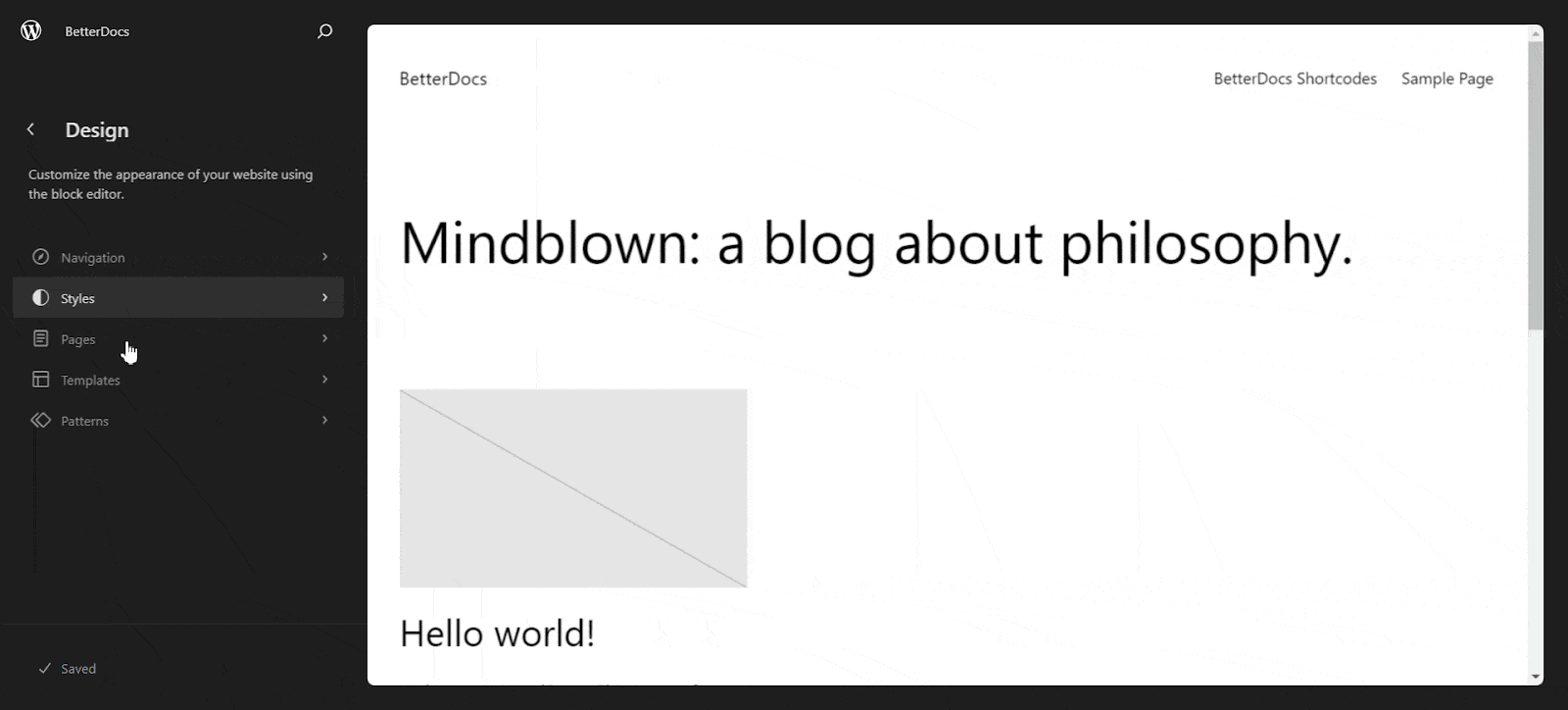 That is how BetterDocs is providing Full Site Editor support to make your website documentation design & display easier and catchier than ever before.
If you have any queries, feel free to contact our dedicated support team for further assistance.