BetterDocs PRO lets you add an amazing 'Instant Answer' toolbar on your website so that users can easily find the article they are searching for. You can place this on any page you want and reduce the pressure on your support queries in the process. With its Feedback form, users can even leave their message and reach out to you as well. Follow this below guideline to configure the Instant Answer feature of BetterDocs:
First of all, make sure to enable the 'Instant Answer' option from BetterDocs Settings. To do that, navigate to wp-admin -> BetterDocs -> Settings. Afterward, switch to the 'Instant Answer' tab and enable it.
From the 'Initial Content Settings', you can choose a 'Content Type' which will be shown in the Instant Answer toolbar. Besides, you can even specify particular docs or doc categories that you want to show in the Instant Answer option as well. By default, all the docs are displayed.

From the 'Chat Settings' section, you can customize the Subject. Besides, you can insert the 'Email Address' in where the feedback form will be submitted. You are able to modify the Success Message title & text as well.
The 'Appearance Section' gives you complete control over how you want the Instant Answer chat bar to show on your website. You can easily go ahead and upload your own icons for different options. Besides, you can modify the content for Instant Answer & Chat tabs.
Apart from this, you can change the position of the Instant Answer tool as well. If you want, you can even disable the branding. Whereas, you can simply copy the 'Cross Domain Integration Snippet' to use Instant Answer on an external site.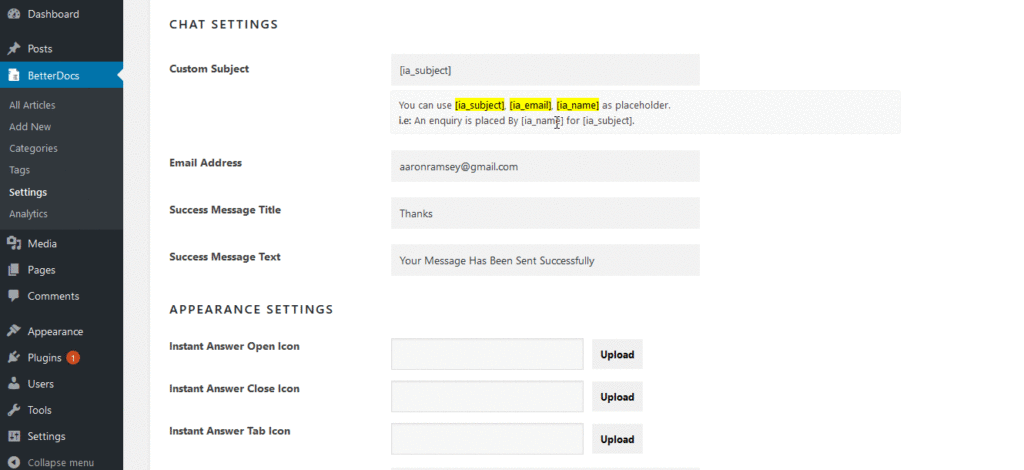 Afterward, this is how the Instant Answer will appear on your website: