BetterDocs offers you an exclusive Email Reporting feature where you can keep track of how your knowledge base documentation is performing through detailed email reports. With this advanced feature, you will get an overview report based on top-performing docs, the most searched keywords in a certain day, week, or month and much more.
Follow this step-by-step guide below to configure this Email Reporting feature with BetterDocs and get a detailed knowledge base report in email.
Step 1: Navigate To BetterDocs Settings #
To explore all the settings of BetterDocs 'Email Reporting', navigate to 'BetterDocs→Settings' from the WordPress dashboard. After clicking on the 'Settings' tab, you will get access to the Email Reporting feature. Simply turn on the Enable Reporting feature to explore all the features.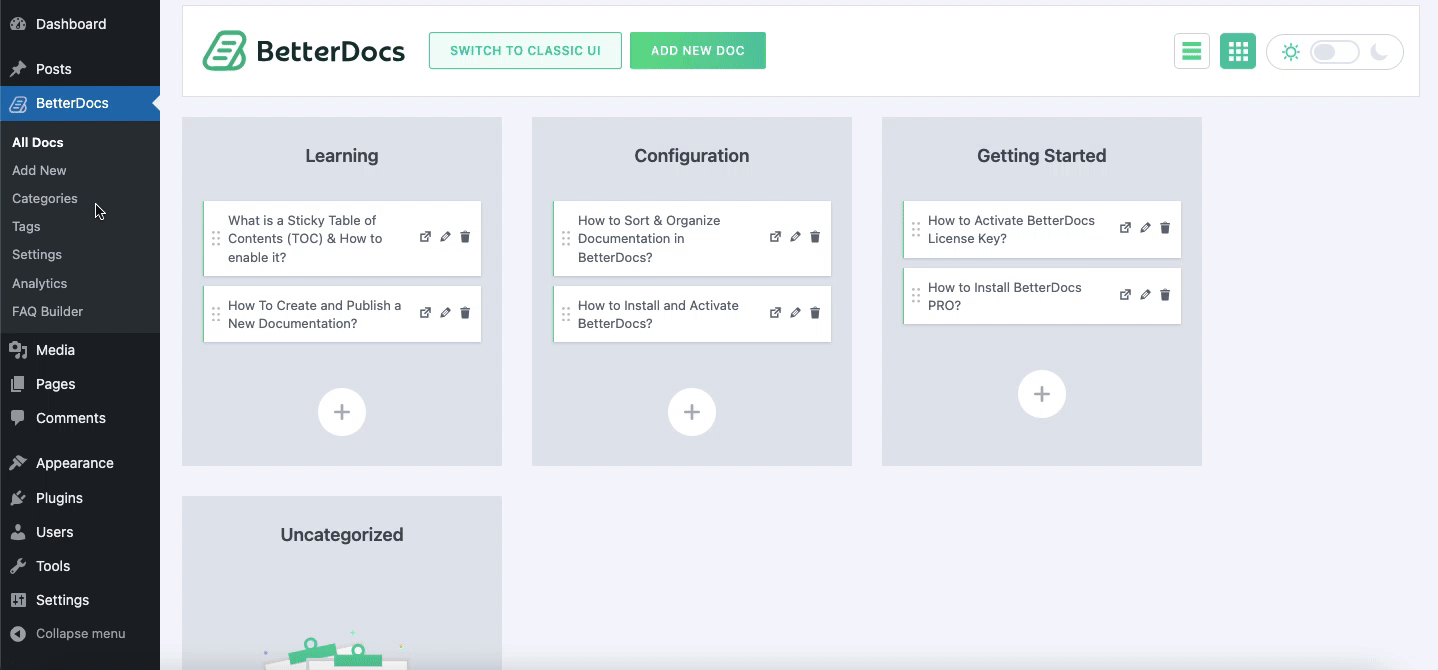 Step 2: Configure The Email Reporting Tab #
Now you are on the Email Reporting tab, you can set your email parameters as per your preference. You will have the option to the Reporting Frequency, Reporting Day, Select Reporting Data and add Reporting Email with your preferred email subject line. Besides, you can pick your report data categories by configuring the Select Report Data option.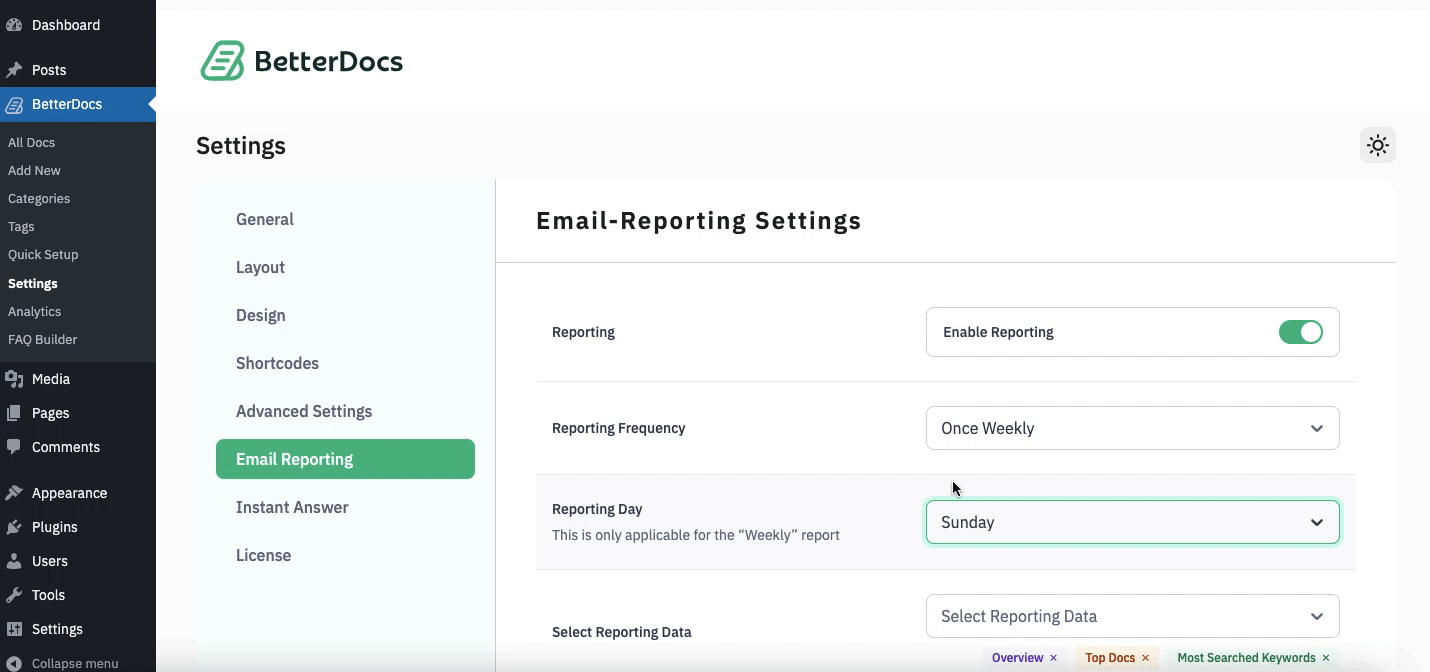 After customizing all the options, click on the Reporting Test option, and then this report will be sent to your desired email address. Now, click on 'Save' button.
Note: Reporting Frequency, Reporting Email Subject, and Select Reporting Data are BetterDocs PRO features.  So to get the best out of Email Reporting, make sure to install and activate BetterDocs PRO.
Final Outcome #
This is what your email report will look like. The report will give you a brief report on the performance of your knowledge base documentation. From this report, you can go straight to the BetterDocs Analytics tab to get a graphical interpretation of your knowledge base performance and analyze it in advance.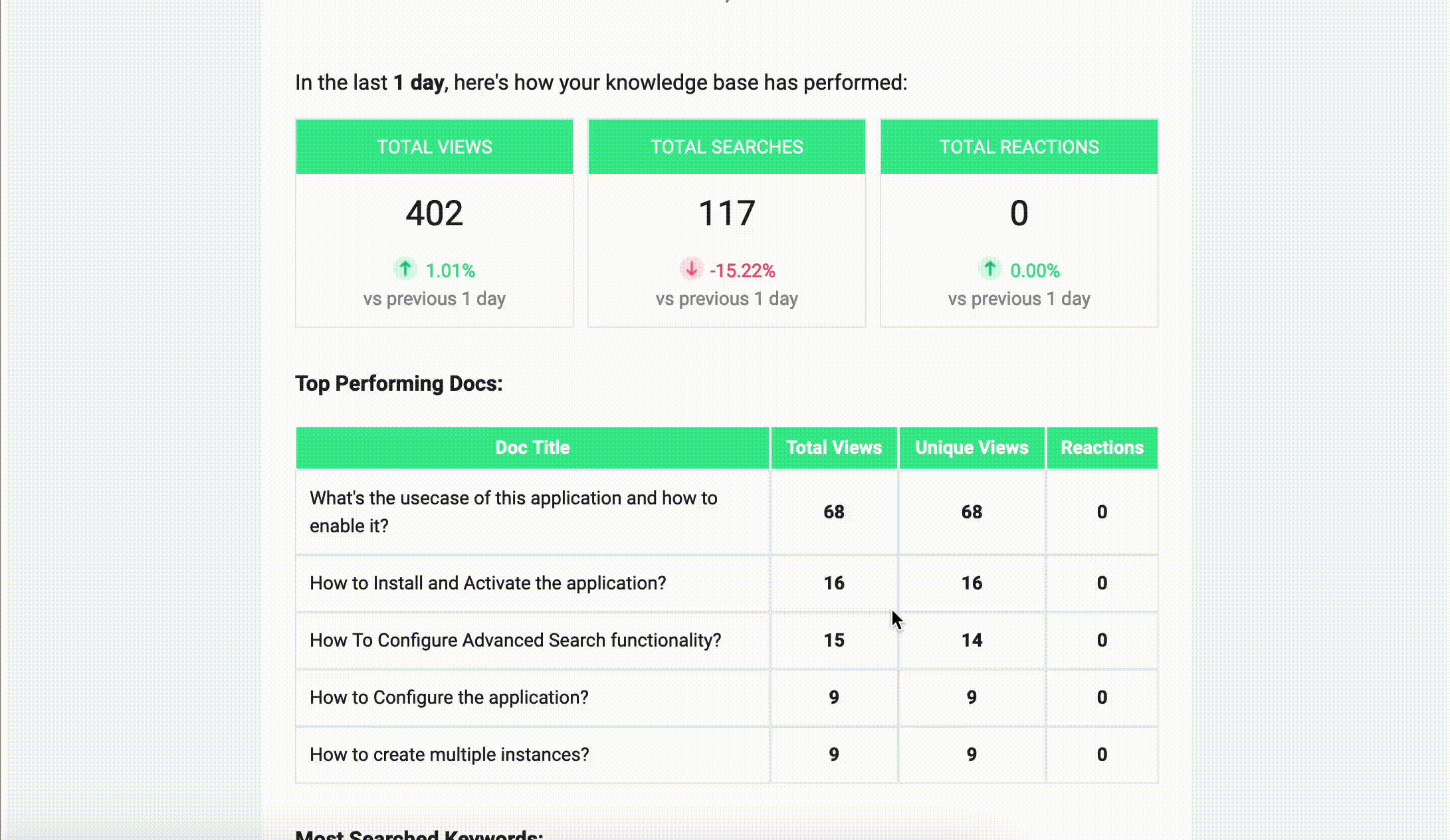 This is how easily you can configure the Email Reporting feature with BetterDocs and get the overview report of your knowledge base performance.
If you face any difficulties, feel free to contact our support team.